Have you ever thought that you can use Microsoft Word to design a stunning emblem for your project or brand?Yes, Microsoft Word is a multi-purpose tool that, among many other useful things, can serve as a logo constructor. Here are 5 things about MS Word that make it your right hand when creating a logo.
Check out the 5 advantages Microsoft Word can boast:
It's used by millions of people all over the world.
It includes a variety of useful tools to edit both text and imagery.
You can easily combine text and image (or geometric shapes) into a balanced composition.
It allows to use a document page as a canvas and move geometric shapes, SmartArt objects, and symbols.
A logo created in Microsoft Word can be directly used on a letterhead.

Microsoft Word offers a stunning range of amazing fonts to create a logotype. Plus, you can make all kinds of creative choices, including pasting a text into different shapes, experimenting with WordArt objects, adding patterns, and playing around with textures and backgrounds. With due amount of inspiration and patience, you can craft an original emblem!
When it comes to designing a logo, there's hardly a more convenient program for amateurs than Microsoft Word. By combining different shapes and words, you can end up with a pretty good corporate design.
How to create a logo in Word: Step-by-step tutorial
Take a look at the good-looking logo below. We'll break down how to make a design like this in Word. Let's go!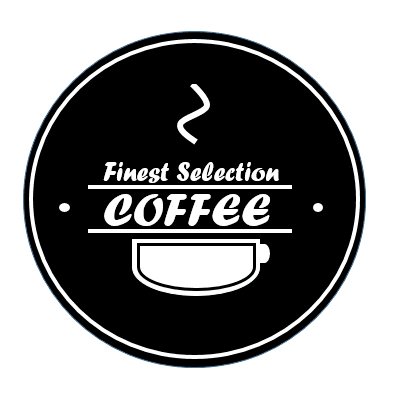 Start Microsoft Word. For the purposes of this article, we'll be using the 2016 version of the program.
For more convenience, add a grid that will help you align the elements of your future logo.
Create a new document. Go to the "View" tab and check the "Gridlines" box.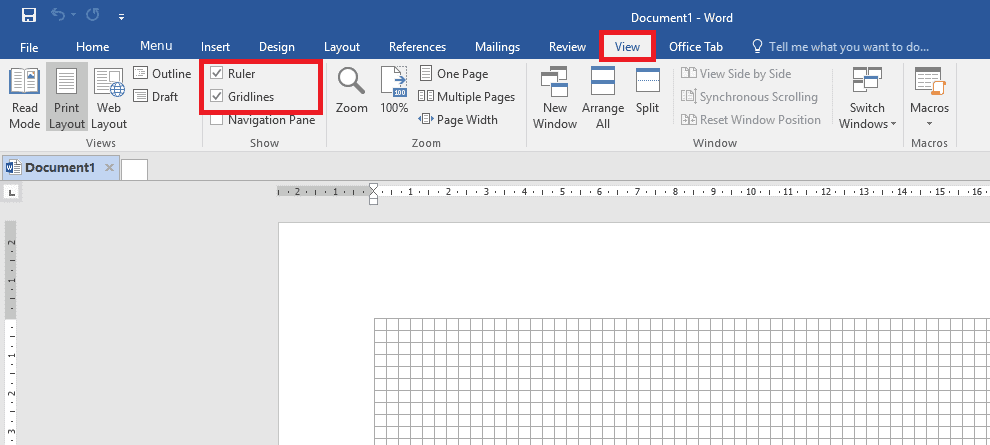 Now go to the "Insert" tab and add a circle to your canvas.

Now select the background color. For our logo, we've changed the default color blue to black.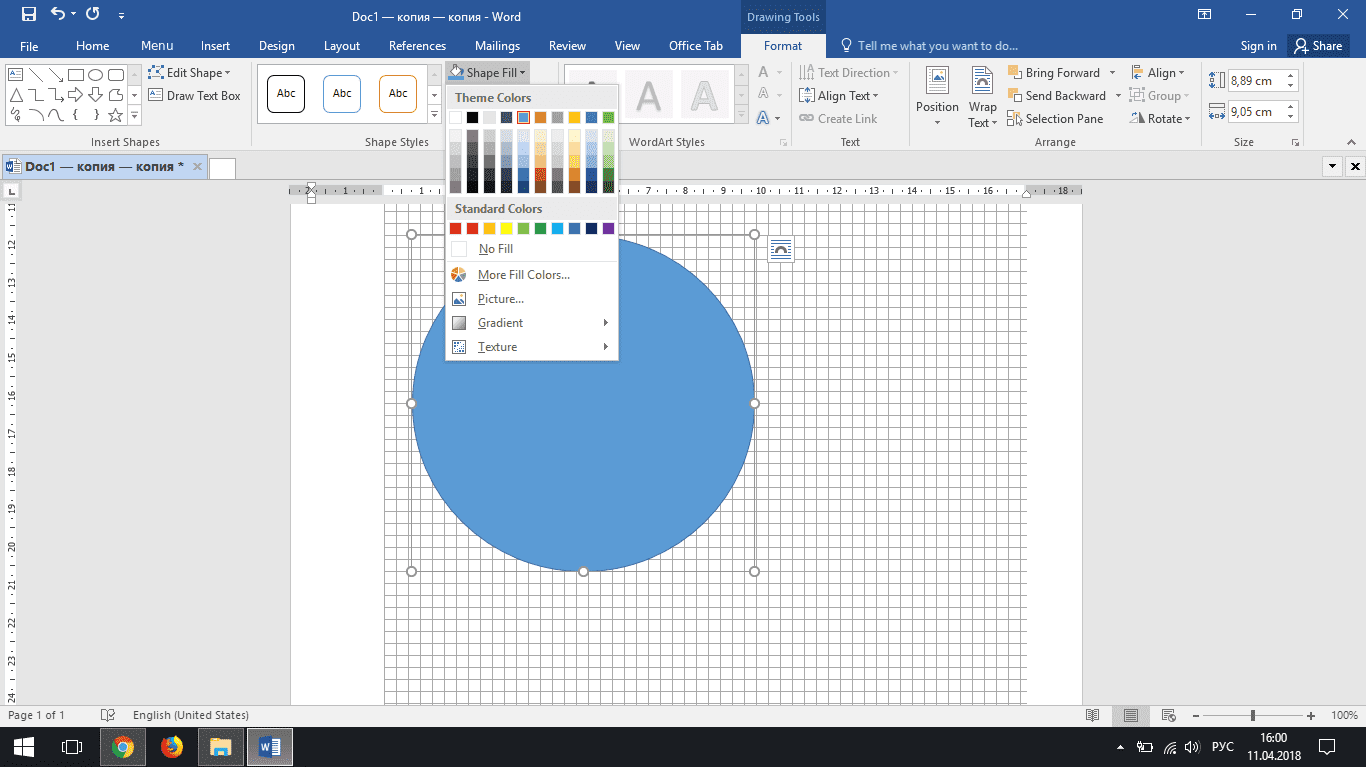 Now you need to create a copy of the circle. Click on the circle with the right mouse button and select "Copy." Make the second circle slightly smaller than the original one. To put the smaller circle above the bigger one, move it with a cursor. Click on the inner circle and make its border line thicker. Change the color of the stroke line to white. If your emblem has no border line, you can easily add it in settings.
By using the "Insert" tool, add two parallel horizontal lines to your logo.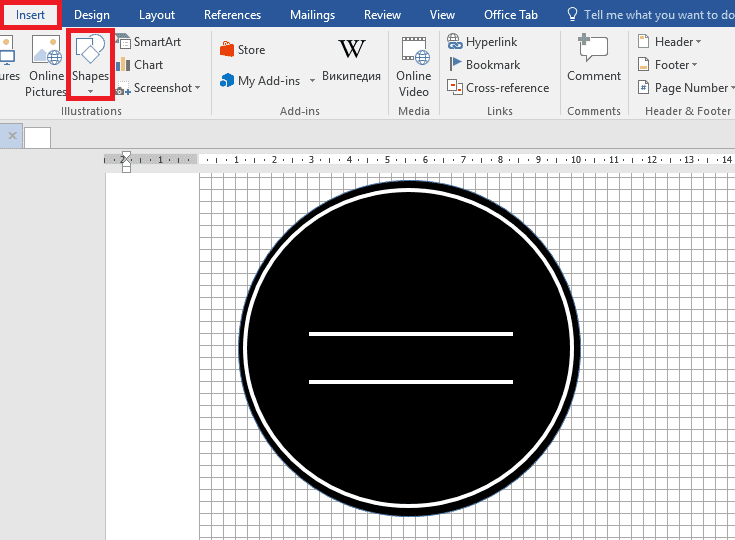 The next step is to add your company name by using the "Text" tool. You can type the text either inside, or outside the circle, whichever option you find more convenient. Let's add the text inside the circle.
By using the "Text" tool, customize the font of your brand name. Plus, make sure the color of your text goes well with your icon.
Don't forget to choose a transparent background for your text and remove the border line.
As we're creating a logo for a coffee business, we need to draw a coffee-related item under the brand name. By using the "Paste" tool, add the geometric shapes that will help you depict a nice coffee cup.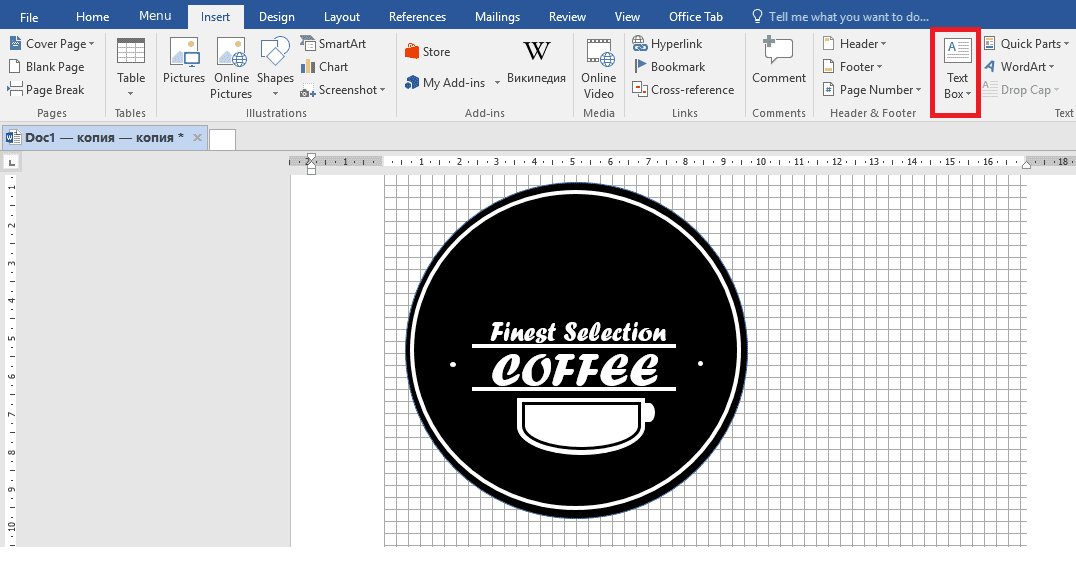 To give a refined feel to the cup, add a curved line under the text.
Select all logo elements and click on "Group." If you need to move the emblem, it'll move in one piece, with each element staying in its place.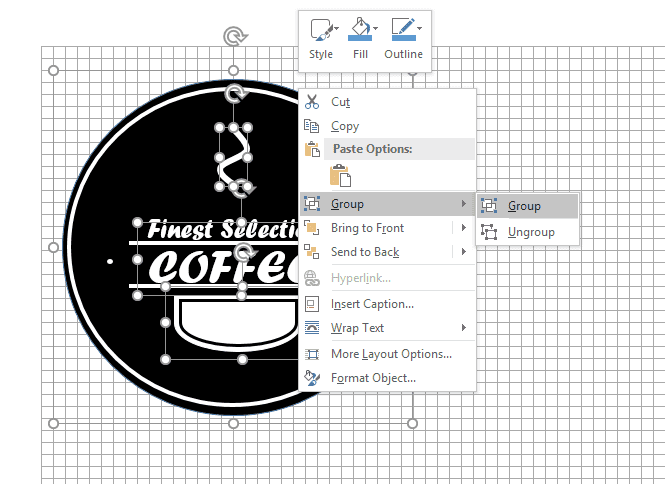 Done! As you can see, Microsoft Word offers enough design features to craft a neat emblem!

Video tutorials on creating a logo in Microsoft Word
Check out a couple of comprehensive videos on how to draw an emblem in Microsoft Word. With each step explained in all detail, you won't have any trouble crafting a true graphic masterpiece for your project!
Here's one more video that will guide your artistic efforts.
How can I use a logo created in Microsoft Word?
A letterhead is one of the most common items that displays a corporate logo. This is a great way to show your customers and partners that your brand has a coherent visual style. Furthermore, you can apply your logo as a watermark on your electronic documents.
Luckily, Microsoft Word is not the only program you can use your design in. You can copy your logo and move it to Paint (or Paint.NET) and then save it as JPG and PNG files.
There're other ways to export your image from Microsoft Word or convert it to other formats. To easily convert your emblem online, check out here.
To convert your design to PDF, use the following services:
ilovepdf.com
smallpdf.com
By having your logo available in different formats, you can use it in a variety of contexts, e.g. website, YouTube channel, social platforms, etc.
We hope this article about how to create a logo in Microsoft Word will be useful for you.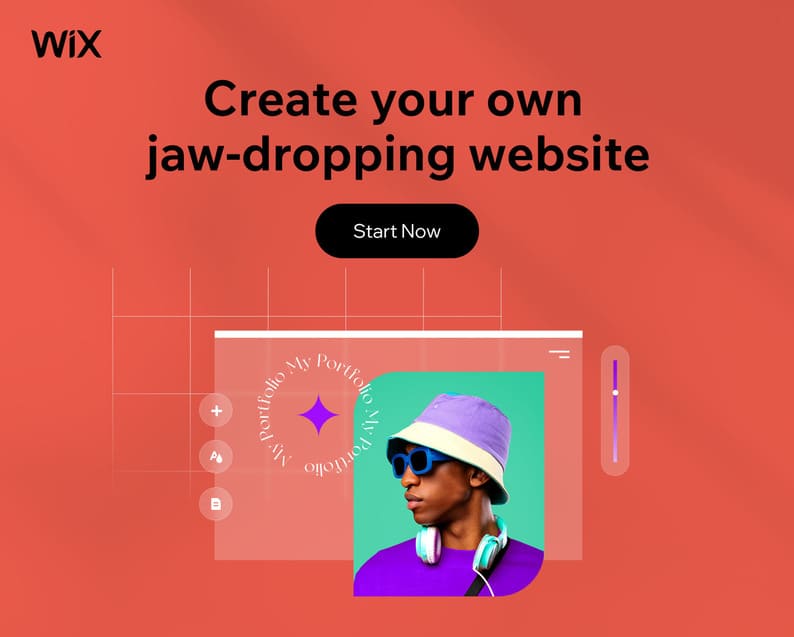 If you can't tame Microsoft Word, you can try an online logo maker, e.g. ZenBusiness.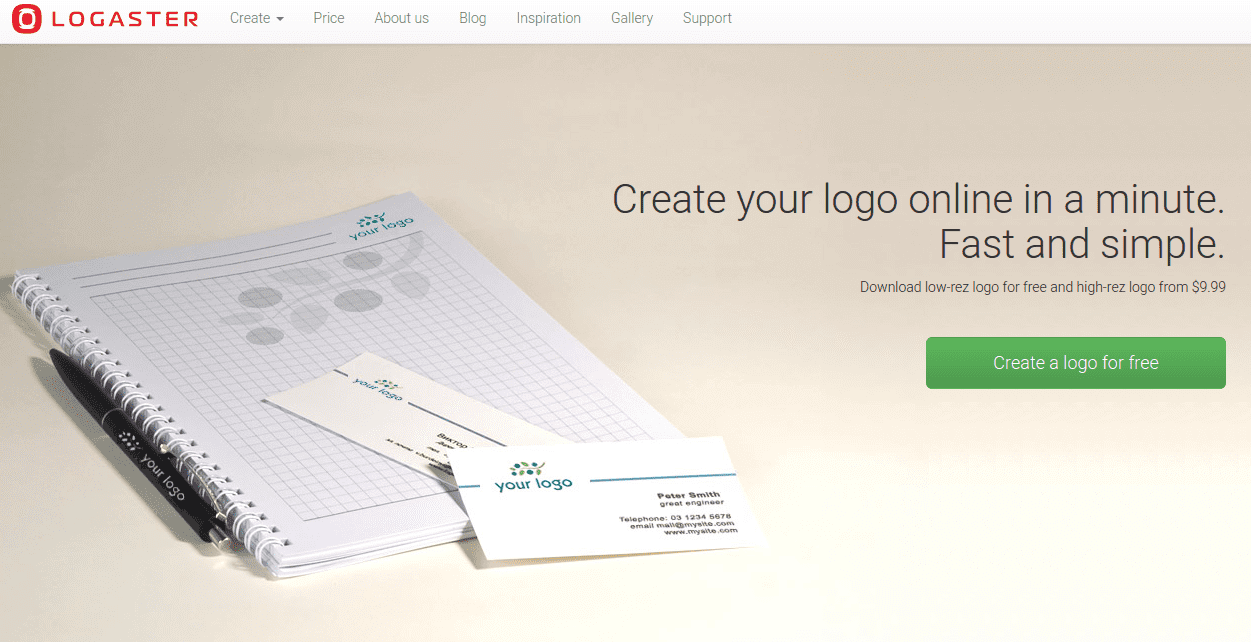 For some users, drawing an emblem in Microsoft Word may seem like a grueling task.
With the ZenBusiness service, you'll get a ready-to-use logo in a matter of minutes, regardless of your design skills and experience!
Want to give it a go? Check out this logo constructor to generate a good-looking design that will mark a new stage in your company's visual history.