American market researchers held a study where they asked people to draw 10 popular logos from memory. It turned out that the most accurately drawn emblem was that of IKEA, the only text-based logo used in the experiment. It's a known fact that text logos, or wordmarks, are easier to memorize than their image-based counterparts.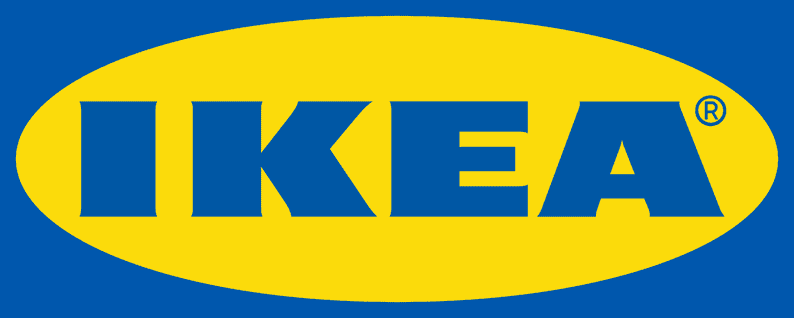 In this guide, we'll look at how to create a killer text-based logo that will make your brand instantly recognizable. Plus, we've put together a list of useful tools that will help you with that task.
About wordmark logos
Wordmark is a logo that only includes text. Most of the time, it's the name of a company or brand, such as Google, Tiffany, Nokia, etc. If the company name is too long or sophisticated, it's displayed as a monogram, e.g. H&M, IBM or HP.

Wordmarks can work wonders in terms of brand promotion. Let's take a look at what makes text-based emblems so popular among both burgeoning and established businesses.
Wordmarks are easy to make. Creating a graphic-based logo that would reflect your brand personality can be tricky. Crafting a text logo is way easier because it's essentially your company name. All that remains to be done is to choose the right font and color.
Wordmarks draw attention to your company name. A text logo puts your company name in the spotlight, making it more likely to stick in the minds of your potential customers. This is especially important for up-and-coming businesses whose immediate goal is to gain a foothold in the market and achieve recognition.
Wordmarks are timeless. The value of a graphic-based or combination logo heavily depends on design trends. Also, if you choose to break into a new industry, chances are that you'll have to design a new logo for your business. As for a wordmark, it'll serve you longer. Think about the logos of Sony, Disney or Calvin Klein. They've hardly changed over the last decades!

How to create a wordmark logo
Design process for a wordmark relies on three fundamental pillars: font, color, and shape. Let's examine each element one by one.
Font
1. Identify your brand personality
When seeing your font, customers associate it with your brand on a subconscious level. That's why you need to make sure your typeface reflects your brand personality. To better understand what your brand stands for, make a list of associations that spring to your mind when you think about your business. Here are some examples: "serene, peaceful, balanced, trustworthy", "energetic, explosive, out-of-the-box", "subtle, tender, romantic."
2. Select the best font
Fonts come in four main types. Examine them all and choose the one that fits your business best.
Serif fonts are a classic typography solution. A study has shown that people perceive fonts with serifs as mature and consistent. Serif typefaces can be seen in the logos used by The New York Times, Canon, and Pixar.

Sans serif fonts look concise and minimalist. People describe them as informal and innovative. Types without serifs are used by Calvin Klein, Facebook, and Duolingo.

Handwritten fonts create an emotional closeness with the brand. Look at the beautiful logos of Coca-Cola, Barbie or Cadbury.

Display fonts look bold and creative. It's a great way to distinguish your logo from the crowd. Need inspirational examples? Take a look at the emblems of Disney, Kickstarter, and Harry Potter.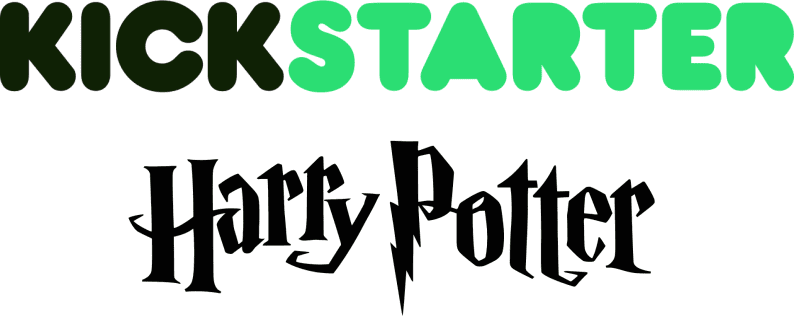 3. Choose the settings
Each typeface is characterized by a number of settings:
registry: uppercase (IKEA), lowercase (ebay), or their combination (Pampers);

thickness: bold (Jeep) or normal (Tiffany);

style: normal (Levi's) or italic (Visa).

4. Choose the right kerning
Kerning is the distance between letters. This characteristic varies across different fonts. By changing the kerning, you can:
add a unique touch. For example, Zara adjusted the kerning to make the letters in its logo slightly overlap.
improve legibility. To make its logo more airy and easy to perceive, Sony created large spaces between the four letters in its brand name.

5. Add a catchy detail
Sometimes, it only takes one small detail to make a lasting impression on customers.
In the FedEx logo,there's an arrow hidden between the letters "e" and "x". The arrow stands for speed and precision, the two staples that define the renowned logistics company
In the Braun logo, the letter "A" is capitalized.
The Exxon Mobil logo stands out through the eye-stopping "xx".

Want to know more about how to choose the best font for your emblem? Read our interview with the font designer Ilya Ruderman.
Color
1. Choose the right shades
When composing a color palette for your logo, consider the psychology colors and possible uses of your design.
Each color has its own associations and meanings. For example, orange radiates joy, violet stands for luxury, blue conveys reliability, etc. Think about what hue reveals your brand personality.
Want to make the text on your logo stand out? Create a combination of several matching hues.
You'll be using your wordmark across different surfaces. Make sure your logo text looks equally good on white and black backgrounds. For example, Facebook has its famous wordmark in blue and white variants.
2. Experiment
Use your creative powers to make your selected color palette unique. Here are some ideas:
highlight one or several letters with a different colors (Flickr, HyperloopTT);
use gradients (Ford);
add a colored shadow (Subway).

To learn more interesting things about the power of colors, read How to Find the Best Color for Your Logo.
Shape
The way letters are arranged inside your logo is also of crucial importance. Shape can speak volumes about your brand and improve the legibility of your design.
Arrange letters in an unusual way. Look at how Netflix chose to slightly twist its brand name, adding volume to it.
Put your text into a geometric figure. For example, the word "Samsung" is placed inside an ellipsis. "P&G" is encircled, while "Gap" is found inside a square.

Highlight some of the letters. In the LinkedIn logo, the last two letters are written in a different color and enclosed in a blue square.
Break up the word on two lines. One great example in that department is the Uniqlo logo.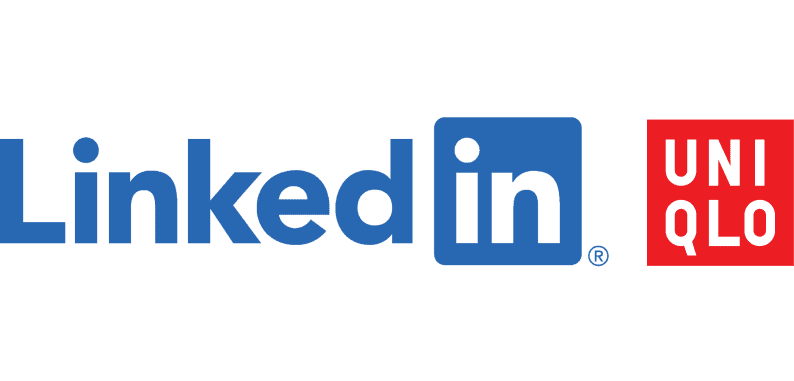 Curious to learn more about the psychology of geometry? Check out this article: Square, Triangle, and Circle: How Your Logo Shape Impacts Customers
Tools for creating a watermark logo
When it comes to making a wordmark, you can go down one of the three roads.
1. DIY
If you have at least some experience in graphic design, you can try to make a logo all by yourself. You can do that in professional graphic programs, such as Adobe Illustrator, or in a regular text editor, e.g. Word. Read more here.
Pros: You can realize your creative ideas just the way you want to.
Cons: Time-consuming.
Cost: Free.
2. Online services
Online logo makers are the easiest way to craft a nice logo without any effort. Check out the ZenBusiness logo generator. The service will create a neat wordmark in a matter of minutes, allowing you to choose from dozens of custom typefaces.
Pros: Fast and affordable.
Cons: There is no guarantee that your wordmark will be 100% unique.
Cost: Free version is available. Paid plans start from $8.99.
3. Professional designer
If you have a decent logo budget and know exactly what wordmark you want to get, you can hire a designer. Where to look for a consummate and reliable professional? Here are some hints:
freelance websites (Upwork, Fiverr, etc);
special platorms (99designs, Designhill);
word-of-mouth (recommendations from friends, business partners, etc.).
Pros: You get a professional logo.
Cons: High cost. Risks (unmet deadlines, poor quality).
Cost: Depends on the designer's experience. On Upwork, creating a logo costs from $30 to $200.
Wrapping up
Wordmark is a simple yet effective way to make a statement and leave a lasting impression on your potential customers. To make your wordmark visually striking and on point, think about what message you want to send to your target audience through your logo. Pick the best colors, typeface, and shape. Finally, you need decide how you're going to bring your ideas to life. You can create a logo by yourself, commission an experienced designer, or use AI-powered online services.