78% of Facebook users in the USA are using the network to search for products and services. This makes Facebook a powerful tool for growing your business. By creating and promoting your Facebook Business Page, you can build up a strong customer base and expand your company's reach. Read on to find out more!
Facebook Business Page vs. Personal profile
Let's start off with three facts on Facebook that might pose interest to business owners:
Facebook is the world's biggest social network, and it continues to grow. Over the past year, the number of monthly active users has grown by 12% and reached 2.74 bln in September 2020. The number of daily active users on Facebook totals to 1.82 bln people.
Two thirds of Facebook users check out their local businesses on Facebook at least once a week.
78% of US consumers are using Facebook to search for products and services.
Businesses are using the commercial power of Facebook to achieve a bigger outreach and grow their online presence. Facebook Business Page is a great tool for sharing your company news, connecting with your audience, and attracting new clients. You might be wondering why you can't advance your business via your personal profile on Facebook. The trick is that a Business page offers additional tools which let you manage your promotion strategy more effectively:
subscriber demographics;
impressions for each post;
extended ad targeting features;
easy interaction. To follow your company news on Facebook, the user doesn't necessarily have to send you a friend request. Instead, they can simply like or subscribe to your company page.
How to create and set up a Facebook Business Page
Setting up a Business profile on Facebook is easier than you think – especially if you've already come up with a unique name for your page and prepared the images of the right size.
Step 1. Create a Business page
Go to Facebook and log into your personal account. Go to Pages > Create. Select the type of page (Business or Brand) you want to create. Fill out the basic information about your business:
Enter your page name.
Select the category from the drop-down list.
Add a brief description of what your business does (up to 255 characters).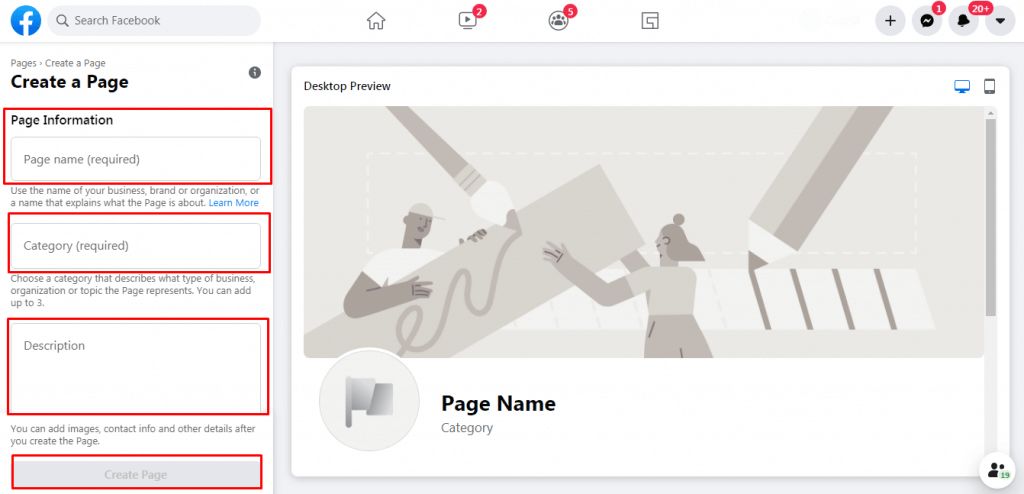 Once you're done, click "Continue" and proceed to the next step.
Step 2. Upload a profile picture and cover image
Your profile picture will display in search results, as well as next to your posts, comments, and messages. A branded profile picture is a surefire way to leave a lasting impression on your audience, boost your company recognition and highlight the unique personality of your brand. We recommend using your company logo as your profile picture.
The minimum size for a Facebook profile picture is 180×180 pixels. Use the ZenBusiness logo maker to craft a custom logo in the ideal Facebook size!
A cover image must align with your profile picture, enhancing your company image in the eyes of your audience. A cover image can feature a variety of things:
your corporate pattern;
your competitive advantage;
your flagship product;
your current promotion;
your company slogan or call to action.
Feel free to change your cover image based on the time of year, product line, relevant promotions, etc. Your Facebook cover image will display at 820х312 pixels on desktop and 640х360 pixels on mobile devices. Also, you can use a video as your Facebook cover. Your video must be between 20 and 90 seconds and have a maximum resolution of 1080p.
Step 3. Start building your page
At the top right of your Business page, click Settings to further customize your profile. This is what you can do:
Create a unique username (aka vanity URL) for your page. It will help your fans find your Business page on Facebook. Your username must be identifiable with your company name. If the URL with your company name is not available, add another word or digit to it.
Add your contact information (phone number, official website, email address).
Tell your subscribers about your company (background, mission, values, employee stories, etc.).
Customize your security settings. For example, you can decide whether or not your followers can post to your page, mention your business profile in their posts, use inappropriate language, etc.
Assign Page roles. You'll need this option if your Business page is managed by more than one person. Currently, Facebook offers 6 roles with different levels of access. For example, Admin is authorized to manage all types of content. Moderator can only respond to and delete user comments. Advertiser's role is limited to launching ads. For a more detailed description of each page role, go to Settings.
Step 4. Add a CTA button
The dark blue CTA button is a crucial element of your Facebook Business page. A clever CTA button encourages followers to engage with your brand and converts users into buyers.
Under your cover image, click "Add a button". Select the type of your CTA button: "Book", "Contact us", "Learn more", "Buy", "Donate", "Download app", etc. Also, you can add a link behind your CTA button. Once the user clicks the button, they'll be redirected to your website, landing page, YouTube video, etc.
Step 5. Manage templates and tabs
To organize your visual content, go to Settings > Templates and Tabs.
Select the page template based on the type of your business (store, restaurant, charity organization, etc.). Each template has its suite of tabs.
Tabs make it easier for users to find the content they're looking for. Depending on the type of your business, your page can include tabs for photos, videos, company information, reviws, events etc. Manage your tabs by removing the ones you no longer need and bringing the most important ones to the front.
Step 6. See your page with your visitors' eyes
After setting up your Facebook Business page, click "View as Page Visitor" to check what your profile will look like for your audience. Make sure your profile picture and cover image look good together. Pay attention to how the tabs are arranged. See if your CTA button needs tweaking.
How to promote your Business page
The optimal marketing strategy on Facebook is heavily influenced by the platform's policies and trends – and those are constantly changing. Below, we'll focus on some basic hints for promoting your business on Facebook.
Build your following
The key task when advancing your Facebook page is rising above the noise and putting your page out there. Try to get as many followers as possible.
Ask your existing Facebook friends to follow your company's Business page. Only send invitations to those of your followers who might be potentially interested in your products or services.
Link to your Business page in your newsletter, digital business card, and website.
Promote your Business page across other social media. Announce engaging and useful content that you're going to publish on your Facebook Business page.
Motivate people to spread the word about your page. Give discounts to users who follow your Business page, share your post, mention your page in their Instagram Stories, etc.
Target your audience with ads based on their demographic information, interests, behavior, etc.
Know your target audience
Your target audience is one or several groups of people who are interested in your products or services. Your task as a business owner is to know where your potential clients live, how old they are, what they do professionally, how they prefer to communicate, etc. Here are some hints for creating your customer profile:
To gather information on your subscribers and how they engage with your page, click Facebook Audience Insights in the top top menu. In addition to basic demographics of your audience (gender, age, geography, etc.), you'll see how many people clicked your CTA button, how many comments were generated by a specific post, and other essential metrics.
If you have no subscribers yet or their number is too small, analyze your customer data.
Run a poll on your Business page. Encourage your subscribers to talk about their unmet needs and challenges. Ask what they think about your products or services.
Share engaging content
Promoting your business is not quite enough. You also need to build a strong community around your brand. High-quality content is a good way to earn trust of your followers and build ongoing loyalty with them.
Create a balanced mix of high-value, entertaining, and promotional content. Don't try to sell in every single of your posts unless you want to make your potential customers cringe and lose interest in your brand. Share quick instructions and checklists, run polls, organize giveaways, provide links to your blog articles, and more.
Schedule your posts for 1-2 weeks ahead. Plan the subject and post time for each publication. The research shows that the top times to post on Facebook are on Wednesday at 11 a.m. and 1-2 p.m. Sunday posts traditionally show lower engagement.
Interact with your followers by replying to their comments and direct messages.
Add photos and videos
Facebook posts with images get 2.3X more engagement than text-based posts. By focusing on compelling photo and video content, you have a better chance at catching the eye of your audience.
Use photos and videos to tell about your merchandise, production process, team mates, etc. Instead of lifeless stock content, be sure to use real-life photos taken in your office, workshop, storefront, etc.
Keep in mind that Facebook videos start to play automatically when the user is scrolling their news feed. You only have 5-10 seconds to grab the user's attention.
Run live streams via Facebook Live. It's a great opportunity to take your audience behind the scenes, showcase your work process, introduce your team, etc.
Take advantage of Facebook Stories. These are short photo and video messages which disappear 24 hours after publication. Facebook Stories are viewed by more than 500,000 mln people every day. It would be a pity to miss out on such a fantastic promotion opportunity!
Track statistics
Keep checking how your Facebook Business page is doing. Facebook allows you to track a variety of metrics, such as impressions, likes, traffic sources, etc. If your posts are getting less engagement than they used to, you should think about making adjustments to your promotion strategy and exploring new tools.
Final words
Facebook is a powerful tool for business owners worldwide. The social platform lets you bring your brand closer to your audience and get a better understanding of what your potential clients want. To maximize your Facebook reach, you need to fill up your Business page with compelling content, communicate with your followers, mix different promotion strategies, and track your page's performance.