Want to pump up your company's Twitter account to attract more potential customers? We've prepared a set of simple and effective tips on how to gain your target audience's attention. You'll learn what to put in your profile header, how to use hashtags correctly and how many posts to publish per day
What You Need to Know About Twitter
Twitter is one of the most popular social networks in the world with 326 million active users. About 152 million of them post, read, or comment tweets daily. Let's review the main features of the social network to understand how it helps business.
How It Works
The platform allows you to publish posts up to 280 characters long accompanied by photos, videos, and hashtags. The difference between Twitter and many other popular social networks is its 100% coverage: subscribers see all your tweets in the feed and do not miss important information as it often happens on Facebook and Instagram.
Audience
The majority of Twitter users are young: 38% – from 18 to 29 years old, 26% – from 30 to 49. Most of them are U.S. citizens (59 million). They are followed by the Japanese (45 million) and the British (16 million).
User Behaviour
Perhaps the main advantage for business on Twitter is audience loyalty:
93% of users are open for interaction with brands;
74% of people follow small and medium-sized businesses on Twitter because they want to get product news;
47% of those who follow brands are more likely to visit their websites, and 70% are more likely to retweet the content they liked;
people are 30% more likely to recommend small and medium-sized businesses that they follow on Twitter.

How to Increase the Number of Subscribers
Our tips cover everything from visuals to the nuances of communication. Try one recommendation per day and analyze which techniques work best for your account.
Step 1. Design Your Page
Solid profile header design is the first step to attract attention and gain users' credibility.
Profile Photo
It is displayed both in your profile and next to each post and comment you publish. The recommended photo size is 400×400 pixels. As Twitter trims it to a circle, make sure that all the important elements are in the center of the image.
Companies most often use a logo as a profile photo: this popularizes the visual image of the brand and strengthens the emotional connection with users. For example, Android places the green robot in the photo, and Etsy – the letter "E", the shortened version of the logo.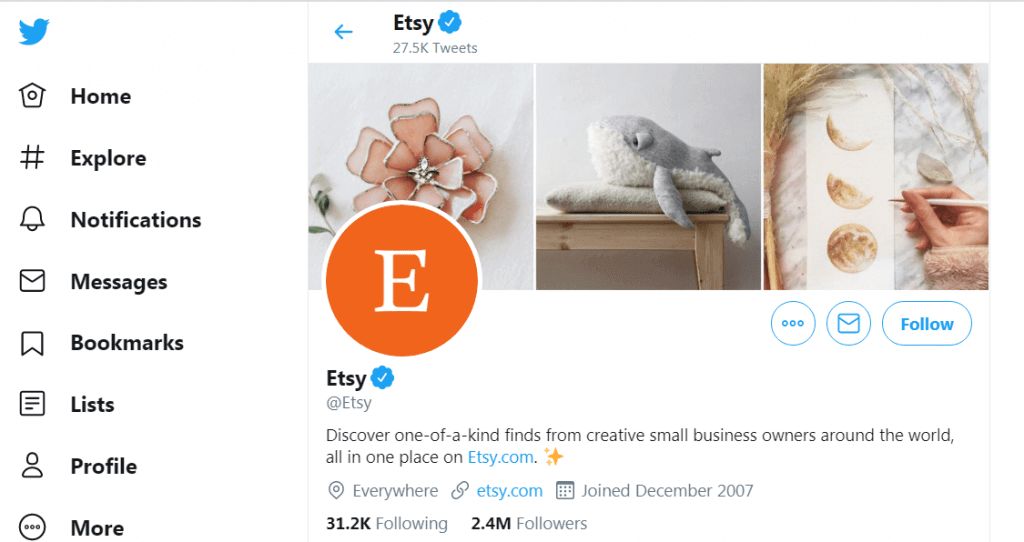 You can also add a photo with the logo in a couple of minutes using ZenBusiness, the online service for creating logos.
Profile Header
This image complements and reinforces the impression of the brand. Place your products or slogan on it as Domino's or Nike do. The recommended header size is 1500×500 pixels.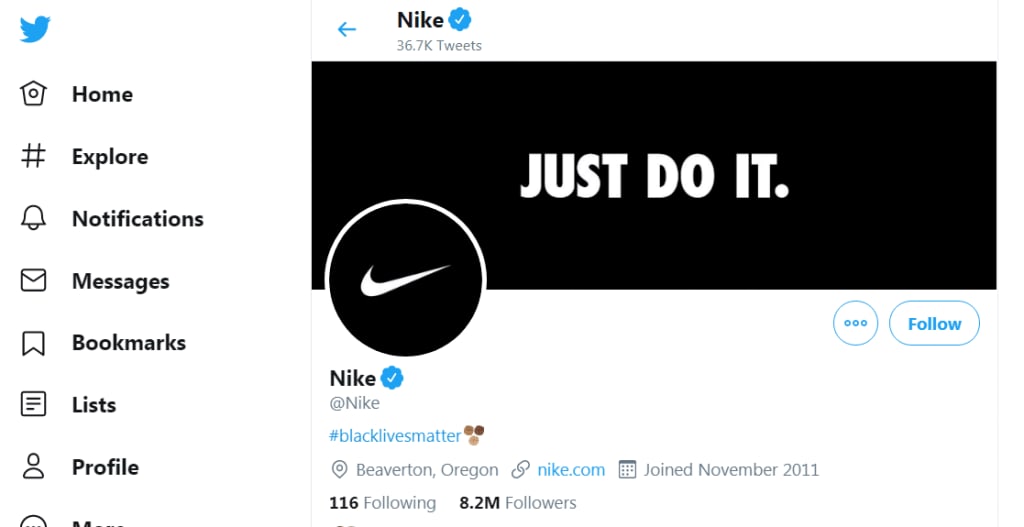 Bio
A short (up to 160 characters) profile description that tells your subscribers what you are doing and how you can be helpful.
Bio appears in Google search results, so include keywords about the company or products in it as PlayStation does: "Official Twitter updates on PlayStation, PS4, PS5, PS VR, PlayStation Store and more".
Explain the essence clearly and amicably, as Calm does: "Take a deep breath. We are the #1 app for sleep, relaxation and meditation".
Use hashtags as CNN do: "It's our job is to GoThere (#GoThere is one of the company's slogans) and tell the most difficult stories. Join us!".
Show creativity and emphasize the benefits as Red Lobster does: "Our tweets are like our seafood, fresh!".
Add a geotag (if you are related to a certain area), a link to the site and contact details to your bio.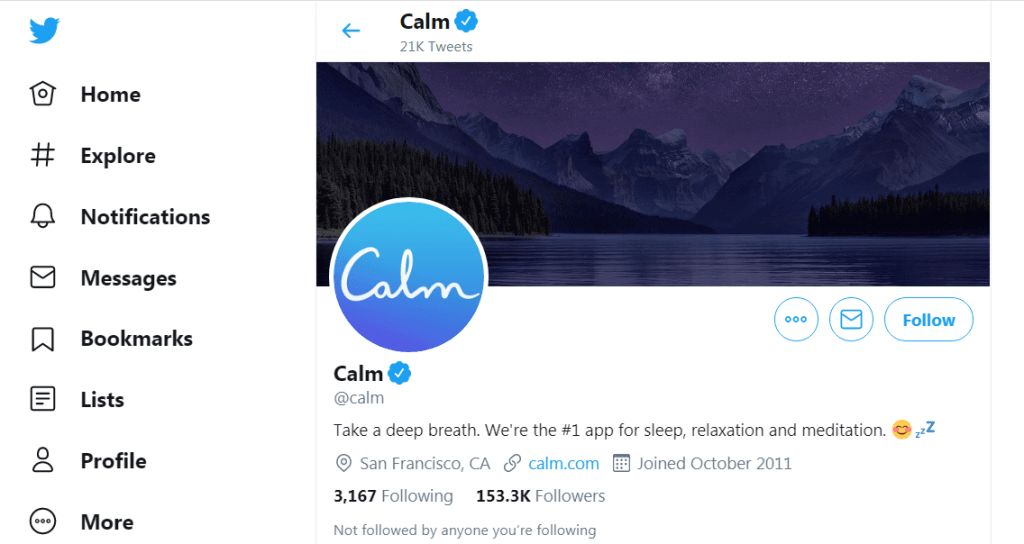 Step 2: Think of What to Write About
To express an idea on Twitter, you have only 280 characters. How to choose topics for posts and formulate them correctly? Start with exploring your target audience because you will post for them. Rely on the analysis of your brand's TA and subscriber data (if you already have them) which can be viewed in the Twitter account analytics section.
Remember that the bar of content quality is constantly rising: 75% of people prefer personalized content from brands, and 56% say they will reward relevant content with a purchase. Alternate between different types of posts and analyze which ones subscribers like best:
Informative (tips, checklists, links to useful articles): for example, Cleveland Clinic publishes the nutritionist's tips for those who need motivation;
entertaining (memes, funny videos, contests, inspiring stories, before/after videos, etc.): Amazon tells how the driver of a delivery service surprised a sick man, while Calm offers to stop and meditate for 30 seconds looking at a beautiful landscape;
marketing (advertising of goods and services, discount announcements, customer reviews): Samsung talks about the introduction of new technologies in gadgets.
Write concise and to the point to capture the attention from the first line. The performance analysis of more than 23 thousand tweets showed that using the words "thank you", "up", "we", "congratulations", "learn" and "excellent" at the beginning of messages increases user involvement.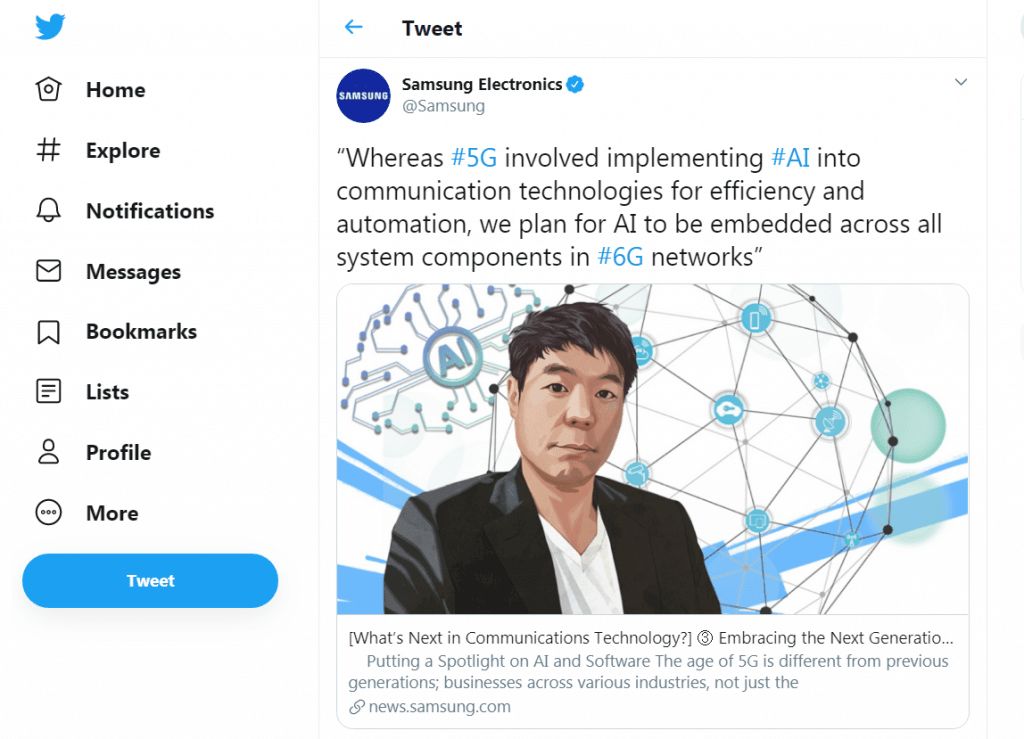 Step 3: Pick up Visual Content
Although Twitter is not a visual social network like Instagram or TikTok, photo and video content is very popular there. The main thing is to use it correctly given the specifics of the platform.
Videos should be short. Twitter recommends keeping the length from 6 to 15 seconds and claims that such video content increases the emotional involvement of the audience by 33.3%. Include the product image and logo in your video as Sun-Maid, a snack manufacturer does in its six-second family entertainment video.
Use GIF files: such tweets get 55% more activity. They can be funny memes or GIFs featuring your product. For example, PlayStation uses a GIF to announce a new game.
When choosing photos try to personalize them. Use the photos of real people such as company members as Workfrom does posting the photo from the online briefing.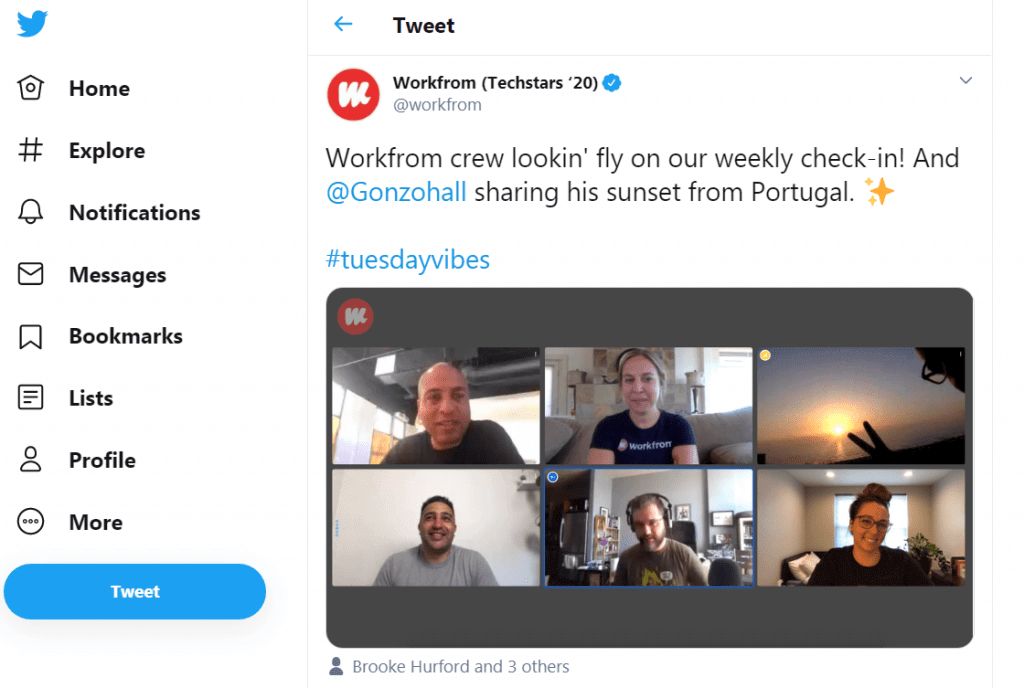 Step 4: Prepare a Content Plan
Twitter is a social network that requires the most content. The audience expects you to tweet up to 15 times a day.
Schedule posts for one or two weeks in advance. Include information that is not time-bound (links to blog articles, infographics, memes, or quotes) and alternate with situational content (news, retweets, customer testimonials). Such a plan is convenient to keep in Google Sheets or specialized online services.
Take into account the activity of the audience. People mostly tap into Twitter in the morning to learn the latest news. The highest activity is on Wednesday and Friday between 9 and 10 am. Besides, unlike other social networks, Twitter is also popular on weekends, especially on Sundays from 8 am to 5 pm.
Do not spam. Peak hours do not mean that you need to tweet every five minutes: it won't cause anything but annoyance. Schedule only the most valuable content for the time of the highest activity.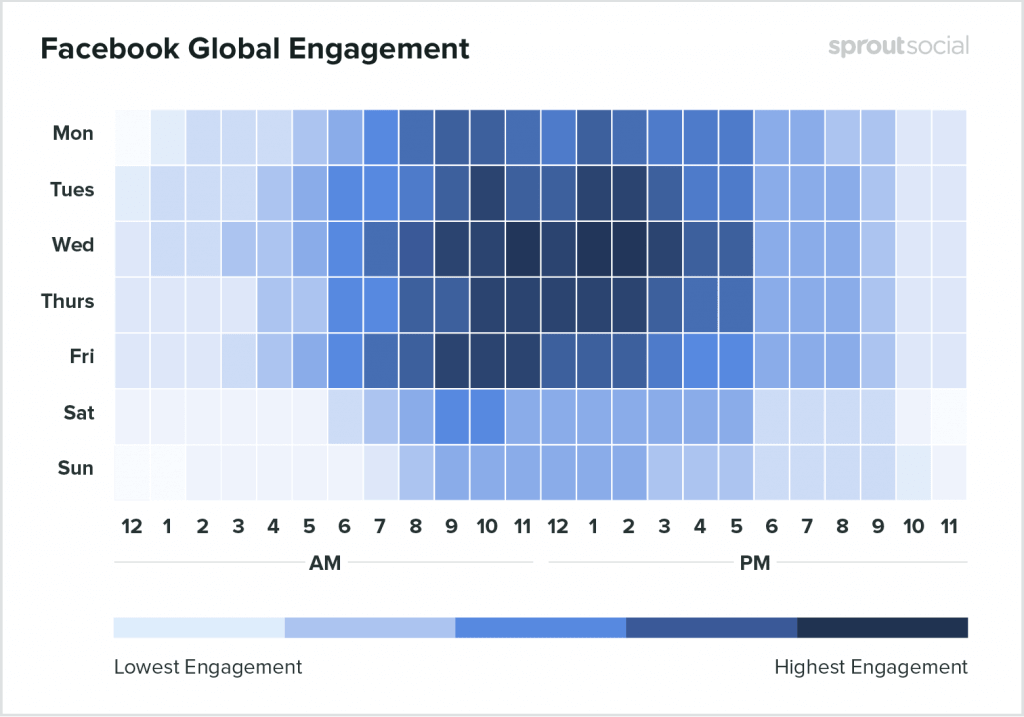 Step 5: Communicate with Users
The indicator of success is not only the number of subscribers but also the quality of your communication with them. The survey revealed that people consider the brand's interaction with customers to be its most important feature. At the same time, it is important how fast the communication is: 40% of respondents expect the brand to respond within an hour after the request, and 79% – within a day. Here's what you can do to start the interaction with the audience on Twitter right now:
reply to comments and mentions in other posts as Old Spice answered the client's question;
respond to private messages quickly;
organize live chats or participate in other chats related to your industry;
retweet the messages where you are mentioned: for example, Starbucks published a post of the subscriber with a funny GIF about a barista, and Wendy's appreciated the creative video of the subscriber about why the brand should subscribe to him;
address users, ask questions, provoke discussion in tweets;
organize polls as Hot Pockets did by prompting users to choose from two dishes on the menu.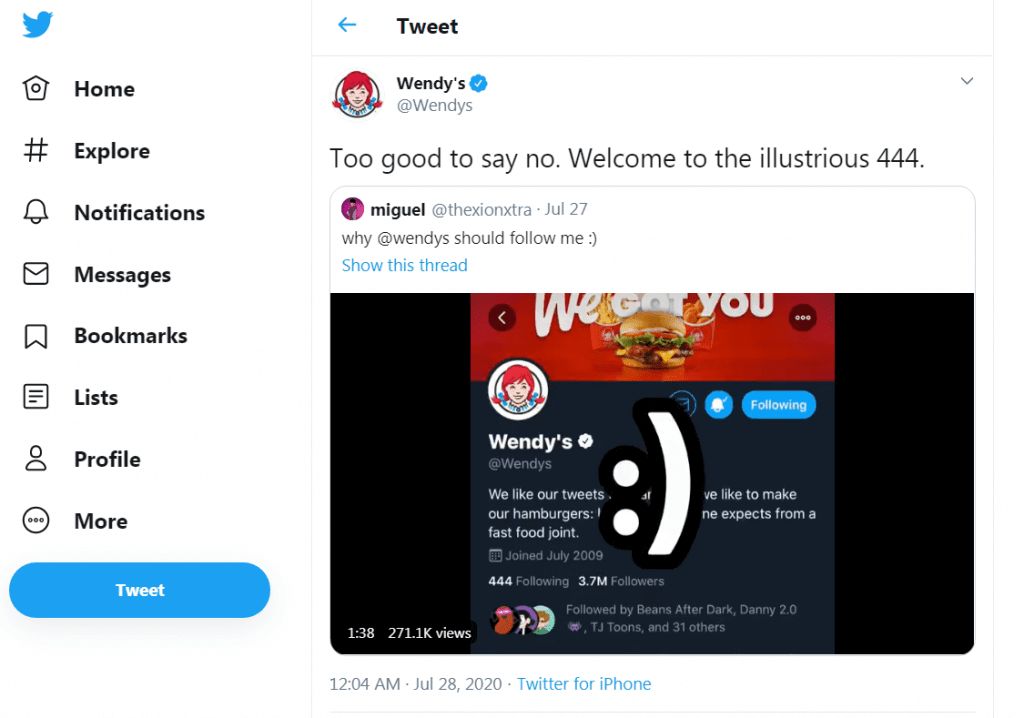 Step 6. Use Hashtags
Hashtags are a kind of SEO-optimization of your Twitter profile for it allows users to find you. According to statistics, tweets with at least one hashtag get 12.6% more activity than without them.
Find out which hashtags are used in your niche: start typing keywords in the Twitter search bar and look at the drop-down list with popular hashtags.
Integrate hashtags into the body of the post. This will allow you to save symbols and not distract attention from the content. See how well the Workfrom freelance platform integrates two thematic hashtags into the text: #remotekind and #coffeebreaks. But don't overload the whole text with hashtags – it looks like spam.
Create your own hashtags: the NBA accompanies the campaign to resume basketball matches after quarantine with the #WholeNewGame phrase.
Use newsworthy events: Starbucks dedicates the post with the #FriendshipDay hashtag to Friends Day emphasizing that a friend is someone who knows which coffee you prefer.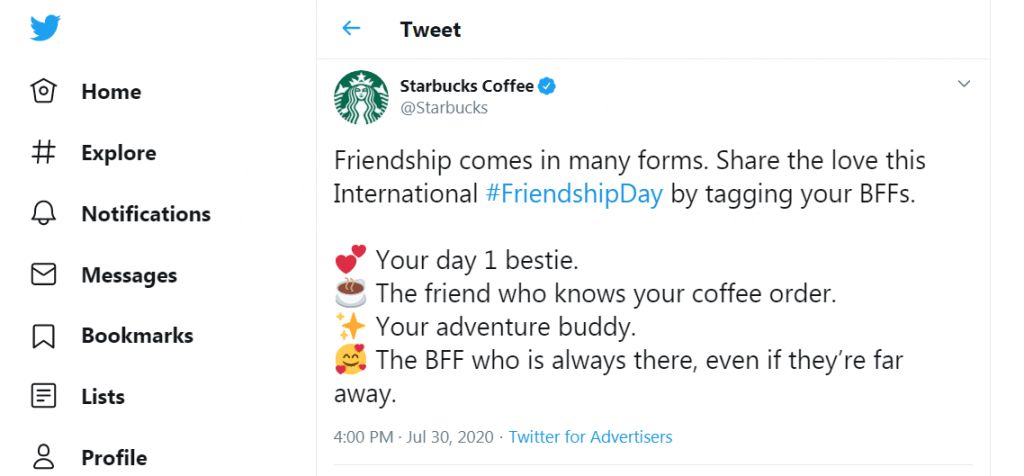 Step 7: Post Links to Your Twitter Account On External Resources
Use every opportunity to advertise your Twitter account and encourage people to subscribe to you
post links to your Twitter profile on other social networks;
write a post on any social network encouraging people to subscribe to your Twitter;
post a link to your Twitter on the website as Spotify, TED, and Grammarly did;
include the icon with a link to Twitter in your email signature;
insert your tweets into blog posts, if they are relevant to the topic.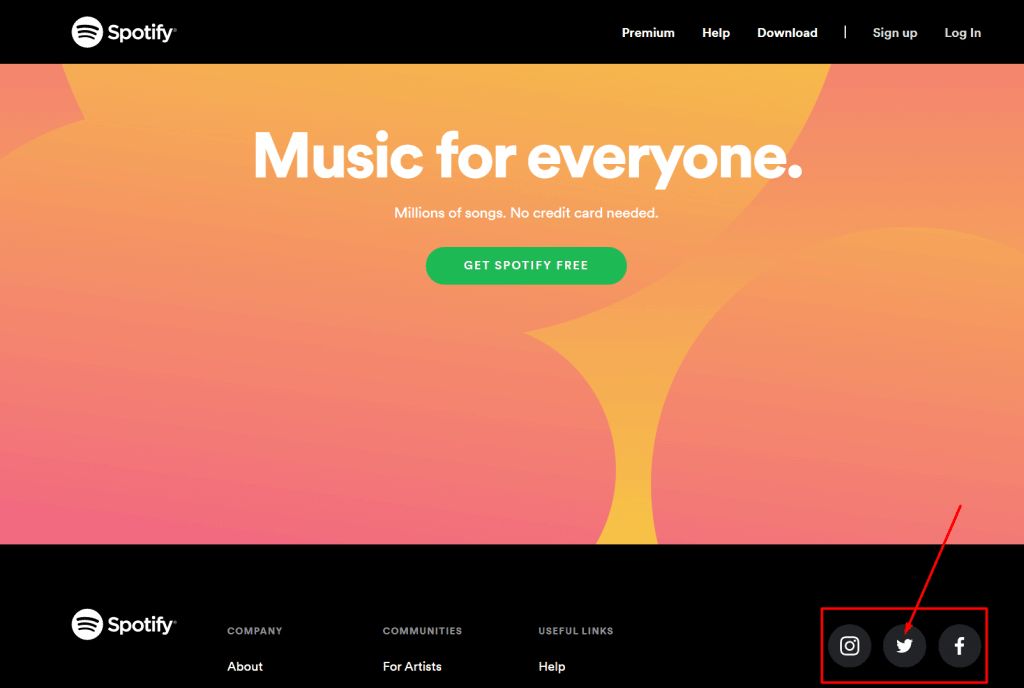 Summary
A short summary of what you need to do to attract followers on Twitter:
examine the target audience and their interests;
personalize your account design;
create a content plan, select photos and illustrations, focusing on the interests of your TA;
involve subscribers and communicate with them;
promote your account at other platforms.