If you're engaged in creating YouTube videos, ads or presentations, you're probably going to need ready-to-use video clips from stock image websites. There is no denying that downloading someone else's video is way easier than shooting one of your own. In this article, we're going to look at why businesses may need stock and archive footage and where to find it.
The difference between stock and archive footage
Let's start with some crucial terminology. This article talks about supplemental, secondary footage which is referred to as "B-roll". This term is widely used in film and television production. Now out of use, the term "A-roll" indicated the main footage. As for B-roll footage, it mainly served to hide visible splices between shots.
Nowadays, B-roll refers to short (up to 1 minute) video footage which can be used across a variety of contexts, from social media to TV shows. B-roll footage serves to provide supporting scenes, create smooth transitions between shots, highlight certain details, etc.
B-rolls fall into two categories, stock footage and archive footage. These two types of video clips have different purposes, contents, and uses.
Stock video footage
Purpose. Stock video footage is sold through photo banks. Shot with professional cameras, stock video clips tend to have a very good quality. Stock videos are usually protected with watermarks, e.g. corporate logos.
Contents. Stock video footage is pretty generic. You can't tell based on the contents of a video when and where it was shot (unless the video features a prominent sight). Stock videos tend to concentrate on certain topics, as opposed to events. Here are some examples:
popular sights (cities, monuments);
activities (snowboarding, online conferences, dinner at a restaurant);
people (students, seniors, families, children);
nature (sunset, forest, snowfall, sea, rainbow);
places (stores, bars, parks, coworking spaces);
animals and birds.
Use. One and the same stock video can be used for different purposes. For example, a clip featuring South African landscapes will look good in videos dedicated to travel, wildlife protection, diamond mining, etc.
Archive video footage
The term "archive" has a rather vague meaning. The Cambridge Dictionary defines it as "a collection of historical records relating to a place, organization, or family". In other words, archive footage can refer to a wide spectrum of video content, from family chronicles to pioneer ads. It's not uncommon that old school videos may contain rare or unique footage.
Purpose. In addition to having a commercial purpose, archive footage also aims to capture a certain event, location, or person (group of people).
Contents. Archive video clips cover a variety of themes, from celebrity lifestyle to protest demonstrations. Here are some examples of archive footage:
the iconic "Arrival of a Train at La Ciotat" by the Lumiere Brothers;
footage of empty supermarket shelves early into the Covid-19 pandemic;
concert footage;
a video clip from yesterday's news broadcast.
Use. Archive footage showcases something which is located or is happening at a certain time and in a certain place. So if you're willing to take your viewers down the memory lane and show them the 1960 Formula-1 race or Prince Harry's 2018 wedding, you're going to need the archive footage of those events.
Where and how to use stock video footage
Stock video clips fit any type of content, whether purely artistic or sales-oriented.
Website and social media. Use B-rolls in your online articles, social media posts, covers, etc.
YouTube. Have a YouTube channel? Go ahead and enhance your content with high-quality stock footage. It can be a short video clip dedicated to fashion, animals, technologies, or any other topic depending on the theme of your channel.
Advertising. Stock video footage is a great solution in situations when you don't have a team or budget to make a professional video of your own.
Offline events. When it comes to presentations and slideshows, it might be a good idea to use stock video clips to solidify your point, combine shots, engage the audience, etc.
Entertainment events. B-rolls are often used as a background at concerts, shows, and other events.
We've brought together some smart tips to help you effectively use B-rolls in your projects.
Use stock footage right. Be sure to use stock footage as an addition to your main content. A stock video must not be the centerpiece of your presentation or ad.
Check accuracy. Make sure your video clip is historically and/or geographically correct. Otherwise, you risk confusing your audience and staining your professional reputation.
Avoid clichés. With artificial emotions and similar plots, video footage from stock image websites often looks unnatural and sometimes, over-the-top. When choosing the right video clip for your project, try to think creatively and avoid the content that looks too generic.
Where to find stock video footage
There is no lack of stock libraries with millions of high-quality footage clips. Stock libraries range from high-end to budget. We recommend you shop around to see which has the content that you need for your project and that fits your budget.
There are also numerous resources where you can find a wide range of high-quality video footage for free. All of them differ in features, content, and specifics regarding the allowed uses for the content offered., but everyone can find the best option that fits their specific purposes.
Among free services, we recommend you to try Videvo.net if you're looking for beautiful intro videos. You're sure to like Videvo's amazing collection of intro stock footage, which offers a large variety for you to put together something memorable for your videos. In addition to their free content, Videvo also offers a few Premium plans at some of the most affordable prices out there, so we recommend you check them out too!
Whatever service you may choose, ensure you check license terms before downloading footage and using it for your video. Free licenses, like Creative Commons 3.0., do require attribution to the original author or source. If you don't want to mention this in your project, make sure that the content that you use has a Royalty Free license.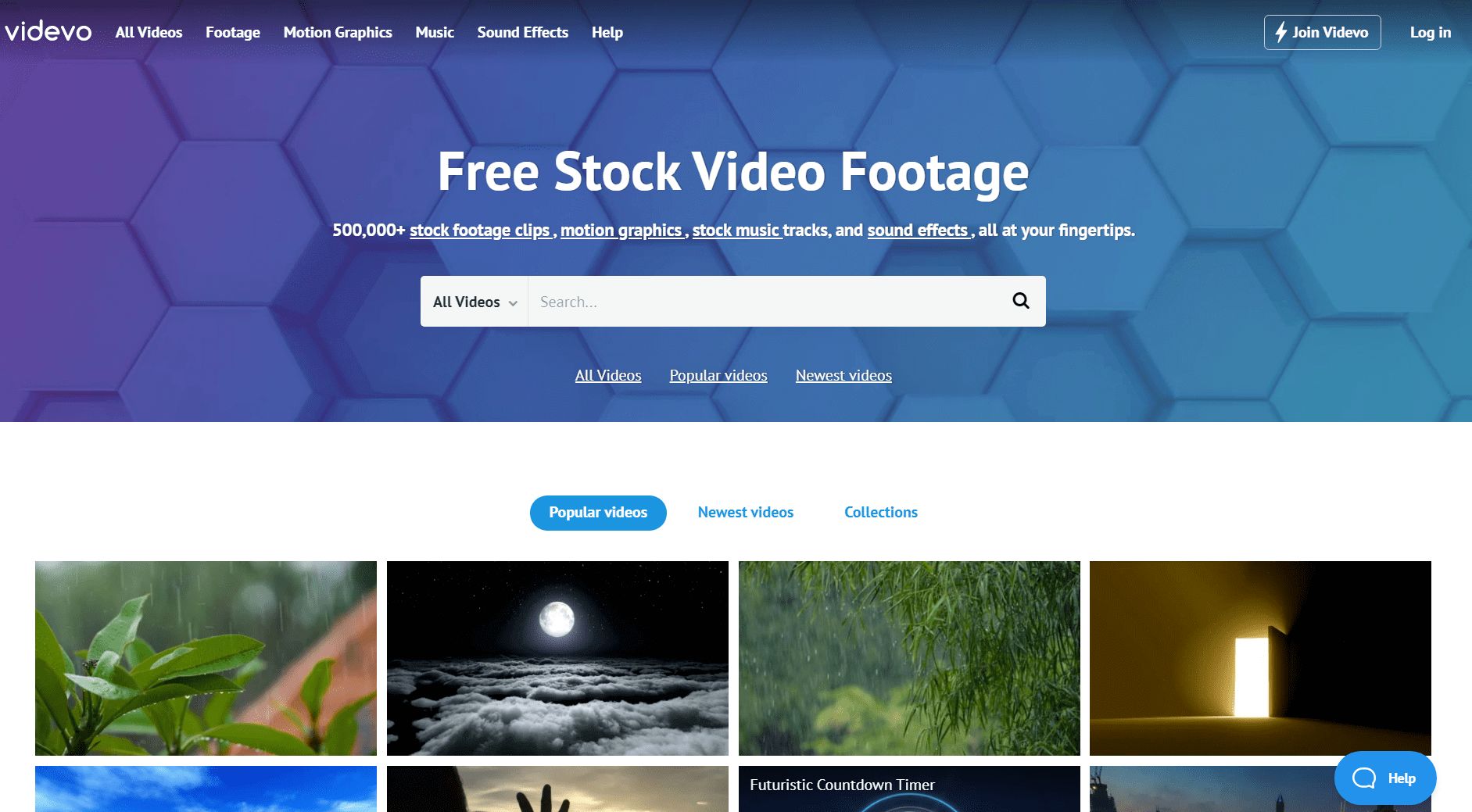 How to choose the right license
Is stock footage free? Do I have to credit the creator of a video? Can I use B-rolls for commercial purposes? All this depends on what type of copyright license your video has.
Royalty Free
Royalty free is the most common copyright license used by paid photo banks. If a stock video clip comes with a royalty free license, you only have to make a one-time payment for it and then use it in your projects an unlimited number of times without crediting the artist. The one-time payment roughly varies between $5 and $500 per unit.
It's important to remember that it's not the video product that you're buying, but the rights to use it. Also, paying a royalty-free license fee doesn't automatically mean that you're getting a unique video. Other users can purchase the rights to the same video clip as you.
Choose royalty-free videos if:
you have a limited budget for content creation;
uniqueness is not your priority.
Rights Managed
Right managed video content costs a lot more than royalty free videos. On a brighter side, you get a unique, exclusive video clip that you're allowed to use within a specific time period.
Choose right managed videos if:
you're not limited in budget;
you're looking for unique video footage to stand out from competitors.
Creative Commons
A Creative Commons license allows you to use video products free of charge. Video content can become publicly available through a number of reasons. For example, the copyright of a video expired or its creator offered their work for public use.
Keep in mind that there are several types of Creative Commons copyright licenses with different terms of use. You can read more about the Creative Commons licenses here.
Choose Creative Commons licensed videos if:
you're looking for a video content which is completely free.
Here are some insightful tips for choosing video footage in photos banks.
One and the same site may offer various types of video clips. For example, one video clip may be free for personal use, while another one may require attribution.
It's not uncommon that in addition to the common copyright licenses mentioned above, photo banks introduce their own terms of use.
Each video on stock websites comes with detailed information on how you can use it. Be sure to carefully read the information before downloading the file.
Conclusion
B-roll is a simple, fast, and budget-friendly way to create killer video content. You can use supportive video footage to make your article, ad, or presentation more engaging and informative. If your budget allows, go for unique footage clips. Also, be sure to check out the copyright license and terms of use for each particular video.