Grabbing attention in our super-distracted world is a struggle, and keeping audiences engaged over time is even more challenging. Consumers today are bombarded with bombastic content jostling for public attention at every turn, making it trickier than ever for brands to connect with potential customers.
Despite the glut of content on social media, experts still generally see it as the best way to get your business's message in front of the right audience, and social video and video ads are among the most popular ways to do so.
According to DataReportal, the number of people using social media climbed at a CAGR of 12% to 4.62 billion over the past 10 years, and video-focused platforms like TikTok, YouTube, and Instagram are among the most popular channels.
What is brand awareness?
Every relationship is based on trust, and consumer relationships are no different. Trust can be built in a number of different ways, including past experiences with the brand, recommendations from friends, and researching a brand's reputation. For example, in 2021, 77% of consumers said they either regularly or always read reviews before shopping somewhere new.
But trust can also be built simply through brand awareness. A Google study found that people are more likely to buy from a brand name that they're familiar with, concluding that brand awareness makes up more than one-third of the purchase decision.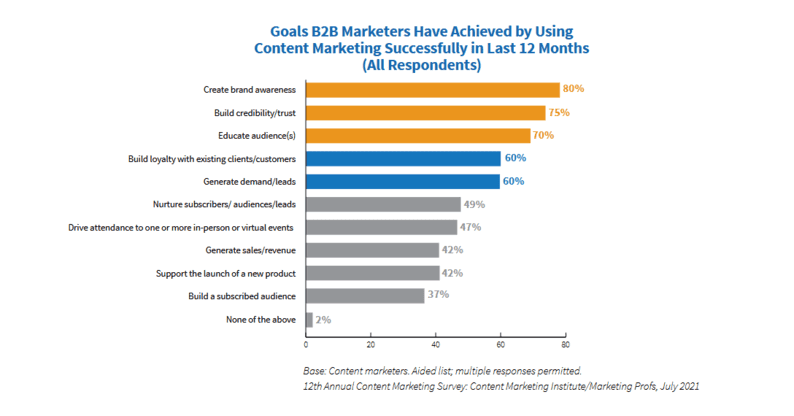 Perhaps that's why marketers placed growing brand awareness at the top of their list of goals for content marketing.
Why social media video is useful for brand awareness
Social media video ties in neatly with this need to increase brand awareness, with 93% of marketers saying corporate video helped attract new customers and fans to their business brand.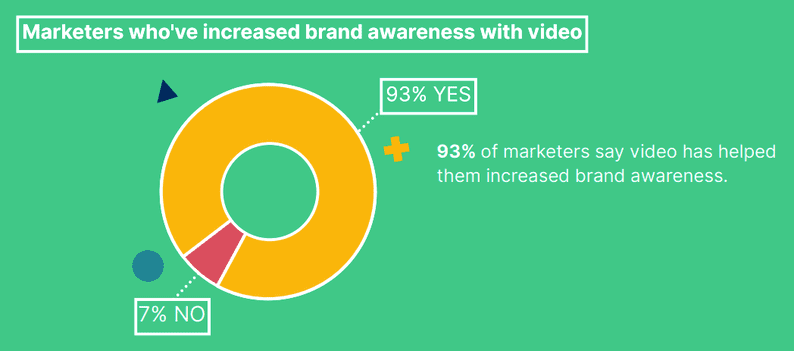 Let's take a look at a few of the key reasons why this is the case.
Consumers are eager for video content
People watch an average of 2.5 hours of video per day, and 19 hours a week, far more time than they spend on other content types.
Video content is shared twice as often as other media types, and almost three-quarters of consumers say they'd prefer to learn about a product or brand by watching a video than by reading text.
Video content outperforms on algorithms
Both search engines and social media platforms prioritize video content. Last summer, Adam Mosseri, the head of Instagram, told viewers in a live session that video is a key focus area for the platform, "driving an immense amount of growth online for all major platforms."
Even on Twitter, a more text-oriented platform, statistics show that tweets with video are 10x more effective at driving engagement than those without video.
Video is highly engaging
Consumers will continue watching a video for more time than they'll spend on other types of content, which means they spend more time engaged with your branding.
In 2022, 54% of viewers watched a video all the way through to the end, compared with 45% in 2020, even though average video lengths have risen from around 6 minutes to almost 10 minutes in the same timeframe.
Video builds connections
Video is one of the best storytelling media around.
It offers an opportunity to talk directly to the consumer and convey an authentic voice, fleshing out your brand into a distinct personality that people can relate to.
How to build a good video strategy
Now that we've reviewed some of the reasons that video formats make such effective assets for driving brand awareness, let's take a look at the process you'll need to undergo for getting started with a solid video strategy.
1. Define your audience
Different audiences are receptive to different voices, styles, and types of videos, so you need to define your audience before you can produce a video they'll like.
For example, MTV, which typically targets teens and young adults, featured the D'Amelio sisters and other youth favorite social media stars in their recent recap clips from the MTV Movie & TV Awards.
2. Set clear goals
Every marketing campaign needs to be driven by a goal, and that's true for social media video too. With a clear goal, you'll be able to tailor your video choices appropriately, whether it's to raise brand awareness, drive conversions, or boost your reputation.
For example, Lego made a series of videos with the hashtag #RebuildTheWorld, to polish up its brand reputation for sustainability, diversity, and creativity. The videos star a diverse range of influencers to ramp up Lego values.
3. Choose the right platforms and video types
Even once you've defined your audience and goals, there are still so many different kinds of video to choose from, like live video, asynchronous video, behind the scenes video, explainer video, and more.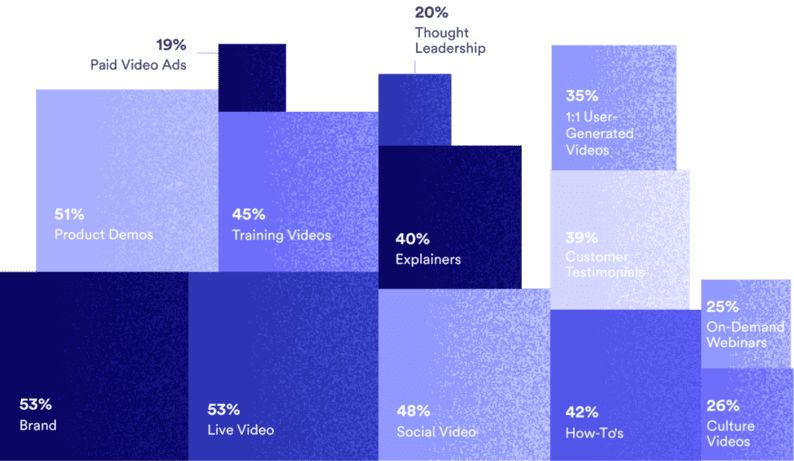 Your choice of digital platform feeds into the video format you choose. Each platform has its own video formats, like Facebook Stories and Facebook Live, Instagram Reels and IGTV, and TikTok's portrait feed videos.
4. Create great content
It might be stating the obvious, but if your videos are boring, they're not going to drive positive brand awareness. Think of the famous Dollar Shave Club videos — they are often outrageous and over-the-top, but they are certainly memorable.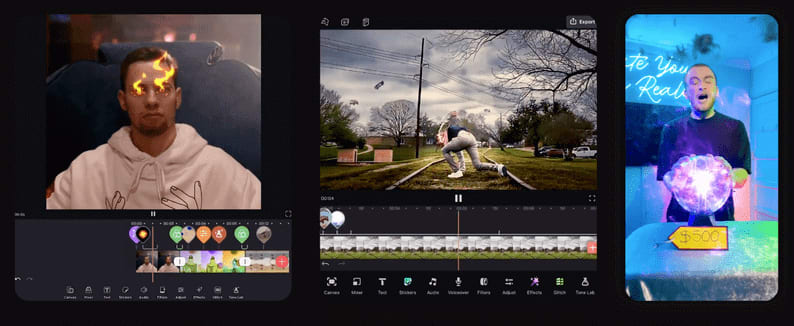 Thankfully, content production is easier than you might think, with tools like Videoleap, Lightricks' flagship video maker app. Filters, special effects, masks, templates, chroma key editor, and mixers help you turn mundane video content into something astonishing.
5. Schedule and promote your videos
Making the video is only half the challenge. Even the best content is unlikely to go viral unless you plan to schedule and promote it.
That includes researching the best times of day and week to post your new video, cross-posting to other sites like Instagram, Snapchat, and Facebook as well as TikTok and YouTube, and encouraging employees and loyal fans to share your content so it reaches more eyes. Likewise, using a social media calendar can help keep you organized with your cross-channel efforts.
6. Analyze and adapt
Successful video promotion requires dedication to data. You need to keep track of video analytics so you can optimize for metrics like:
Watch time
Viewer counts
Shares, likes, and comments
Conversion rates
Viewer demographics
Use these stats to tweak your next video accordingly.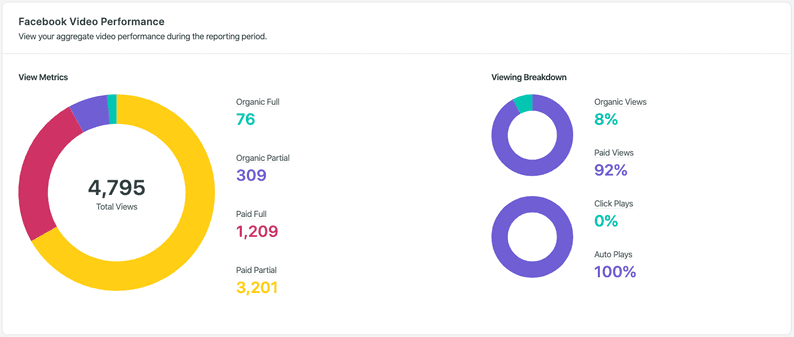 Most social media platforms include video analytics as a service, but they'll each track slightly different metrics and display the results in slightly different visualizations, so it's important to inform yourself about the options.
7 tips for creating great video on social media
The above steps should be enough to get you started with a basic process for driving brand awareness with social media video. As you embark on this process, though, it can be helpful to keep these "best practices" tips in mind.
Keep video quality high. That includes removing any buzz or static from the audio, using HD for visuals, and keeping that camera steady.

Tell a story. As we already mentioned above, your video needs to have a coherent narrative, even if it's just a few seconds long.

Ensure your video gives value to the viewer. Even if your video is a short paid advert, people want to be entertained and/or informed.

Include subtitles. A lot of viewers watch videos on silent, and subtitles mean that your video is accessible to everyone.

Begin with a bang. Viewers make a decision about your video in just a few milliseconds, and it takes about 0.05 seconds for someone to form an opinion about your brand, so you need to grab them from the get-go.

Put emotions on display. People respond emotionally to emotional video, so don't be afraid to show vulnerability, joy, or anxiety in your video content.

Keep it short. Although this year saw lengths jump up, people prefer short videos, with most videos under the 1-minute mark and fewer than half exceeding 2 minutes.
Social media video can be your bridge to success
Social media might be crowded with video, but that's testimony to its effectiveness for brand awareness. By investing in producing social video that's the right length, tells a story, and engages the viewer; defining goals, audiences, platforms, and video types; and tapping into analytics to keep improving your decisions, you can boost brand awareness and drive more revenue to grow your business.