How many hashtags are enough for an Instagram post? How to create a clever hashtag? What are banned hashtags? If you're promoting your business online, you must've wondered about these and many other things. This article contains the answers to all questions regarding hashtags. Read on to find out how to enhance your online presence and reach out to new audiences!
Types of hashtags
Hashtag is a combination of letters, digits and emojis preceded by the # symbol. By clicking on a hashtag, you get redirected to a page which contains the information referred to in the hashtag. For example, if you click on #winteroutfit, you'll get access to smart ideas for your winter look. By clicking on #memes, you'll see cute and funny images and videos which are trending on the Internet. This is how hashtags work both in Instagram posts and stories.
Hashtags are aimed at boosting your Instagram reach and attracting the part of your target audience which doesn't yet know about your company. You can search by hashtags. Also, you can subscribe to a specific hashtag to be able to see the relevant content in your newsfeed. Say, you have a dog grooming business. In this case, your potential clients can search your company on Instagram by the following hashtags: #dogoftheday, #doglovers, #doglife, #doglove, and the like.
Hashtags can be split into several types:
Goods and services. Keywords characterizing your product or service (#handbag, #psychology).
Niche. Words specifying what exactly you're doing (#foodblogger, #weddingphotographer).
Community. Groups of people engaged in the same job or craft (#stylistsofinstagram, #bakersofinstagram).
Event. Hashtags referring to holidays or seasons (#autumnmood, #nationalicecreamday, #christmastime).
Loation. Hashtags specifying where you're doing your business (#pastrynyc, #londonfoodie, #madridmonumental).
Lifestyle. Hashtags describing your mood (#mondaymotivation, #fridayvibes, #sundayfunday).
Words indicating a specific activity (#bakerylove, #amwriting).
Abbreviation. Shortened forms of commonly used phrases. Examples: #TBT (Throwback Thursday) to refer to nostalgic memories; #OOTD (Outfit Of The Day) to indicate the outfit of the day.
Emoji. Emoji icons can be used on their own or go with a word (#??, #sunglasses?).
Optimal number of hashtags. Banned hashtags
There is no one-fits-all answer to how many hashtags you should be using. The exact number depends on the type of your content. For example, the maximum number of hashtags for an Instagram post is 30. For an Instagram Story, you can't use more than 10 tags. However, it doesn't mean you must always keep the number of tags to the maximum.
On the average, an Instagram post contains 10.7 hashtags. At the same time, there is a research showing that posts with 6 and more hashtags tend to have lower user engagement. The only way to determine the optimal number of hashtags is by trial and error. Publish content with different numbers of hashtags and see what posts and stories generate more likes, comments, and new subscribers.
However, it's not only quantity that you should think about. Quality is equally important. Avoid the so-called "banned hashtags". These are the tags which were blacklisted by Instagram because the posts using them go against the Instagram rules.
The trick is that Instagram users can't see the content with banned hashtags in their feed. It's only displayed on your page and on the list of posts with the same tag.
The list of banned hashtags is changing all the time, so it makes sense to check each tag before publication. Enter the hashtag into the search field, and Instagram will tell you if it's okay to use.
How to create smart hashtags for your business
For the maximum outreach, the best tactic is to couple popular and niche hashtags. Here are a few more specific tips:
Start with keywords. Make a list of the most popular hashtags related to your business. Enter a keyword into the Instagram search field and see the frequency with which it's used.
Keep in mind that the most common and trendy words (e.g., #love, #selfie, #smile) are not necessarily the ones with the biggest KPI. The trick is that your post can be easily lost among millions of similar posts with the same tag.
Be sure to benefit from niche hashtags, i.e. those with medium or low frequency of use. Say, you're making and selling sweets. In addition to the super popular #food tag (245 mln posts), also use #sweetstagram (181,000 posts), #homemadesweets (218,000 posts), and #sweetforsale (1,000 posts).
Find out what hashtags are used by your target audience, competitors, and industry leaders.
Come up with a unique hashtag for promoting your brand or running your advertising campaign. Below we'll go deeper into this issue.
8 life hacks for using hashtags
Crafting the right hashtags is only half of the deal. You also need to use them correctly. This is where our tips will come in useful!
1. Don't repeat yourself
Avoid using one and the same suite of hashtags in each post. Otherwise, Instagram might mark your content as spam. Make sure your tags go in line with your text and images. This is a surefire way to draw in your target audience and avoid shadow ban.
If you're using #traveltips, make sure your post actually offers valuable insights for travellers. Only use #weddingdress if there is a wedding dress in your photo or illustration.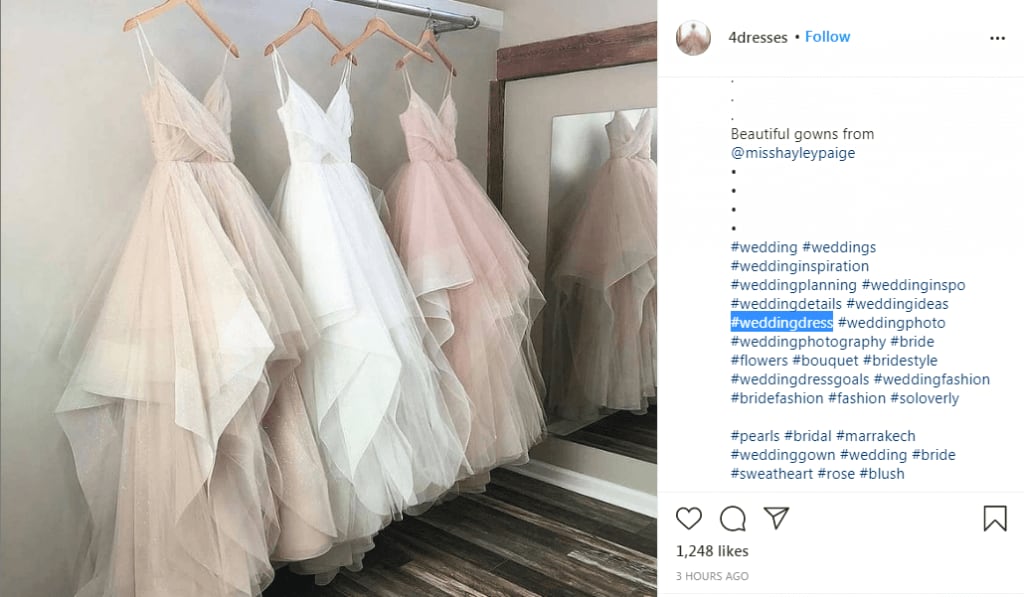 Lifehack. Devise a content plan for 1-2 weeks. Make sure your posts cover a wide variety of topics. This is how you avoid using the same hashtags all the time.
2. Make a list
To save time, make a list of 20-30 tags you'll be using in your posts. We recommend doing that in Google Tables. In Column 1, write out all hashtags. In Column 2, write the frequency of use for each word. In Column 3, list the topics correlating with each tag.
Life hack. When making a publication, simply copy the right tags from the table and paste them into the post.
3. Coin custom hashtags
It can be a word or phrase related to your company, product or promotion. For example, the major sportswear brand Nike uses a tag with its iconic slogan, #justdoit. During the 2020 Covid lockdown, the company came up with the #playinside tag to encourage those training at home. As for Starbucks, the coffee giant supplied each beverage with its individual hashtag.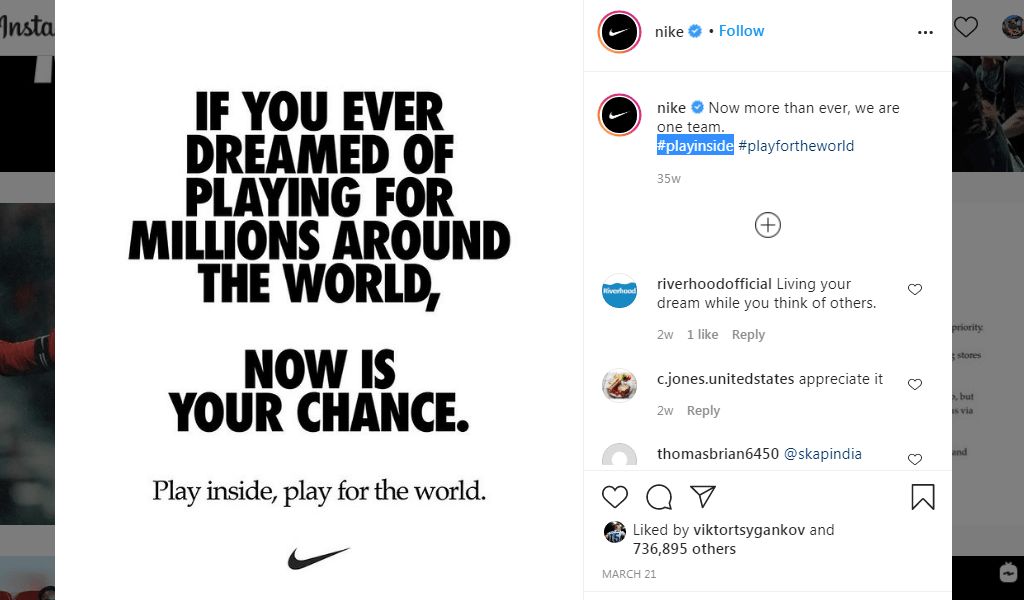 Custom hashtags are great at business promotion. Ask your followers to subscribe to your signature hashtag. Hold a contest for the best post containing your custom tag. The ideas are endless!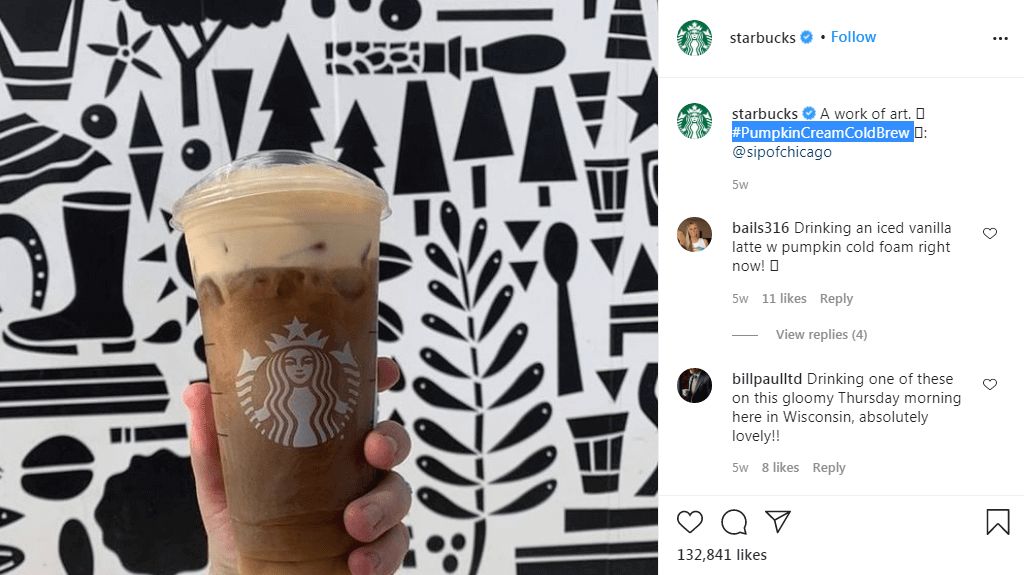 Life hack. Subscribe to your custom tag to be able to keep tabs on how it's being used. Also, be sure to give feedback to user content containing your tag and share the best posts.
4. Brand your Instagram page
Your bio (or profile description) is the first thing users see when landing on your Instagram page. Don't miss out on the opportunity to brand your Instagram profile. The basic things you can do right now is to add your custom hashtag to your bio and use your logo as a profile picture. This will help users better memorize your brand.
Life hack. To come up with the best hashtag for your Instagram bio, think about the word or phrase which sums up the unique essence of your company and makes it stand out. It can be your slogan or the name of your flagship product. To create a professional Instagram-optimized logo, use the ZenBusiness logo making service.
5. Use hashtags in your Stories
Make sure your hashtags fit the topic of your story. Avoid overusing one and the same tag. Put some effort into making your hashtag look nice in a photo or video. Move the tag around, trying different spots. Scale it up and down. Also, it might be a nice idea to make your hashtag semi-transparent.
Life hack. To hide a tag, cover it with a sticker or CIG animation.
6. Save up space
The size of an Instagram post is limited to 2,200 characters. If you don't have space left for hashtags, feel free to publish your post without them. You can always publish the hashtags in the first comment below.
Life hack. The best way to go is to work hashtags directly into the text. It can be easily done with popular words, such as #home, #sun, #winter, etc.
7. Check the blacklist
If your Instagram views are going down, be sure to check your hashtags. It may be that one of your tags has been banned for violating the Instagram guidelines. Remove the invalid hashtag and replace it with a new one.
Life hack. To avoid shadow ban, make the habit of checking the list of banned tags on a regular basis.
8. Track the statistics
Take the time to analyze the statistics available in your Instagram profile. Find out what tags improve your outreach and increase user engagement. Pick any post, click the three dot icon, and select "View statistics".
Life hack. If you have a personal Instagram profile, you might want to switch to a business profile to be able to better advance your brand. Don't worry, your content will remain the same.
Wrapping up
Hashtags are a powerful tool for attracting new audiences and enhancing your outreach on Instagram. Devise a smart promotion strategy, build a content plan, and make a list of hashtags which are good to go. Like any social network, Instagram is changing its rules and guidelines all the time. Keep track of the latest updates so as not to get into trouble.