Content:
General requirements
Over the past 7 years of creating logos and corporate style elements for small businesses we have come up with disappointing statistics: every other entrepreneur has no idea about technical requirements for printing. As a result information located close to the edge of a business card or a flyer is simply cut out, fonts and colors do not match the original plan and images turn out to be blurred.
To make sure your investments in printing were not wasted, keep in mind the most common requirements for templates – files sent for printing :
Formats: .tiff, .ai, .eps, .indd, .pdf, .psd, .svg. Other formats do not have characteristics required for high quality printing.
Color model: always create your templates in CMYK format. Converting from RGB to CMYK won't give desired results – end product colors will differ from originally planned.
Resolution: use 300 dpi for regular printing and 200 dpi for wide-format.
Dimensions: never locate any important information closer than 4 mm to the edges of the final product. Add 2 mm to the required width and height in order to avoid cutting important parts out.
Size of the file: it shouldn't exceed 250 Mb. Preferably up to 50 Mb.
Fonts: always convert them to curves.
Two-sided advertising: require several templates. One side – one template.
Flyers and leaflets: main difference, choosing paper and font, creating templates
Flyers and leaflets are the most affordable ways of distributing information offline.
The key difference between them is in functionality as such. Flyers are mainly distributed during promotional events and advertising campaigns. They are also used as entrance tickets for various events or discount vouchers. Leaflets are intended to inform the customer about something: they increase brand awareness and inform about new products or services.
They are also distributed differently: flyers are mainly handed out to already existing or potential customers, while leaflets are placed on information stands, pre-elevator zones or spread via mailboxes .
Flyer formats:
mini-flyer 74х105 mm (А7) or 100х100 mm;
Euro flyer 210х100 mm;
Leaflet formats:
105х148 mm (mini, А6);
148х210 mm (compact,А5);
210*200 mm (Euro, square 2);
210х297 mm (standard А4);
297х420 mm (poster А3).
In some cases big size of a leaflet gives entrepreneur a false hope: it seems like you can add a lot of information in the field, including pricing, certificates, product description with photos, as well as big block for contact information. However, key requirements for a leaflet, including easy perception and brand awareness, do not match these expectations. In other words, try to highlight the most important, cut the text and come up with a bright design of an ad.
The most popular paper type for leaflets is enamel paper with 130 g/m2 density and no extra coating. To save money, offset paper with 80 g/m2 density can be used for mass printing. However, premium leaflets are printed on cardboard with 200-450 g/m2 density.

In order to make your leaflet stand out among hundreds of similar ones, simply use hybrid coating technique, stamping, UV-finishing or even velvet lamination technique.
Flyers are generally printed on chalked gloss coated paper with 90-130 g/m2 density, which ensures bright deep image. 150-250 g/m dense paper is rarely used due to high cost, while 300-450 g/m2 dense paper is mainly used for printing entrance tickets to events, business lunches or forums.
The process of creating templates for printing is identical for both flyers and leaflets:
Add 2 mm to the size of the template on both sides to avoid trimming the bleed.
Locate important design elements (text, logo, photos) 4-5 mm away from the edge of the final product
If your product has front and back side, you need two prepare two files, one for each side
choose CMYK color model.
choose 300 dpi resolution
send files for printing in vector format after converting fonts to curves.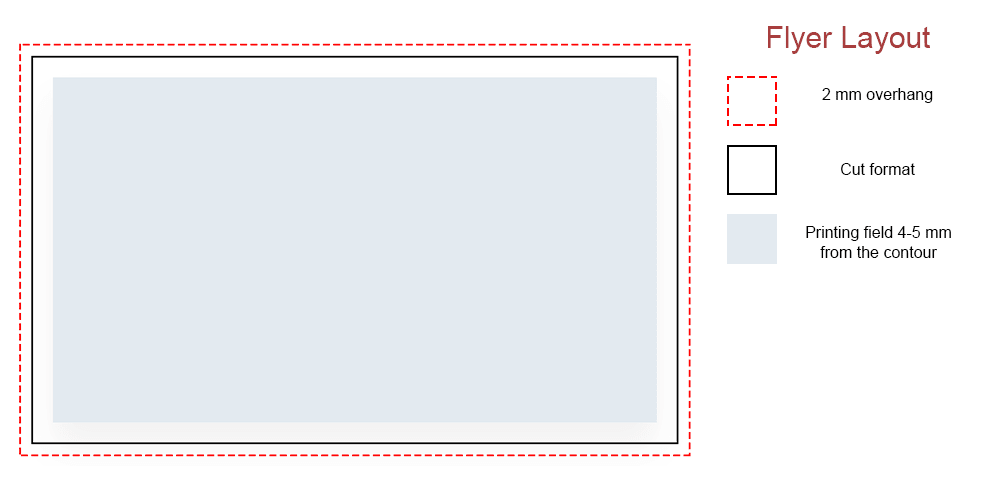 It's not recommended using Word or Paint for creating advertising design and then printing your flyers and leaflets on a home printer. By trying to save money, you will damage the overall image of the company, as first impression is made right after seeing quality and aesthetics of promotion materials.
Printing on bags
If customers are leaving your store with purchases, it would be great to offer them bags. Clients consider it to be a sign of care, while branding is an efficient advertising tool, suitable for both local and international companies.
Depending on business goals, printing offices offer the following types of bags for corporate style printing:
"top-shaped" plastic bag
"banana shaped" bag with strengthened handles and bottom gusset
paper or plastic sling-type bag
kraft paper bag;
courier bag with self adhesive sticky edges for sending documents
Key requirements for templates:
CMYK color model;
resolution not less than 300 dpi ;
vector format: .cdr, .ai, .eps, .pdf and fonts converted to curves;
no bitmap effects, gradient, transparency ,fountain fill, shadow, smoothing, etc.
closed contours.
Printing office websites usually have templates of all possible sizes available, starting with top-shaped to kraft paper and gift bags, so you can create your own design. If you managed to order logo and other corporate style elements in advance, printing process will take 30-40 minutes.
Badges and the ways to fix them
In the scientific world – conferences, round tables, seminars – badges are used for identifying participants and organizers. Business took over this tradition with a different goal: to avoid awkward referrals such as "dear" and "I'm sorry", as well as help customers to identify colleagues able assist in solving issues.
In order to make sure a badge is not only performing informative, but also image-building function, it displays company name and logo, as well as corporate colors.
There are three types of badges:
Paper
Plastic
Metal
Paper badges are used during large-scale events due to being cheap and produced relatively fast. Information about the person can either be printed or handwritten in a designated field. Shape and size depend on technical capabilities of a printing house and top coat can either be matte or glossy.
Metal and plastic badges are more expensive and therefore used for internal identification of the employees.
Badges can be fixed with a pin, a magnet or a lanyard. However, pins and magnets are not really practical, so we recommend using lanyards, which can also come with a badge. Sublimation technique is used for printing and full-color corporatec identica can be added on both sides of the lace.
Business cards: types, formats, printing techniques and storage, general requirements for templates

Business card is the most popular type of branded printing products.
Here are five main business card formats:
Euro – 85х55 mm;
Standard – 90х50 mm or 90х55 mm;
Folded – 180х50 mm or 90х100 mm with a horizontal or vertical fold;
Squared – 90х90 mm.


Gold standard material for business cards is matte or glossy paper with 350 g/m2 density. Elite business cards are printed on designer cardboard, texture paper, ultra-white paper, metalized paper or high density paper of at least 450 g/m2.
For top coat one can use matte, velvet or glossy lamination,UV-finishing or hybrid random ground.
Main techniques of business card printing:
serigraphy(pad printing) – is an affordable method of printing simple 1-3 color business cards no half-tint and gradients;
digital printing – suitable for small and medium runs
offset printing – for templates with any degree of complexity starting with 500 copies.
You can actually print affordable business cards using your own office printer. However, you need to buy some dense paper, professional ink and cut them carefully. It's easier to hire professionals able to deal with this task faster and with better quality.
Requirements for business card templates:
Add 2 mm to the required width and the height of the file in order to avoid cutting important parts out.
Never locate any important information closer than 4-5 mm to the edges of the final product
Printing houses will accept only vector formats: .cdr, .ai, .eps, .indd, .pdf;
Color model CMYK;
Resolution -300 dpi;
One side – one template.
We recommend you to learn the following acronyms: 4+0 stands for full-color printing on one side; 4+4 stands for full-color printing on both sides.
Are you at the stage of creating a business card template? Read the article about business card sizes and shapes here
In case you need some inspiration for creating a unique business card design click here.
Banners: types, printing techniques, pre-printing arrangements
Printing on banner fabric is considered to be the golden standard in outdoor advertising and used for making banners, spiders (X-banners), shop signs, posters, standers, etc.
Banner fabric is made of rubbered material with 440-510 g/m2 density. Depending on manufacturing process it can either be cast in or laminated. First one is more popular due to increased durability and elasticity – you can't see bendings and colors stay bright twice as long.
Large-format printing on self-adhesive film is cheaper than on a banner, but it is not as widely used. Exhibitions stands, index signs, small signs and shields, posters – these are the most popular examples of using self-adhesive film.
Banners are printed on large-format printers, paper width varying from 295 mm to 5 meters using laser, photo or thermal transfer printing techniques.
It's highly recommended to hire a professional designer to create the template for a banner in order to choose proper resolution (360 – 1440 dpi), make bleedings, stick ins and grummets, saving the file in vector format. The easiest way is to find a designer on a freelance website where you can check out their work, read reviews, see ranking, etc.
Creating a brochure
A brochure is a small printed item for information and advertising, containing 5 -4 8 pages, fixed with a thread, staple or spring.
Here is the difference between a brochure and a booklet
A booklet includes a single piece of paper folded several times
A booklet is not as informative as a brochure, thus covering only key facts
A booklet is used for advertising only, whereas a brochure is both information and advertising
Examples of brochures:
user manual;
technical specifications;
event program;
product catalogue.
Depending on the goals and budget, one can print both full-color as well as black-and-white brochures. Material can also be different: items for mass distribution are printed on offset paper with 80 g/m2 density, but coated matte paper with 90-130 g/m2 density is considered a standard. Elite brochures for business events or luxury segment can be printed on heavy paper with 250-400 g/m2 density or on designer cardboard.
Brochure formats:
Euro – 99х210 mm;
105х148 mm (А6);
148х210 mm (А5);
210х297 mm (А4).
Programs for creating brochures:
Scribus;
FinePrint;
Microsoft Office Publisher.
Apart from specialized programs you can also use graphic editors such as Adobe Photoshop, CorelDRAW, InDesign. The easiest option (and at times even a cheaper one) is to hire a professional designer, who will do this job faster and with better quality, comparing to the employer with no experience in using graphic editors.
Flyers, leaflets, business cards, bags, badges, banners and brochures are the main types of printed products intended for providing information and advertising. No doubt, there are many other types of branded products as well, but the list offered here is more than enough to launch a successful marketing campaign for a product, store or service, taking up most of the target audience.
Use corporate style elements, brand your products and printed items, share this article with friends and may the number of your satisfied and happy customers increase!