If designed well, a banner can boost your YouTube channel big time. Among other things, a cool banner has the power to grab viewers' attention, hint at the topic of your channel, and urge users to perform a certain target action. This article examines the key guidelines for making a stellar banner that will elevate your YouTube channel to a new level. Plus, we couldn't possibly leave you without inspiring examples of beautiful YouTube banners!
4 tools for creating a killer banner
Online constructors are a fast and easy way to create amazing visuals for your YouTube channel. Most services offer ready-to-use templates created by professional designers. All you need to do is to pick the best template and customize it with graphics and text of your choice.
1. Canva
Canva is a one-stop online platform for crafting jaw-dropping visuals. Canva offers convenient color filters that allow users to sort templates in one click. You can customize the template by adding photos, text, logos, textures, background images, and more.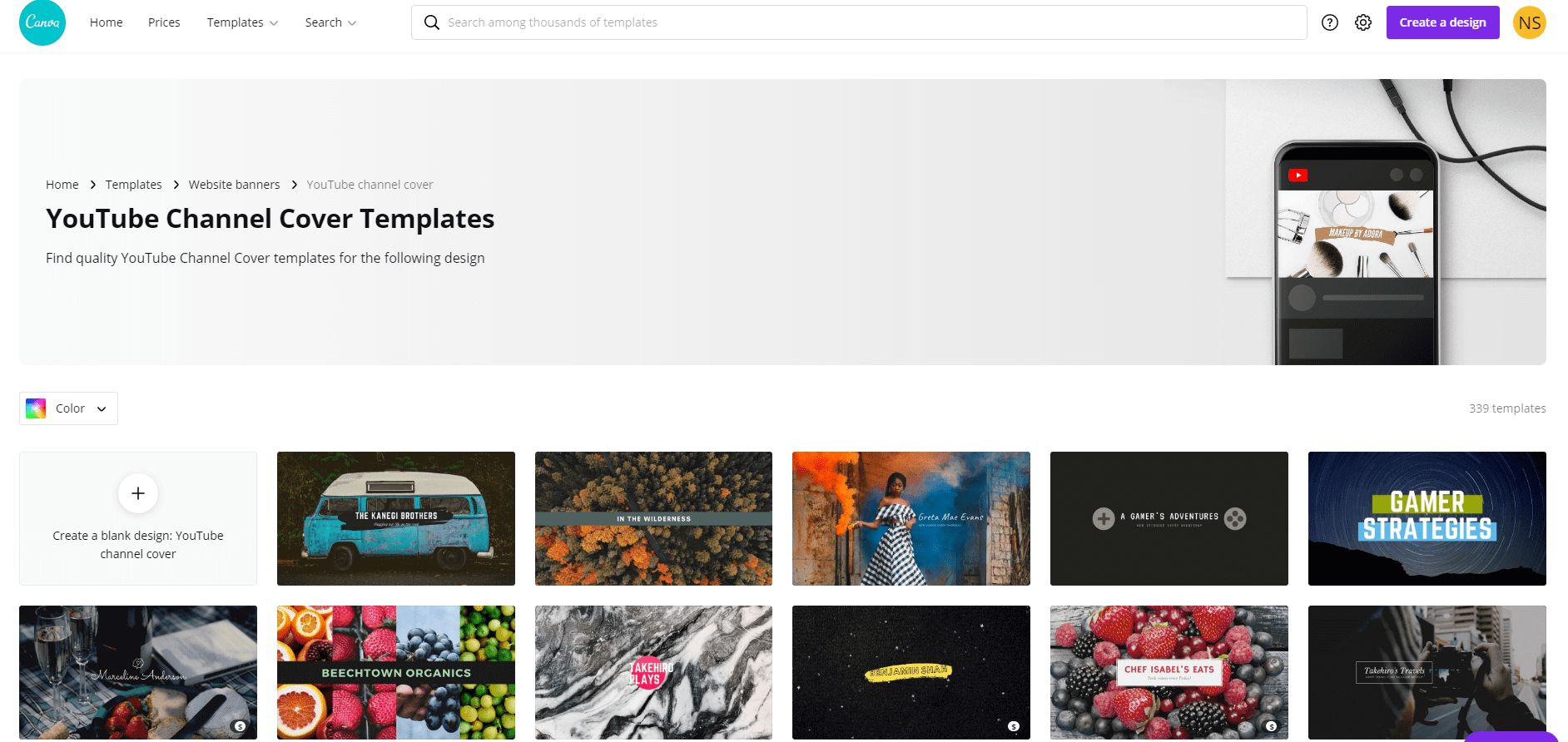 2. Adobe Spark
Adobe Spark boasts an unparalleled collection of graphic images that covers a variety of themes. Choose the template that caught your eye and edit it all you like. Use the preview feature to see if the design came out the way you wanted it to.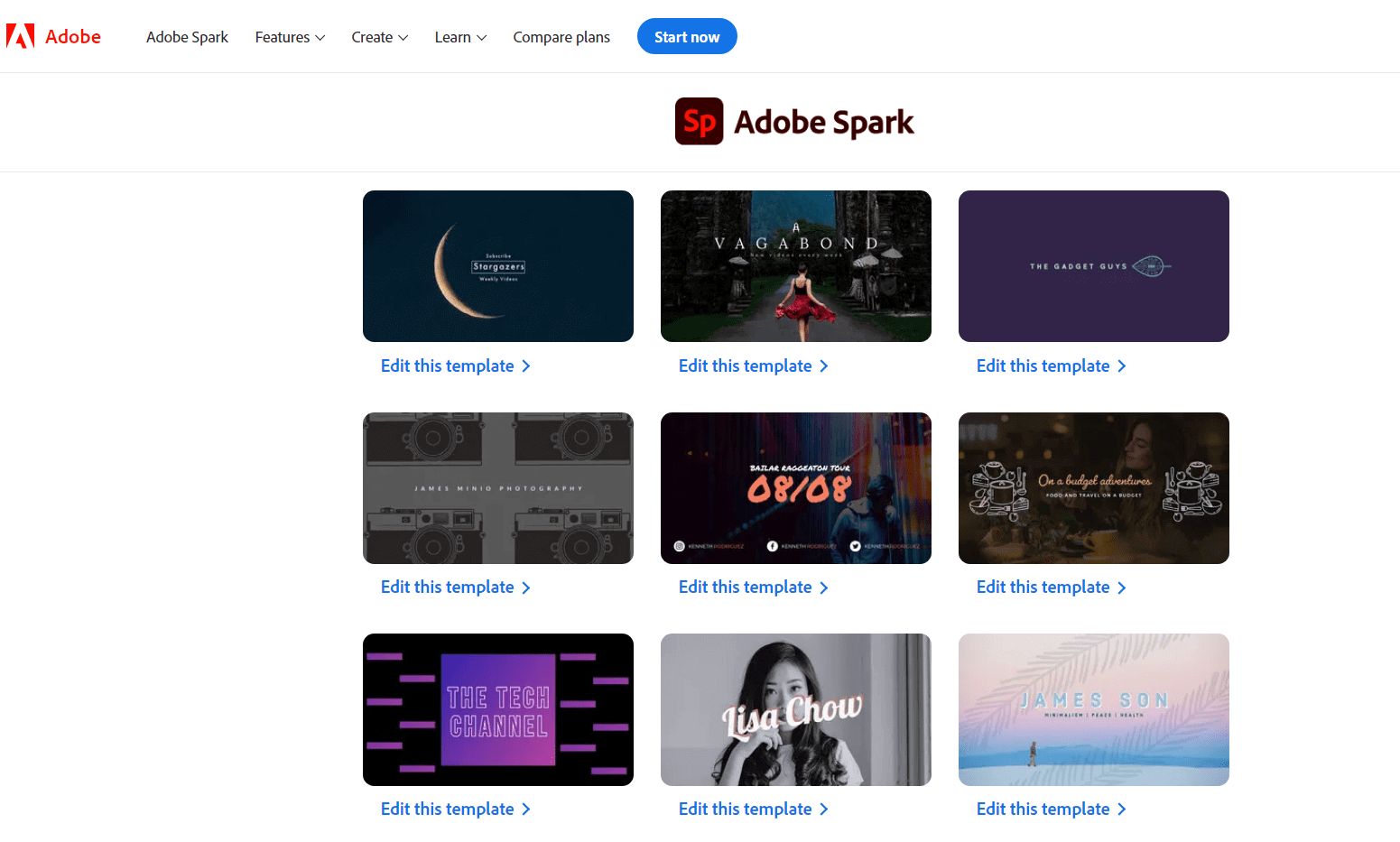 3. Fotor
Fotor is yet another handy tool for putting together an impactful banner. Search templates by keywords, pick the design you like best, and customize it till it reflects the personality of your channel. Along with standard features, Fotor offers a bunch of other functionalities, including special effects, stickers, textures, and more.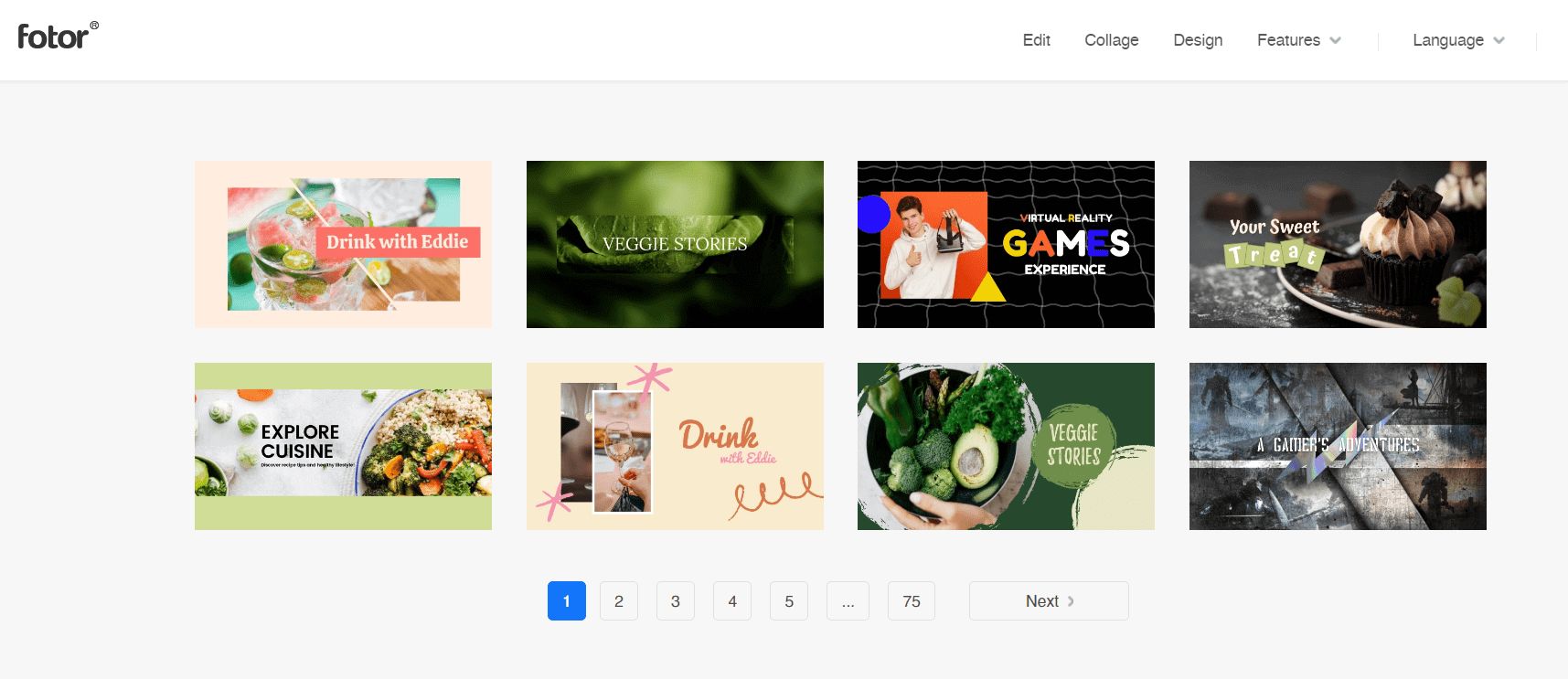 4. Mega Creator
Looking for YouTube banner templates? Look no further than Mega Creator by Icons8! Choose from a lot of customizable templates, from fancy to minimalistic designs. And then customize them with built-in photos, icons, illustrations, and AI-generated images to create a stunning banner for your channel.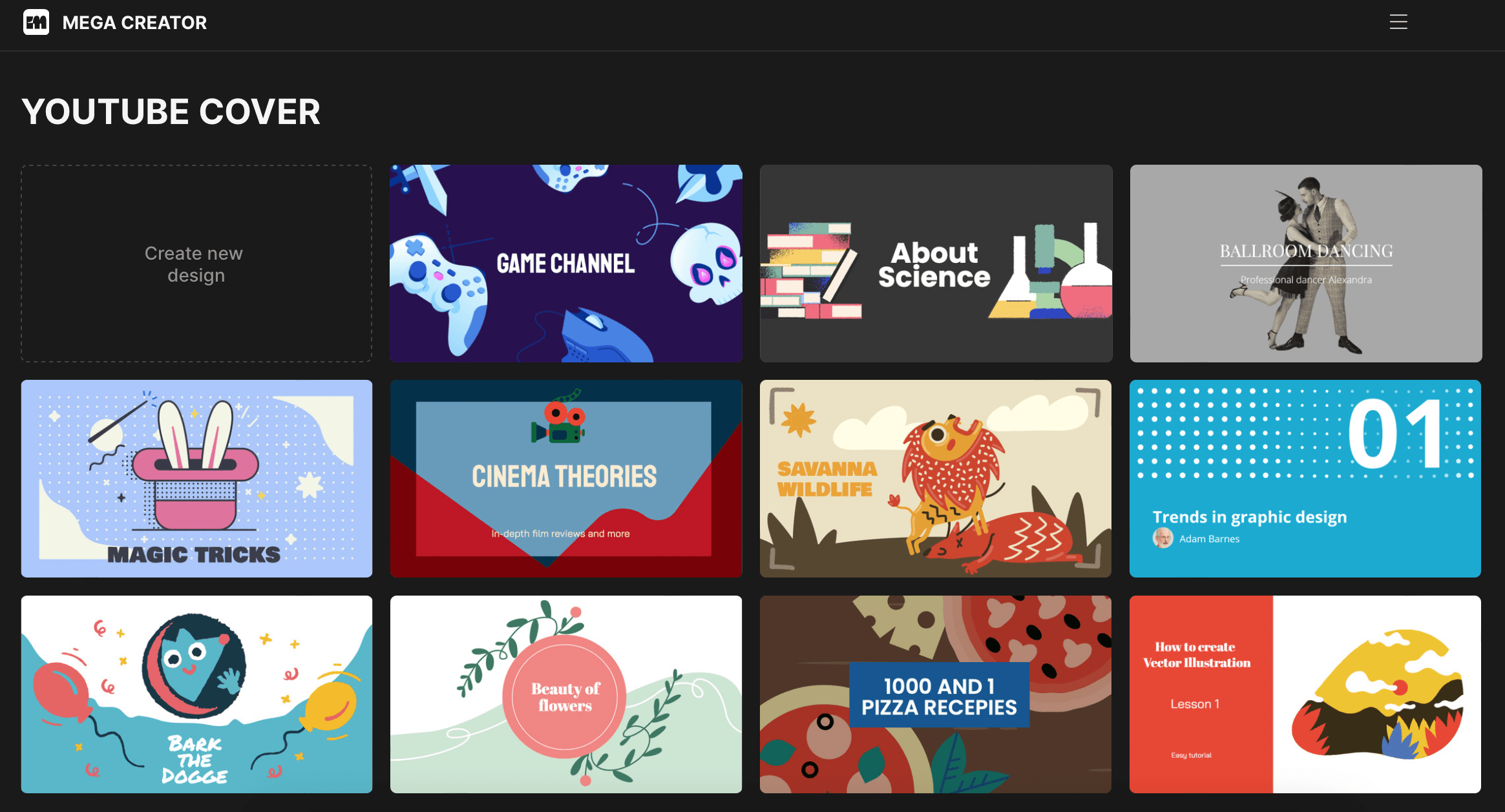 4 tips for designing a YouTube banner
To make your banner look like a million dollars, you should stick with the guidelines below.
1. Dimensions
The recommended size for a YouTube banner is 2,560 x 1,440 pixels. The ideal aspect ratio is 16:9. Make sure your file size stays under 6 MB.
For your banner to look great across screens of all sizes, you should strive for the maximum resolution.
2. Composition
Depending on the device (smartphone, tablet, PC, TV, etc.) a person is using to access your YouTube channel, your banner may get cropped. To avoid that, be sure to place your title and logo in the center of your banner. For a standard-size YouTube banner, the safe area is 1,235 x 338 pixels.
Take a look at the three banner layouts which are most commonly used by YouTubers:
Centered layout. To garner more attention, the title is placed in the center of the banner.
Asymmetric layout. The title and graphics are placed at the opposite sides of the banner.
Sectioned layout. It's a great way to incorporate more than one image into your banner.
3. Branding
Your banner must give users a clear idea of what content you're offering. For your banner, choose the colors, graphics, and fonts that transcend the essence of your brand. All your elements must work together towards creating a balanced, cohesive image.
Logo
A logo is a highly impactful graphic symbol that can tell volumes about your brand. A catchy logo can make your channel stand out and spice up users' curiosity.
Colors
Pick 2 to 3 colors that go in line with the topic of your channel. If your channel talks about adventurous pastimes and extreme sports, use red or orange. If you're into eco-efficient consumption, you can't go wrong with earth hues like green or brown.
Fonts
Just like colors, typography is a powerful source of information about your brand personality. For example, airy handwritten typefaces make a great choice for channels that explore creativity and art. If your channel has a retro vibe, stick with serif fonts. Click here to learn more about the best font combinations.
If you think that creating a tailor-made brand identity for your brand is a daunting task, think again! Use the ZenBusiness logo maker to get the best colors, fonts and logo for your YouTube channel. All you need to do is to enter the name and topic of your channel. Try it for free!
Image
Pick a photo or illustration that reflects the contents of your videos. For a travel channel, find an HD photo of a picturesque sea- or landscape. If you have a cooking channel, choose the image of a mouth-watering cake. If your channel has to do with kids' entertainment, make use of funny multi-colored drawings.
Slogan and CTA button
While a slogan and CTA button are not a must, adding them to your YouTube banner is a great way to emphasize your brand personality, outline your unique value proposition, and encourage users to subscribe to your channel or visit your website.
Links
YouTube allows its users to add up to 14 links to their banners. Link your banner to your social media profiles, landing page, online store, and other online platforms you want to drive customers to.
Consistency
When it comes to branding, creating a brand image which is both cohesive and consistent is half of success. Along with the banner, use your branding elements (colors, logo, patterns, etc.) in your avatar and intros to your videos.
Relevance
Don't be lazy to update your banner from time to time. It's a surefire way to show your audience that you care about them and draw their attention to new content. Update your banner:
when you start a new advertising campaign, start a sale or release a new product.
before major holidays like Halloween, Christmas, Mother's Day, etc.
5 amazing YouTube banners
We've brought together 5 killer YouTube banners in different styles. Our tip is to draw inspiration from channels whose topics overlap with yours.
1. Adobe Creative Cloud
This channel stands out through its stylish visual branding with striking patterns, shapes, and colors. The graphics create a strong 3D effect, hinting at the multi-functionality of the Adobe software. Pay attention to how Adobe is consistent in their branding: the banner and the avatar share the same color palette.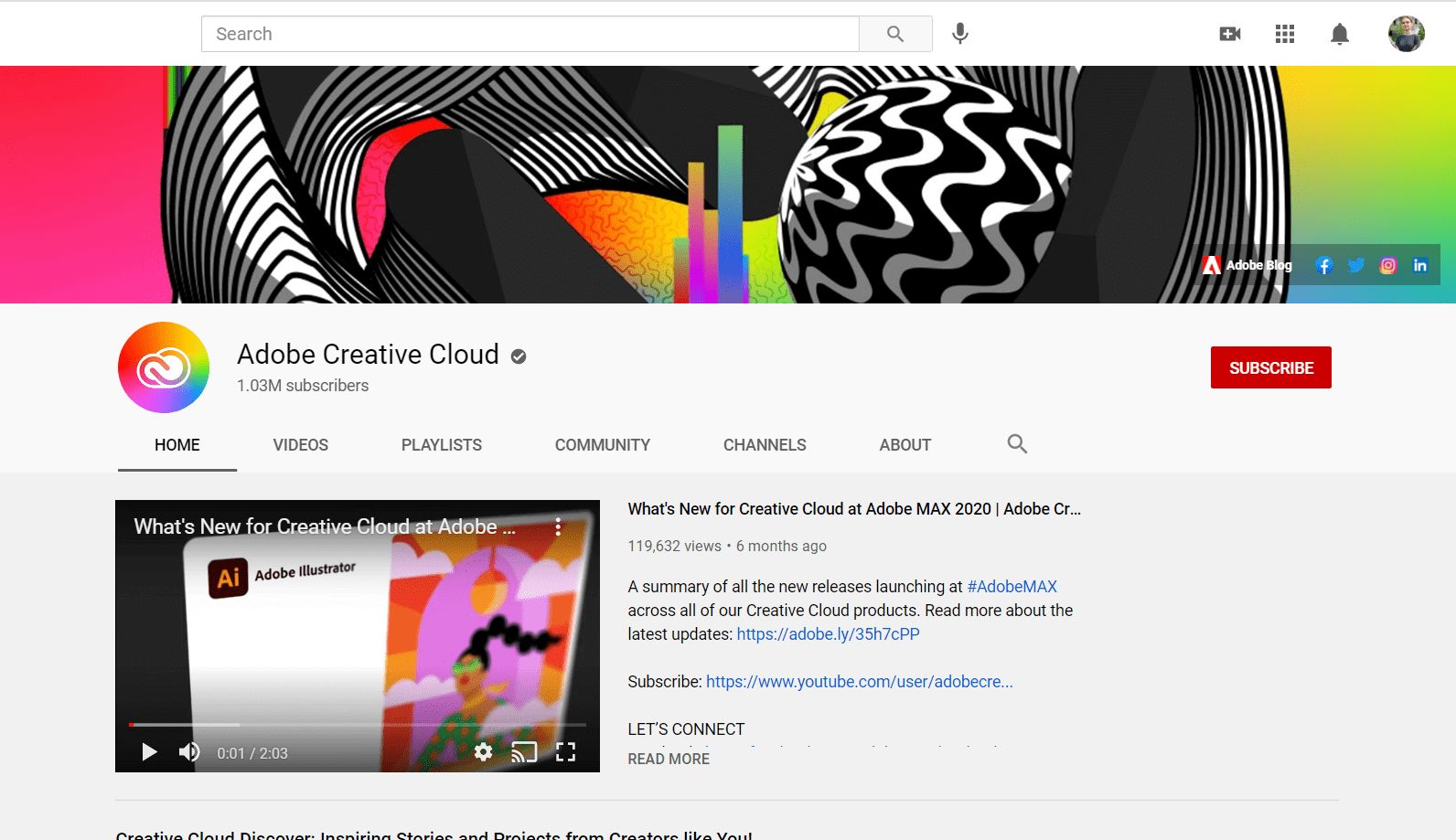 2. GoPro
Since the GoPro banner promotes the new camera Hero 9 Black, the product name is positioned strictly in the center. As a background, the brand opted for a muted gradient paired with GoPro's signature blue color palette.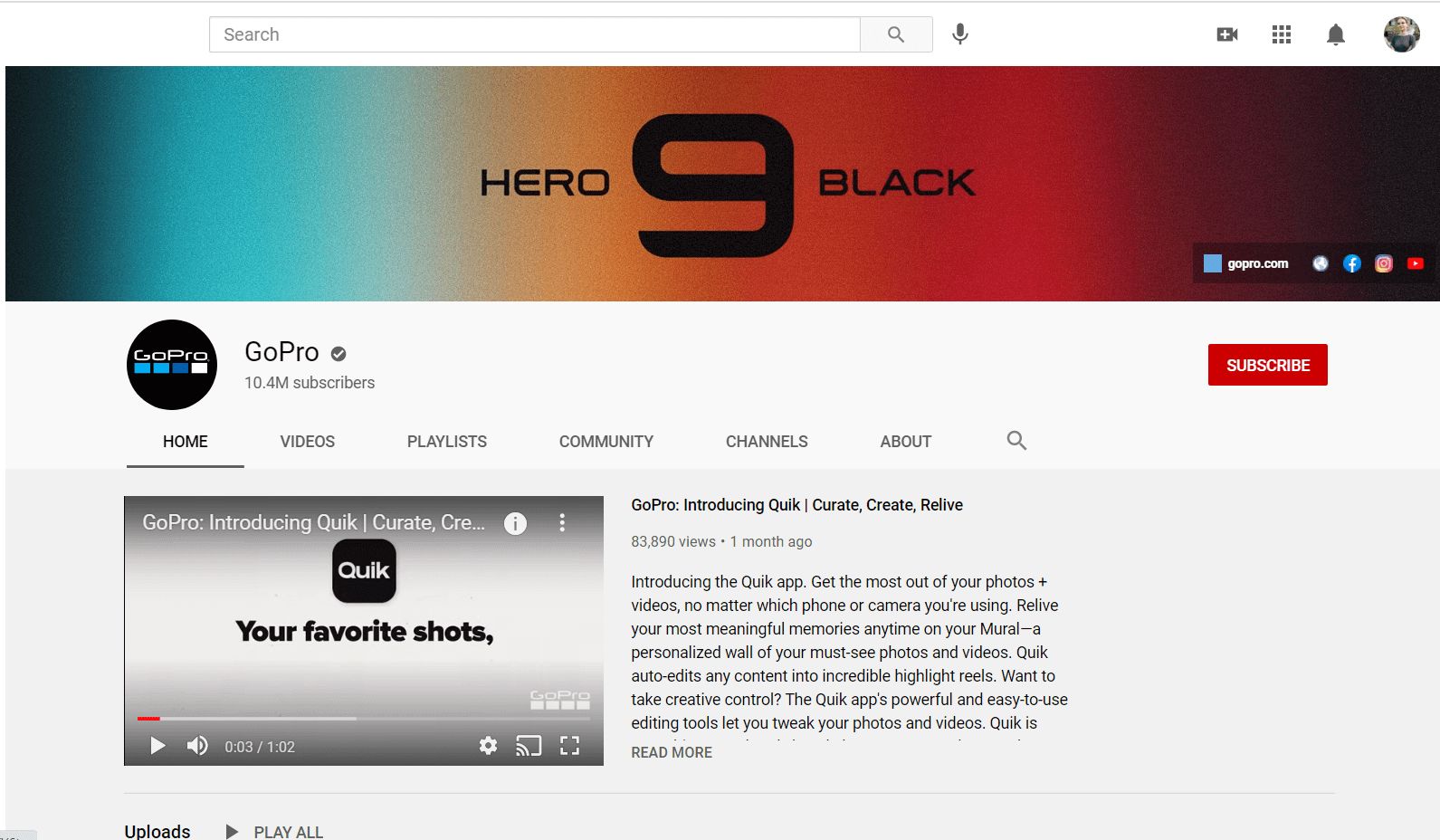 3. The Craft Beer Channel
This craft beer manufacturer came up with a concise yet visually impactful banner. Set against an edgy black background, the banner features a logo, company name, and slogan. Apart from that, there is also a call-to-action: the brand encourages users to join their Patreon.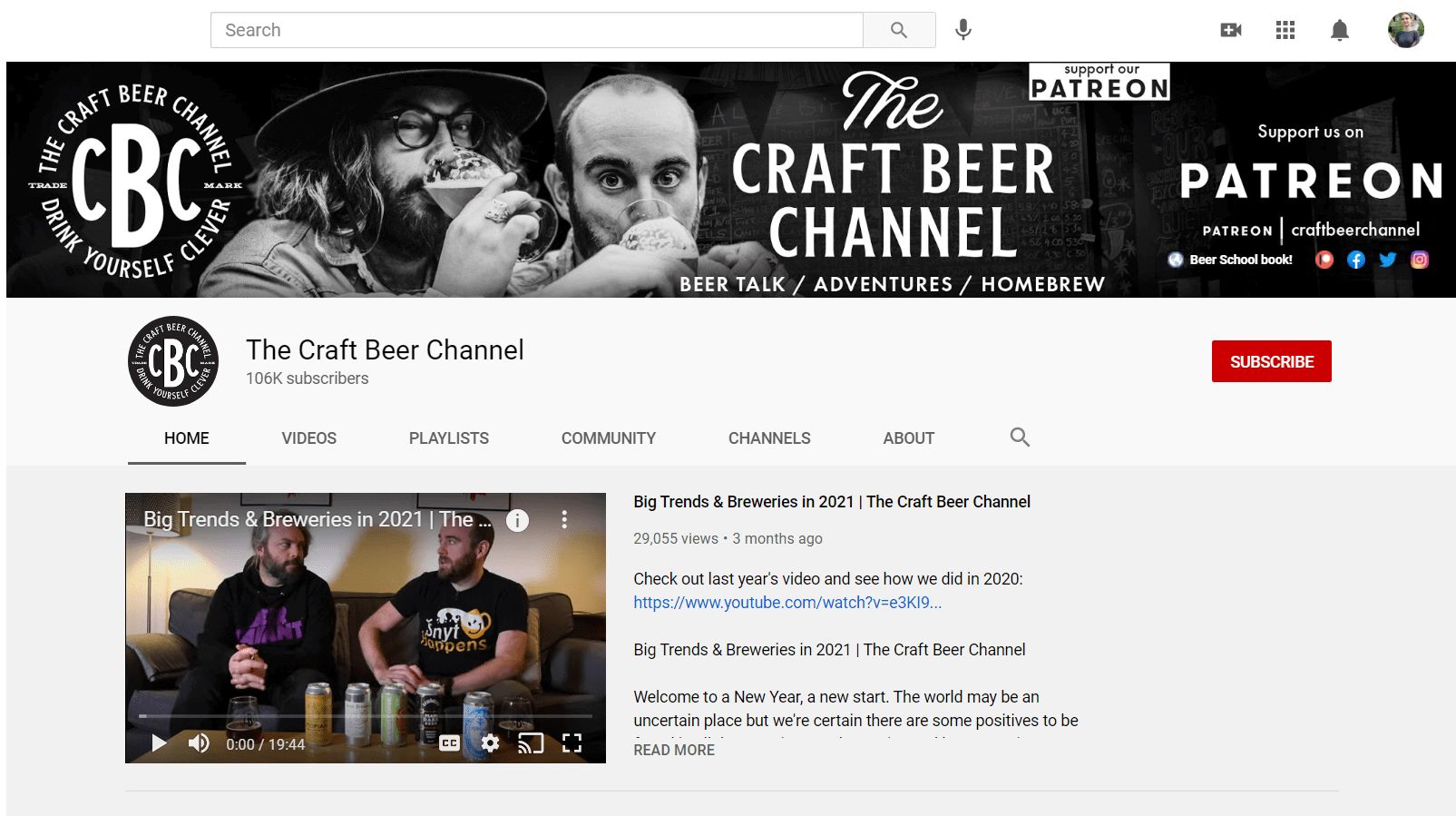 4. Yoga With Adriene
The YouTube channel Yoga with Adriene offers yet another fine example of a minimalist banner. The name of the channel is written in a striking black font against a white background. The typeface is the first thing that captures the eye when you're looking at the banner. It's funny how the characters resemble people doing yoga poses! It's a great way to play around with the topic of the channel and forge an emotional bond with potential viewers.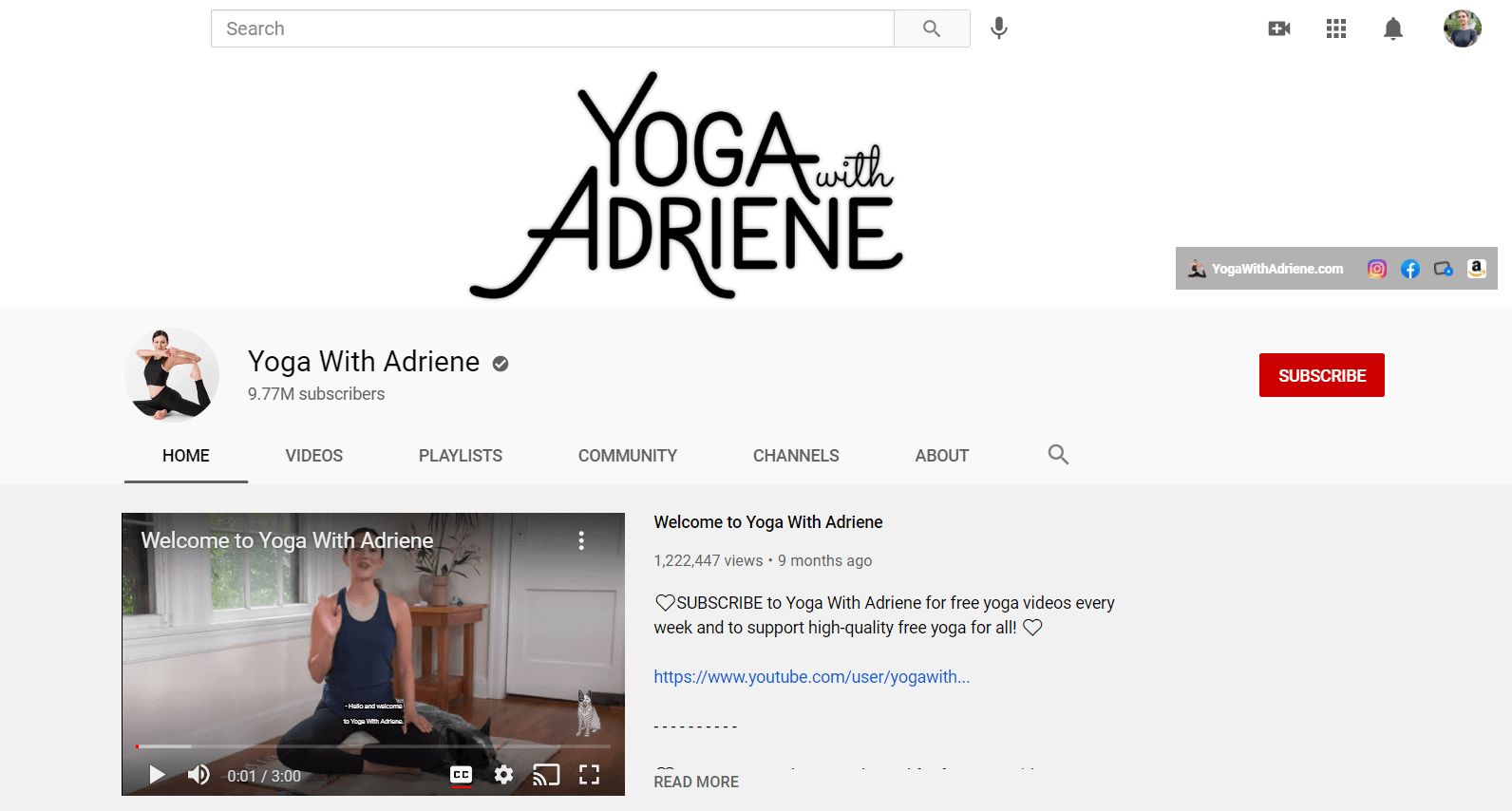 5. Liziqi
This channel talks about everyday life in a quiet Chinese village. The banner emanates the feeling of serenity and balance. On it, you can see the girl who runs the channel photographed against a peaceful wildlife landscape. The banner features no text or CTAs so as not to distract the user from enjoying the awesome graphics.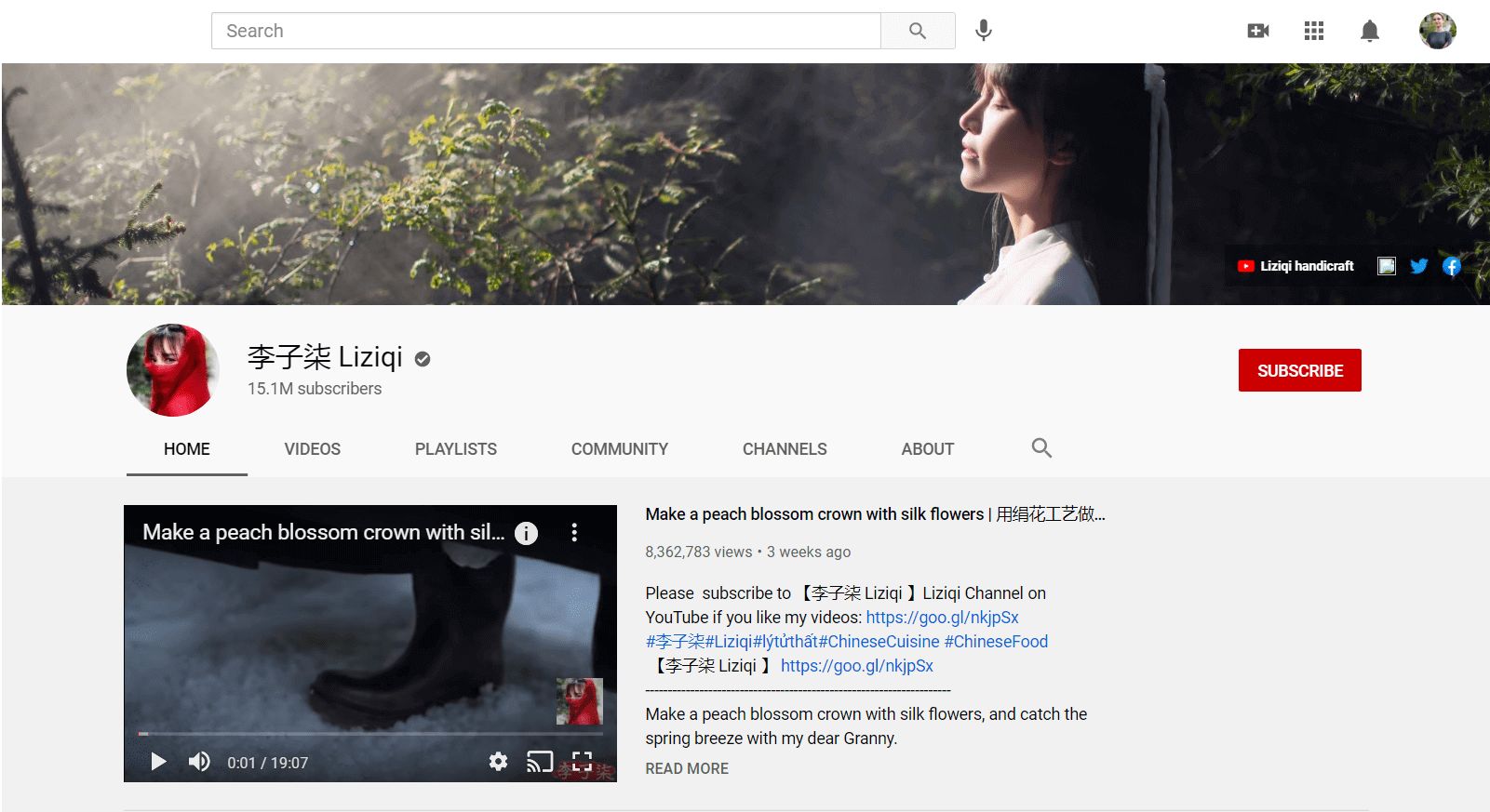 Final word
A catchy branded banner is a major tool for promoting your YouTube channel. It's a great way to grab users' attention and grow your subscriber base. With our tips and techniques, you'll have no trouble creating a visually appealing banner of your own! Also, click here to find out how to make money with your YouTube channel.