How to Start a Record Label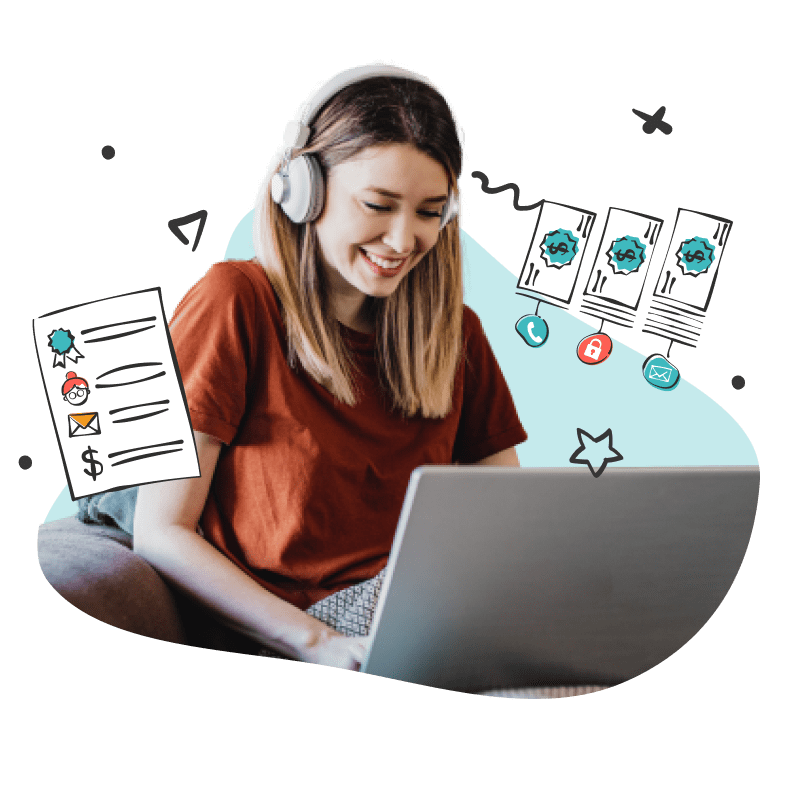 Are you a music lover? Is music in your blood, do you enjoy discovering new bands? Maybe you create music and you want to share your unique sounds with others? If so then starting your own record label is a business you should consider. First, you need to learn how to start a record label.
Global music industry revenue totaled $23.1 billion in 2020 and grew 27% during the first half of 2021. Most of that money was drummed up by large record labels like Universal Music Group, Sony Music Entertainment, and Warner Music Group. However, about 38% came from independent record labels. 2022 is seeing more people looking to join the independent record label arena.
If you want to know how to set up a record label, this guide will get you started.
Starting a record label comes with a deep playlist of perks. Here are some of the benefits of starting this kind of business:
Control: As the owner and operator of a music label, you're in complete control of every decision. From the type of music you want to promote to the marketing plan that gets your music out to fans, every choice is yours.
Create and share original music: Few people are true creators, but a record label is all about working with artists to create new music and experiences that touch the human heart.
Multiple revenue streams: As a label, you'll make money in a variety of ways. You'll get a cut from streaming, licensing, and sometimes even live performances.
Nurturing, promoting, and distributing music can be a real moneymaker, but it does take experience. Many people who start a record label have a music background and experience in the industry. They also know what it takes to develop amazing artists and build audiences.
To show you how to start a record label, we'll go over these steps:
Starting a record label takes a little strategic planning. To be successful, an owner needs connections, influence, and money. The only way to build all three is with a solid business plan.
Step 1: Creating Your Record Label Business Plan
What's a business plan? It's a document that explains how a company will run, and how it will make money. The plan includes 7-8 sections that explore the record label's goals, marketing, and finances.
More specifically, a record label business plan should include:
Executive summary: An overview of the entire business plan
Company overview: A complete rundown of your company and the label's mission and values
Description of product or services: Explain what kind of music will be represented
Marketing plan: Cover how you plan to reach and retain fans
SMART goals: Set Specific, Measurable, Attainable, Relevant, Time-based goals
Management team overview: Explain how you'll work with artists and venues
Financial plan: A description of how the label will make money, be it from royalties, 360-deals, or merchandise
When you're ready to go, use this resource to start writing a business plan.
Step 2: Choose Your Record Label's Business Structure
The first decision you'll make as a business owner is how to structure the company. There are different kinds of structures, but most record label owners choose a sole proprietorship or a limited liability company (LLC) but some choose a corporation (either C or S-Corp).
The main difference between the two is that an LLC gives liability protection. That means if the record label ends up in debt, your personal assets are protected. A sole proprietorship doesn't provide that.
Another difference is that a sole proprietorship is free to set up, but there's a cost to apply for LLC status. The filing fee varies by state and ranges from $50 to $500. Tax breaks are different too, so it's a good idea to speak with an accountant to learn specifics about business taxes and structuring.
When you're ready to learn how to establish LLC status, you can work through the steps created by your state government or use a business formation company that will handle this process for you.
Still not sure what business structure to choose for your music business? Get 100% certain by reading this guide.
Step 3: Determine Your Business Costs
Before you get your record label started, get a handle on your startup costs. Starting a small label based out of your home could be as cheap as $150. Add in a website, marketing budget, staff, and recording equipment and you'll shell out $150,000 or beyond.
Here's a good list of costs to consider:
Recording equipment: You'll either need your own recording equipment or you'll need to rent time at a sound studio. That can cost hundreds of dollars per hour. Some musicians already have their own gear, but if you start from scratch, expect to spend up to $15,000 to equip a studio.
Manufacturing costs: Will you distribute music on CDs or vinyl? If so, expect to pay about $1 per CD and $5 per vinyl recording. To avoid these costs, most labels today stick with digital distribution.
Networking: Being in the music industry requires connections, so build a networking budget for conferences and outings that can help you gain a foothold. Plan at least $500 a year.
Promotions: To reach fans, you need a promotions budget. This varies drastically by label, but on the low end, figure on at least $5,000.
Contracts: You'll need legal contracts for artists to sign. Expect to pay upwards of $500 a year in legal fees.
How do you fund your startup costs?
If you can't cover your own startup costs, you're probably wondering where to get the money for your record label. To help, here's a list of choices to consider:
Government assistance: Some government programs help new business owners. Grants.gov is a good place to start.
Credit cards: It's possible to get business credit cards to finance some or all of your startup costs. However, beware of cards with high interest rates, and create a plan to pay the money back.
Loans: There are many small business loan opportunities with reasonable interest rates. Loans take some time to research, but your local bank may be able to help.
Ask friends and family: They want you to succeed and may be happy to help. But factor in potential damage to the relationship if things go sour. In many cases, family and friends won't charge interest and give more lenient payback terms than a bank.
Step 4: Create a Unique Name for Your Record Label
Ready to name your business? Maybe you've had a name in mind for years or maybe you're still working on one. Either way, before you can officially set up a record label, it needs a name.
Most states require you to check a business name's availability (usually through the secretary of state website) to make sure no other business has the name already.
Get a matching domain name
It's also a good idea to research a matching domain name so your record label's website will mimic the company name. It's 2022 and you are going to need an online presence to promote your music and host clips and teasers.
You can develop this domain into an online downloadable eCommerce music store that could well be the very backbone of your marketing machine, think merchandise with your logo and label name. There are more revenue streams than just the label.
Strike today so you can secure your online name before someone else has a great idea and beats you to it, find my record label domain name now!
Step 5: Register Your Business and Open Financial Accounts
Now it's time to work through a few administrative tasks to set up your record label.
Register your business with the state: To start an LLC search for LLC formation documents in your state, fill them out, and pay the filing fee.
Get an EIN: Every business needs an Employer Identification Number issued by the IRS.
Open business bank accounts: It's best practice to keep your personal and business finances separate. Open a business checking and savings account and pay yourself by transferring money from business accounts to personal accounts.
Step 6: Purchase Equipment for Your Record Label Business
Ready to outfit your studio? Here's what you'll need to get started:
Digital audio workstation
Microphones
Studio monitors
Cables
Microphone stands
Bass traps

Diffusers
Acoustic panels
Monitor isolation pads
Studio monitor stands
Studio chairs
Reflection filters
Suggested equipment for starting your record label
Step 7: Market Your Record Label Company
To reach fans, you'll need a sound marketing plan. You may not have a large budget when you start, but there are several DIY marketing steps that work with little to no money. Work through this list to get started:
Set up Google My Business: Google My Business is free to set up and helps fans find you in searches. It also lets you share pictures and list details like company hours and location.
Join local directories: In the old days, you'd add your phone number to the phone book. Today, add your record label's name and phone number to a few online directories like Yellow Pages and CitySearch.
Get social: Get your social media presence started right away on Facebook, Twitter, LinkedIn, and elsewhere. Follow industry leaders, trade associations, and artists to start developing a following in the industry on music-specific platforms like SoundCloud and Bandcamp.
What kind of label are you starting?
Another thing to consider as you learn how to set up a record label is what kind of label to start. You can start a major label or a subsidiary, but most beginners go with an indie label.
Choosing a genre or going broad?
As a smaller label, think about what kind of music you'd like to promote. Usually, a record label sticks to a single genre like rap, rock, pop, or country. Generally speaking, you'll have more success if you pick a genre you're familiar with and dive deep than if you go with a broad approach.
Starting a record label is an exciting and challenging business idea.
Startup costs can be on the high side and the business is competitive. But if you have the experience, connections, and ambition, the music industry has the potential to deliver high rewards.
Seize the opportunity now!
The music industry is constantly evolving and the fans are, too. That gives you an opportunity to create authentic music that today's listeners crave. We can help you achieve your dreams of starting a record label.
Compare ZenBusiness Packages
Identify the package that's right for your business and then get started
starter
$0
DOES NOT RENEW*
plus state filing fees
Ready in about 2 to 3 weeks
START NOW
Top Features
Standard Filing Speed
Worry-Free Compliance
Expense & Deduction Tracking
MOST POPULAR
pro
$199
BILLED ANNUALLY
plus state filing fees
Ready in about 4 to 6 days
START NOW
Top Features
Faster Expedited Filing Speed
Worry-Free Compliance
Guided Operating Agreement
premium
$299
BILLED ANNUALLY
plus state filing fees
Ready in about 1 to 2 days
START NOW
Top Features
Fastest Rush Filing Speed
Domain Name & Email Address
Customizable Business Website