Startup name: Original Examples & Tips
If you're taking your first steps towards launching your own company, you must consider multiple factors. Ignoring even the tiniest detail may cause problems in the future. First, you should think about what you're going to call your startup. Keep in mind that your selected option must fit your corporate identity and make your company look appealing and respectable in the eyes of clients and partners. Plus, it must not stand in the way of change and evolution.
How do you handle such a challenging task? You can do several things. First, come up with a completely new word to differentiate your business. However, be sure you're the first to come up with this idea. Second, use words associated with your industry. Although it comes down to the kind of products or services you're offering, you must follow some basic rules regardless of your specialization. Your startup name must be concise, easy to remember, and versatile. It must also be appealing, both aurally and visually. Nowadays, a website is necessary for almost any company, especially an up-and-coming one. With that in mind, be sure to check the availability of a domain name. Resist the urge to lend your own name to your business or use an abbreviation. Steer clear of generator services unless you want to end up with a generic name. Trends are another pitfall to look out for. What seems cool today might sound cliché tomorrow. Take the time to create something unique and timeless. Don't be afraid to make bold choices and experiment with original ideas. Then make a short list of the best options and narrow it down one by one.
Browsing other companies' choices is a great way to start. Spur your imagination and come up with your own variant that will work for your brand for years to come.
Don't know how to name your brand? ZenBusiness company name generator will help you!
Startup Names & Logos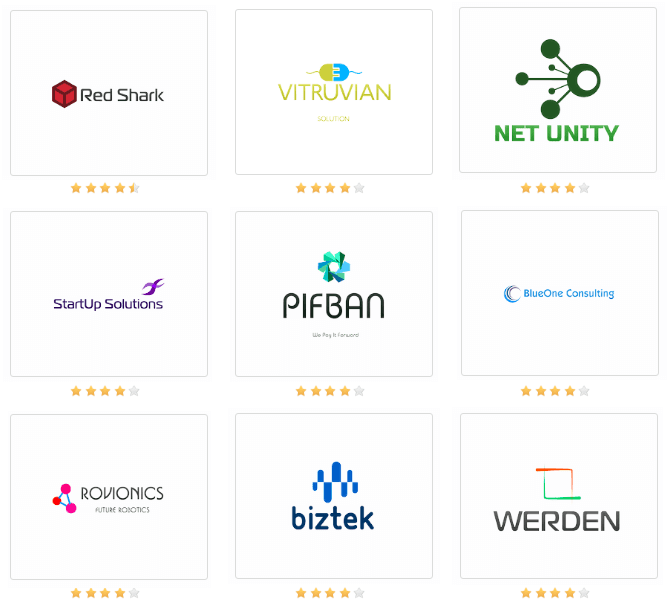 How to create a startup logo
A powerful logo is one of your company's most valuable assets. Reveal your business to the world and fascinate your audience with a smart icon that matches your brand personality. If you're strapped for time and money, ZenBusiness is hands down your best choice. Embark on your design journey by hitting "Create." Enter your company's name and industry and download any design you like. Now you have everything you need to launch your business and become a true pro in your field!