Every business wants more exposure. Whether you're a small retailer, rising podcaster, or NGO, selling branded t-shirts is a relatively easy and cost-effective way to get an extra pair of eyes on your brand.
Does your business really need branded t-shirts?
Branded shirts and corporate wear are much more than just pieces of clothing with a logo on them. When designed and marketed well, they can:
Make your team look put-together. Whether you're organizing an event or having a public appearance as a brand, wearing matching t-shirts can help your team look more professional.
Grow brand awareness. The more people get to see your brand name and logo, the easier it will be for them to recognize and trust you the next time they hear about or from you.
Connect your customers. When you see someone wearing a t-shirt that has your favorite artist on it, don't you feel an instant connection with the person wearing the shirt? A t-shirt with your brand logo can connect your customers too.
Make great gifts. Gift giving is an important part of business culture. Instead of handing yet another branded pen to your partner or potential customer, you can give them a t-shirt with an inspiring quote or a design that represents your business values.
If you found yourself nodding along to these points, continue reading.

How to create a great branded t-shirt design
If you want people to buy and wear your brand t-shirts, you have to create a design that stands out and speaks to your target audience. So let's take a look at a few tips to help you find and create such designs.
Keep an eye on current design trends
While you shouldn't change your business logo every season, you can switch up some of your branded designs to make them more appealing to your target audience.
Let's take a look at a few trends that are making headlines this year.
80's and 90's nostalgia. Studies show that shoppers are more likely to buy a product with a retro design than a modern one because it reminds them of the "good old times". Play around with colorful nostalgic imagery (just make sure it's not copyrighted) to create eye-catching designs your audience has positive associations with.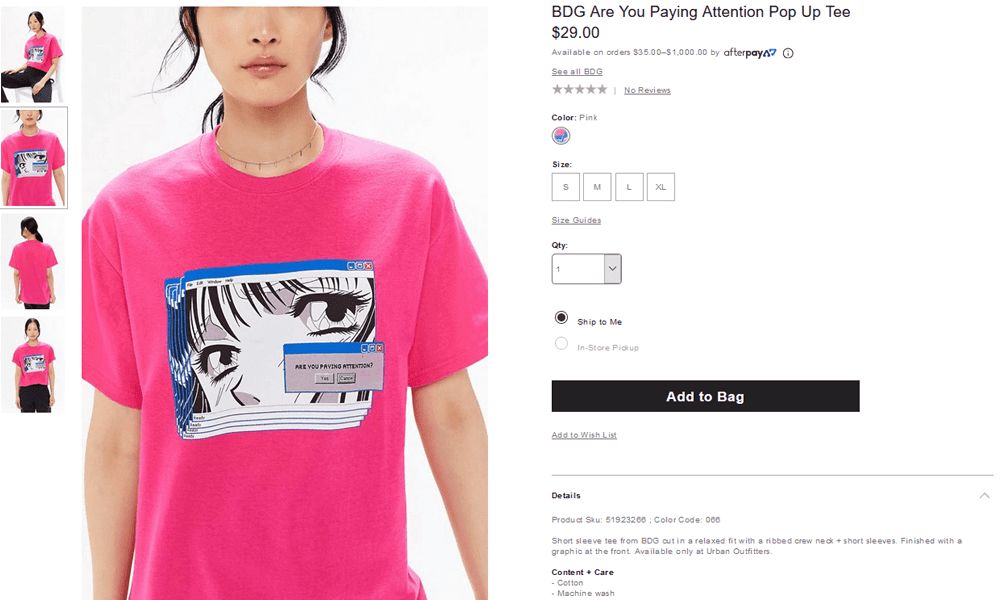 Typography. Whether it's your brand name or business motto, consider putting it on your t-shirt. Use isometric typography if you prefer a retro look or want to give perspective and depth to your message. You can also experiment with hand-drawn typography. It's a great way to convey your unique business style instead of using basic fonts.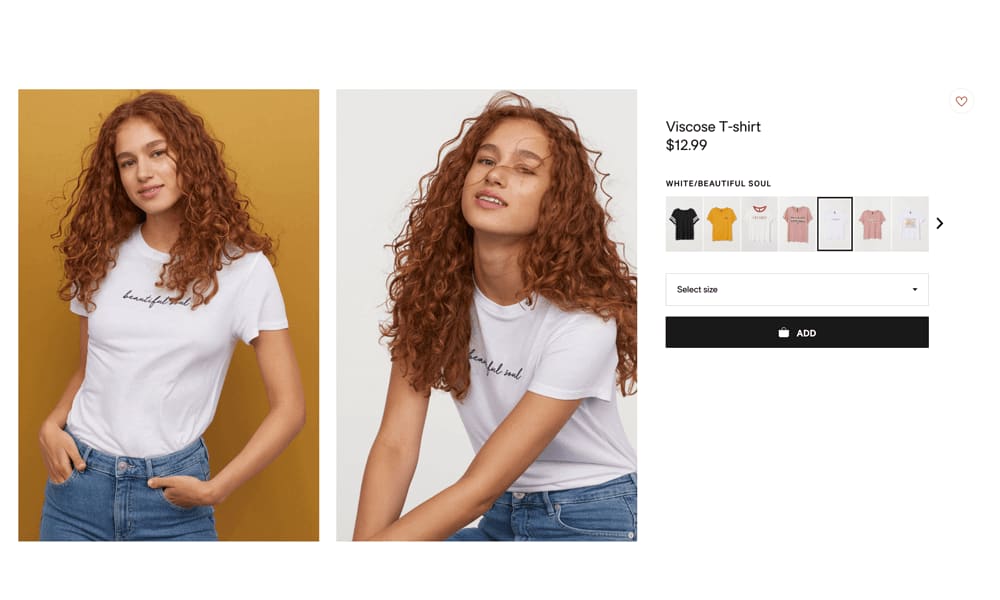 Collages. Why should you pick one type of design element if you can combine several and make a collage? Mix and match photography and illustration, or patterns and typography to create one-of-a-kind print design that will turn heads.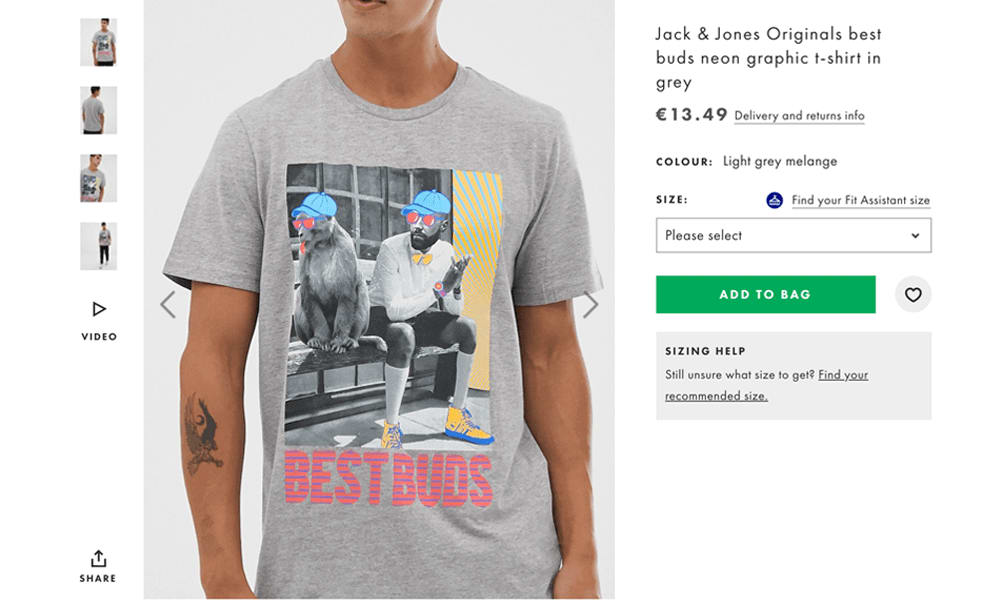 Watch this video to learn more about this year's top graphic design trends:
Pick a printing technique
There are 3 popular printing methods for t-shirts. Each method has its benefits and drawbacks you want to keep in mind when creating your designs.
In direct-to-garment (or DTG) printing, the ink is applied on a part of the t-shirt the way regular printer would print on paper. DTG is great for designs that have dainty details and a variety of colors. The only drawback to this printing technique is that it has a limited design placement – usually, printers offer front, back, and sleeve printing. Plus, each placement has a maximum print area.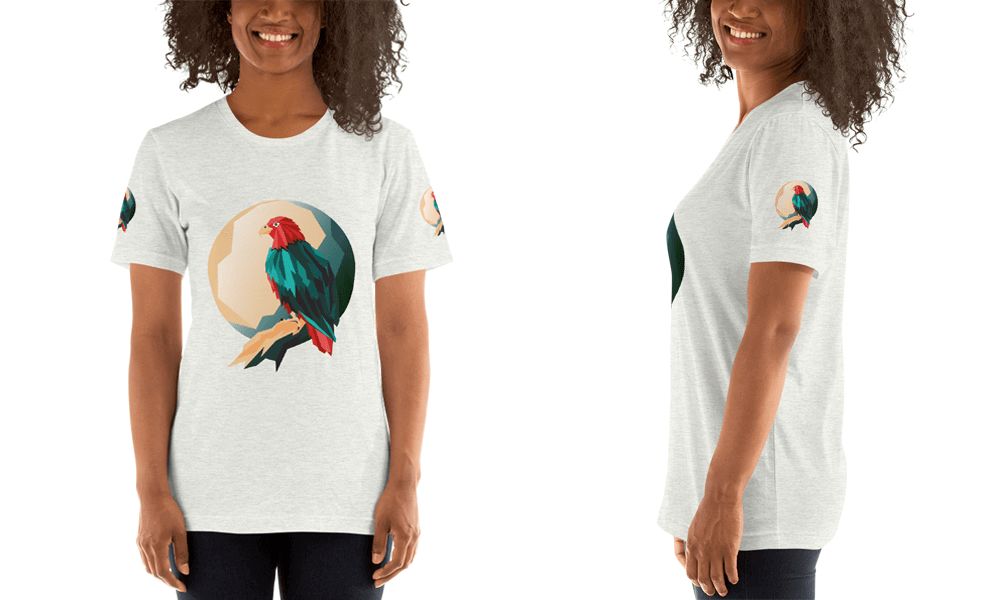 With screen printing, the ink is pushed through a woven mesh stencil on the fabric one color at a time. This printing technique is great for simple designs with few colors. At the same time, it's not ideal for designs with multiple layers (colors) as the printing will take longer and cost you more.If you can't decide on which of the two techniques to use, be sure to watch this comparison video:
With sublimation printing, the printer infuses a layer of ink directly onto the fabric. This way, the entire t-shirt can become a canvas for your brand designs. To make the most of this printing technique, you should create pattern or abstract designs.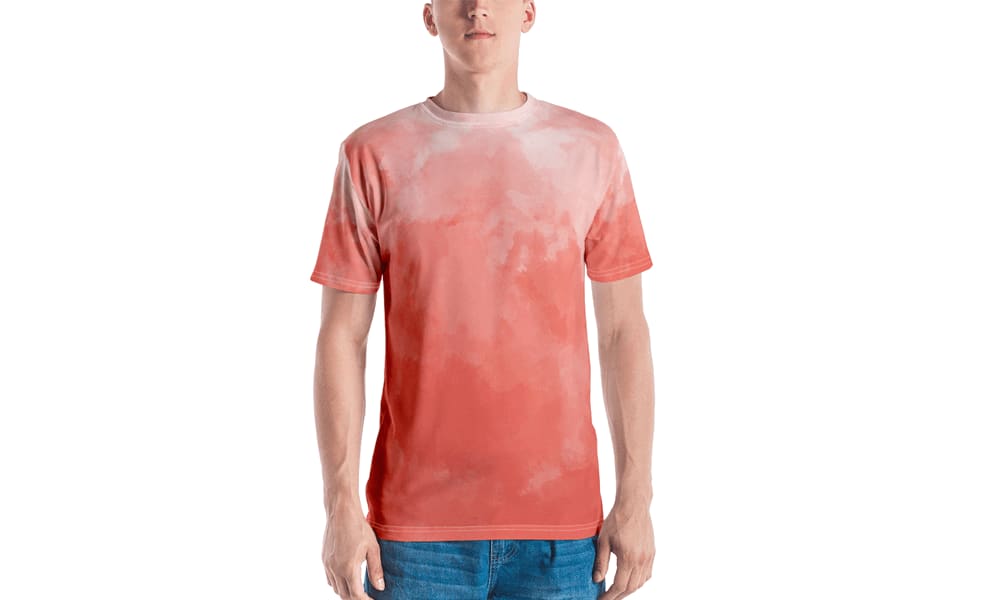 Develop a color palette
While most brands use few colors in their logos, that doesn't mean you must follow in their steps. If you want to add more life to your t-shirts, study color harmony — it will help you find color combinations that bring out the best in your design.
Another important color-related decision you have to make is choosing the color of your future t-shirt. While some designs look better on light-colored clothing, others benefit from dark backgrounds. You can use free mockup generators to get the idea of what works better. On top of that, you can place a sample order to see what you t-shirt will look like in real life.
Follow basic print file requirements
If you want your printed design to look great, be sure to carefully follow the print file requirements set by your fulfillment partner. Most of them will ask you to keep in mind the following details:
Size of the product's print area
File resolution recommendations
Accepted print file formats
Make use of available tools and services
Creating designs isn't difficult when you know what tools and services you can use to help your ideas come to life.
I want to create the design myself
You don't need professional graphic design tools to create outstanding print files. Free Adobe Photoshop alternatives like Photopea and Gimp can do the job just fine. However, if you don't have time to learn how to use a new tool, try online logo generators like ZenBusiness to create a design for your branded t-shirts.
I want to hire a professional
If you aren't confident in your design skills, leave this task to the professionals. Hire a freelance graphic designer on Fiverr (average price range: $5-$50 per design) or 99designs (average price range: $150- $300 per design). You can also use Printful's Design Services to perfect an existing design or create one from scratch.
How to print branded t-shirts
Once you have your logo or branded designs ready, it's time to think how you'll manage order fulfillment.
The DIY way
If you want to be independent and have control over all the processes behind your business, you can print the t-shirts
yourself. While this option gives you a lot of freedom, it also has its fair share of drawbacks.
You have to invest in a printer and inks, or find a reliable local printer who can take care of the printing for you. Taking care of order fulfillment also means you have to keep the stock of the shirts and packaging materials. And let's not forget the endless visits to the post office you'll have to make whenever a new order needs to be shipped out.
The print-on-demand way
If rolling up your sleeves and doing everything yourself isn't your cup of tea, consider partnering with a print-on-demand (POD) drop shipper — a third-party partner that prints and ships products to your customers.
Working with fulfillment partner gives you the freedom to experiment with different designs without losing any money. That's because you'll be charged for the product and printing only when an order comes in.
If you decide to use print-on-demand services, you'll have to choose a print partner that best fits your ecommerce business needs. Here are a few things you should keep in mind when making your final decision:
Print quality. If there's anything you can't ignore when making branded t-shirts, it's print quality. You don't want to risk your brand name by presenting your customers with a product that fails to live up to their expectations.Most POD services offer order samples at a smaller price. Use this opportunity to see how your design will look once printed and after a few washes.
Available integrations. Choosing a print-on-demand drop shipper that integrates with your store's platform will make your life a lot easier. That way, all the incoming orders will get printed and shipped automatically.
Fast shipping option. Online shoppers are used to fast shipping, and the only thing you can do as a retailer is try to meet this need. If you want to sell your products globally, find a print partner that offers different shipping methods (like standard, express, or overnight) for orders worldwide.
How to start selling branded t-shirts on your website
If you want to start selling t-shirts on your website quickly and without any upfront costs, partnering with a print-on-demand drop shipper like Printful is your best choice.
Here's how you can start an online store:
Pick an ecommerce platform (Shopify, BigCommerce, Weebly, etc.)
Create an account on Printful




Connect your e-commerce platform to Printful


Upload your design on the t-shirt and add it to your store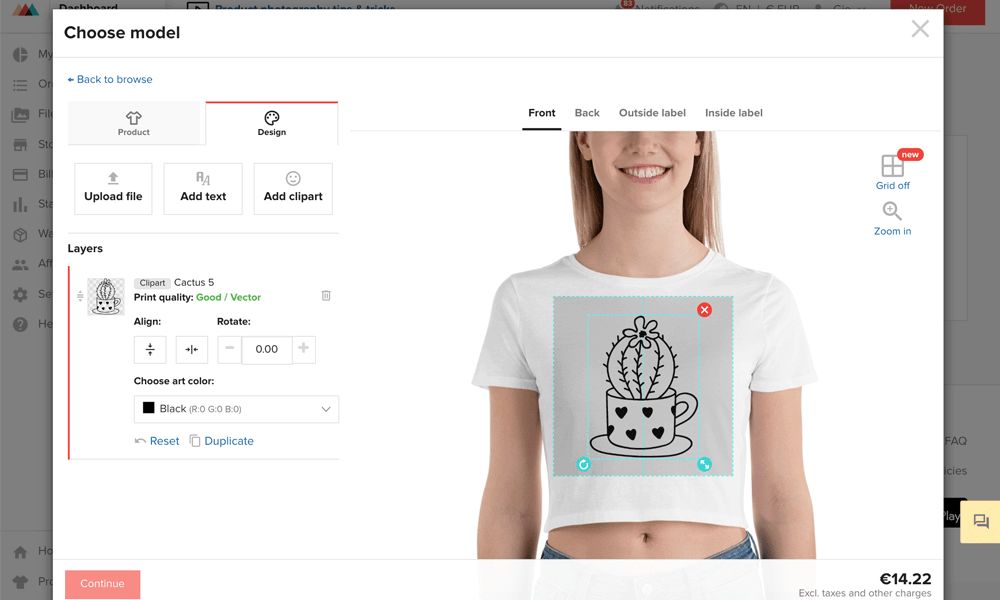 5. Start selling
T-shirts your customers will love
Think of branded t-shirts as another form of advertising — whoever wears it helps grow your brand awareness. So your task is to create smart t-shirt designs that will appeal to your target audience and represent your brand.
You can work on the designs yourself or hire a professional. You can also be the one who prints and ships the t-shirts.
But if you're looking for a time- and cost-effective way to grow your store, be sure to choose print-on-demand drop
shippers.