According to 59% of those asked, emails from brands affect their purchase decisions. As a business owner, you should use the marketing power of your emails to the maximum. Along with a high-quality content, it's also important to come up with memorable and stylish signature. Read on find out how to create a professional signature for your business emails.
3 reasons why you need an email signature
An average office employee sends 35 emails per day. Each email is a great chance to tell your audience about the benefits of your brand. A standard email includes:
employee's name and position;
company logo;
company name;
contact information (physical address, phones, website, social pages);
illustrations;
СТА (call to action).
We'll focus on each of these elements later in the article. As for now, let's see why a good-looking signature is an absolute must in any email. It performs the following functions:
Introduces your brand. Use your email signature to tell who you are and how you can help your recipients. This will bring you closer to your audience and reveal the "human face" of your company.
Makes feedback easier. Enhance your signature with your contacts, and your potential customers will have no trouble getting in touch with you.
Boosts conversion. A signature allows your audience to visit your site or Facebook page in one click to find out more about your business or make a purchase.
How to create an email signature: 13 fundamental rules
When creating an email signature for your business or personal project, you can't just go and put your craziest creative ideas into life. Below we've listed the key principles you should stick to. You don't necessarily have to use them all. Pick the ones that fit your brand identity and promotion strategy.
1. Consistency. When designing your email signature, use the elements of your brand identity (logo, hues, fonts, patterns, etc.). This will ensure your brand recognition and create a consistent company image.
2. Simplicity. Avoid turning your signature into another email. Stay clean and concise. Make sure your text takes up no more than 3-4 lines. Instead of listing all the available contacts, only provide the most relevant ones. (For example, if you don't always have a chance to answer calls, provide your email address.)
3. Design:
Split information into blocks by using horizontal and vertical lines or gaps.
Avoid mixing graphic elements of different sizes and styles.
Think about the size of your signature. It must be legible without being too big.
4. Font. Avoid combining more than two typography solutions unless you want your signature to look amateurish. Highlight the key information with a bold type or capital letters.
5. Color. Using colors can boost the interest of your audience by 80%. Don't get carried away, though. Use no more than 2 corporate hues.
6. Imagery:
Portrait photos stay in the memory, create trust, and boost recognition.
Make high-quality snaps (neutral background, close-up, professional editing).
If your signature already contains a logo, give up the idea of using a photo.
7. Logo. A corporate logo is one of the top recognizable branding designs. Use the ZenBusiness logo maker to craft a nice-looking emblem for your company. Choose from a variety of formats and dimensions!
8. Social media pages:
Include 3-4 social media accounts you're using the most.
To save up space, use icons instead of hyperlinks.
Make the social media icons consistent in terms of shape and size.
9. Phone numbers. If your signature contains the contacts of more than one department (e.g., Marketing, HR, etc.), it would be wise to specify what issues each department handles. If you're doing business internationally, be sure to add your country code in front of your phone number.
10. Accomplishments. If you have prestigious awards, certifications, etc., be sure to share them with your audience. Don't be shy to showcase your experience and professionalism.
11. Call to action. Make it clear to your audience what you want them to do, e.g. read your blog post, sign up for your webinar, visit your online shop, etc. Important: Don't replace a СТА with a slogan or inspirational quotes.
12. Mobile optimization. 35% of business owners and 46% of common users check email on their smartphones. Make sure your signature renders properly on mobile devices. Simplify your logo, if needed. All icons and links must be large enough for easy tapping.
13. Analytics. Use tracking tools to find out how many clicks your links received.
5 email signature generators
Online generator is the best way to design a smart looking signature for your email correspondence. We've brought you six amazing tools that can work magic. Pick the one that you like best!
Mail Signatures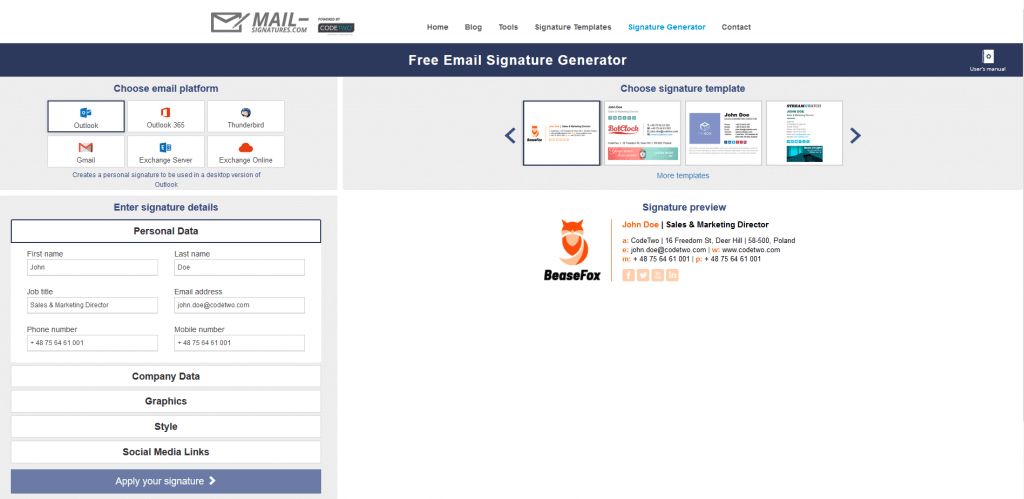 Mail Signatures is a free intuitive service that allows you to create a neat email signature in one minute. Enter your text, upload graphics, add links, and pick colors. Lazy users can benefit from turnkey templates.
Hubspot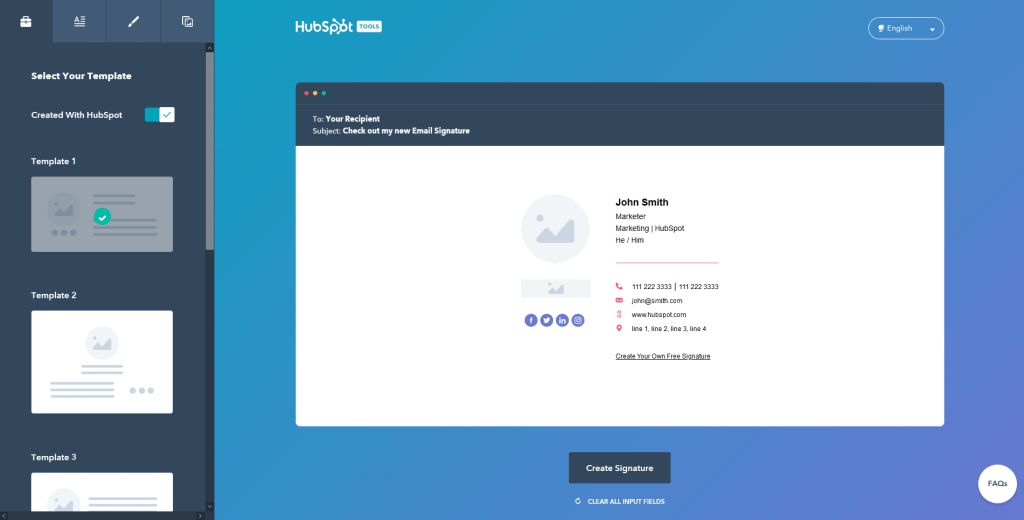 Hubspot has every right to top the list of the easiest emails signature generators. All you need to do is to pick a template, enter your information, add a CTA button/link, and customize your design as you wish. All this is absolutely for free. The only downside is that you can't craft a mockup of your own.
Gimmio
Gimmio is a very advanced email signature builder that boasts professional templates, more than 40 fonts, and thousands of icons. Design your mockup and edit it anytime you feel like it. Use the free plan or get a premium account for 7 dollars.
Signature Maker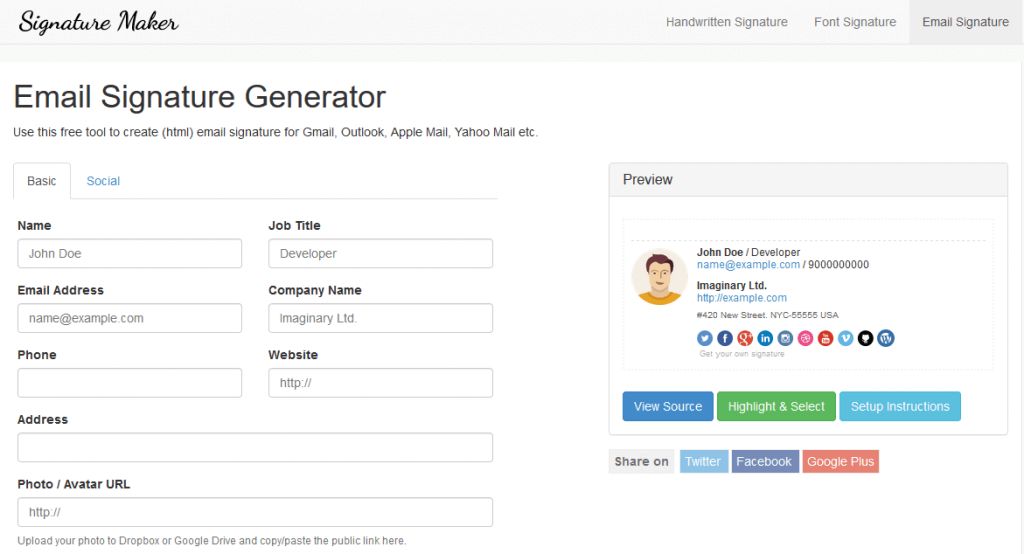 Signature Maker has a pretty rudimentary functionality. It offers just one non-customizable template. Also, if you want to add a CTA button, you should better look for another service. The silver lining is that Signature Maker is absolutely free.
Mailcastr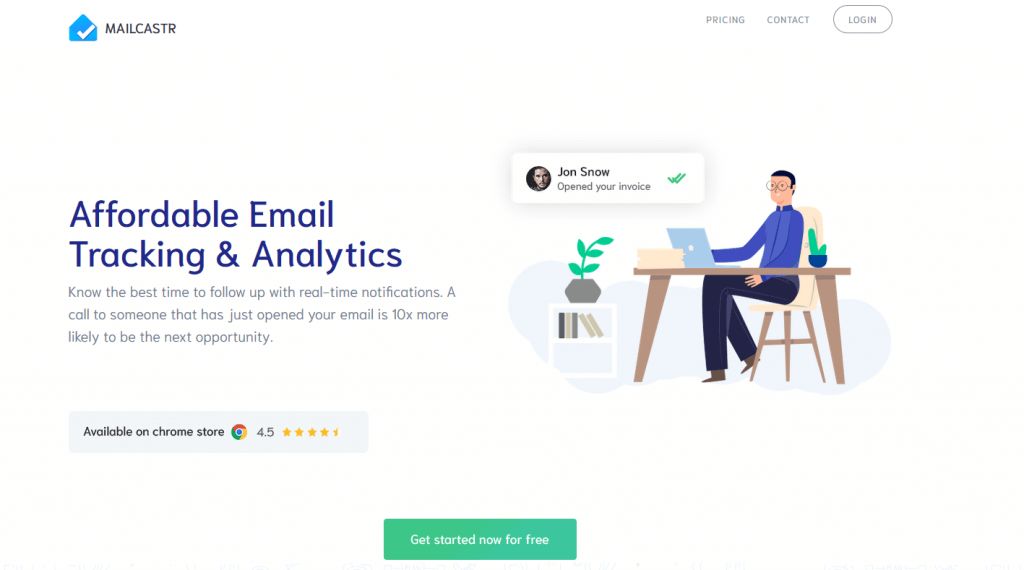 Mailcasrt stands out through its powerful analytical tools. You'll be getting notifications every time a user opens your email and clicks your links. With a free plan, you can track up to 3 emails per day. To benefit from unlimited functionalities, upgrade to a premium account for $5/month.
Wisestamp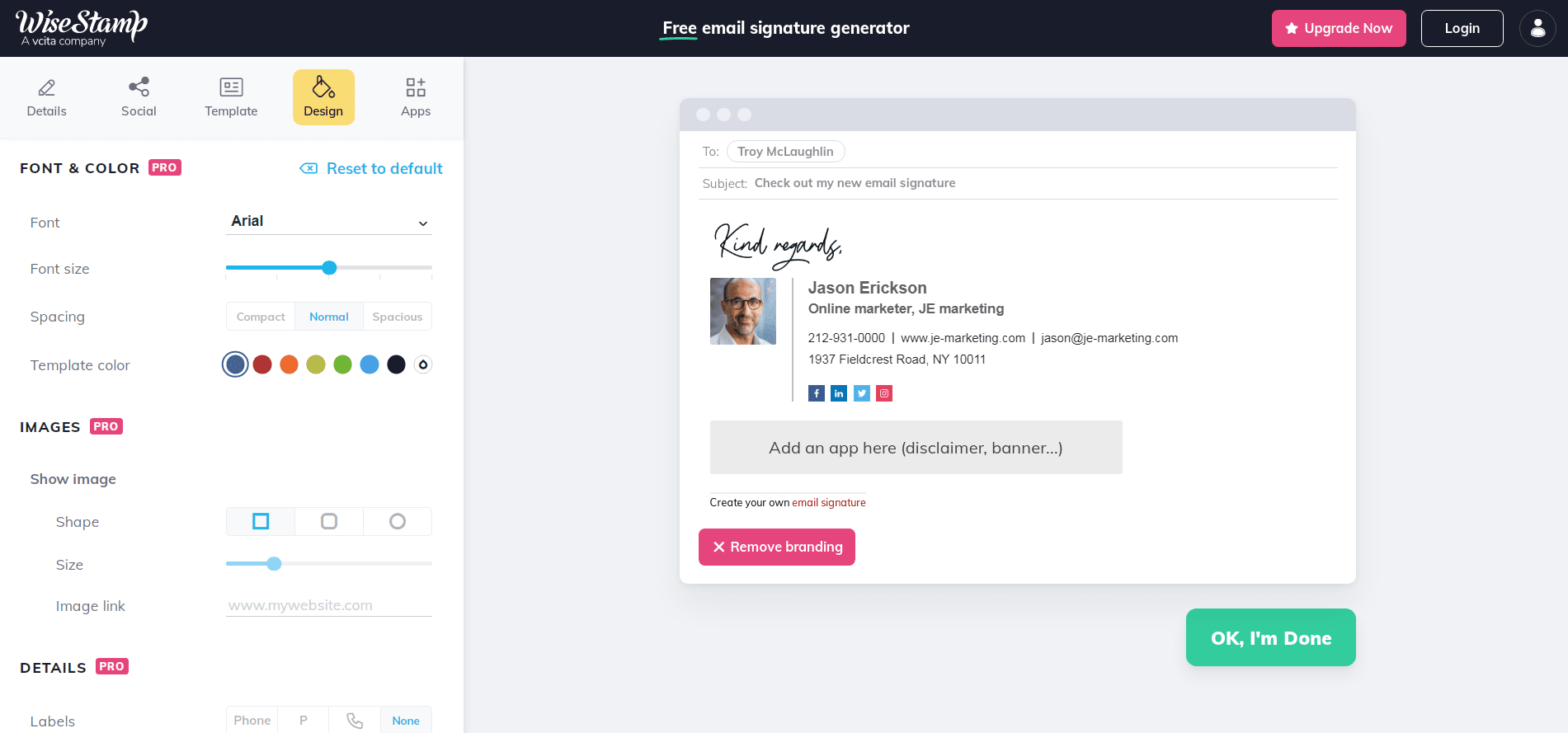 Wisestamp is another option to create a professional email signature with a 1-click setup. The tool has editable layouts, colors, fonts, CTA buttons as well as more than 50 ready-to-use designs. If you want to remove WiseStamp branding or benefit from more features, upgrade to a premium account for $5.80/month.
12 ideas to get you inspired
Feeling lost without inspiration? We've dug up 12 stylish examples of email signatures in various styles. Get ready to explore the multi-faceted world of graphic design!
Here is a great example of a minimalist signature with three short lines (name, email address, and mobile phone). The viewer's attention is instantly directed at an edgy photo and bold type.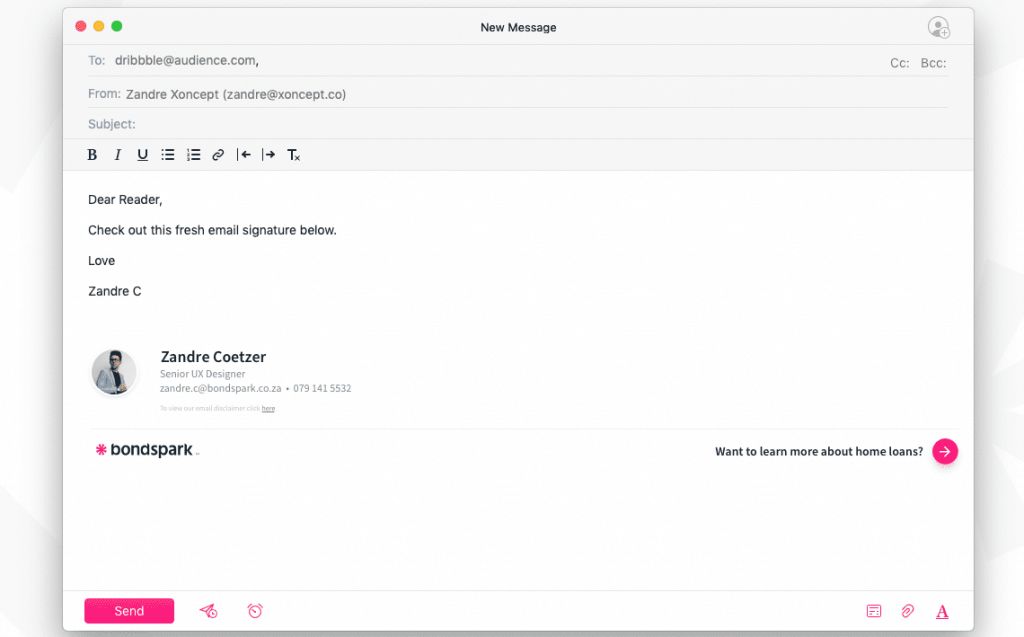 The designer behind this piece knows how to work with color and graphics. The frame is designed in the corporate shades, which is very smart move. Separating lines make it easier for the eye to perceive the information.

This stylish design is built around a massive company emblem in the form of a bearded face. To the right, you can see social media pages. The funny "Flat White, no sugar" motto reveals the creative side of the brand.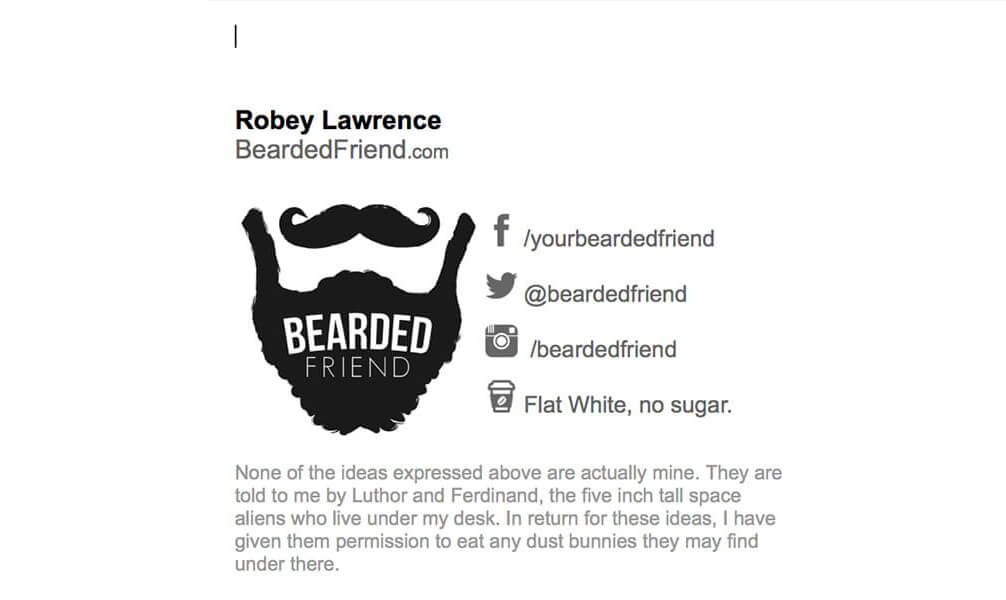 This is another clean design consisting of a name, position, social media icons, and website. The website is highlighted with an eye-catching blue shade.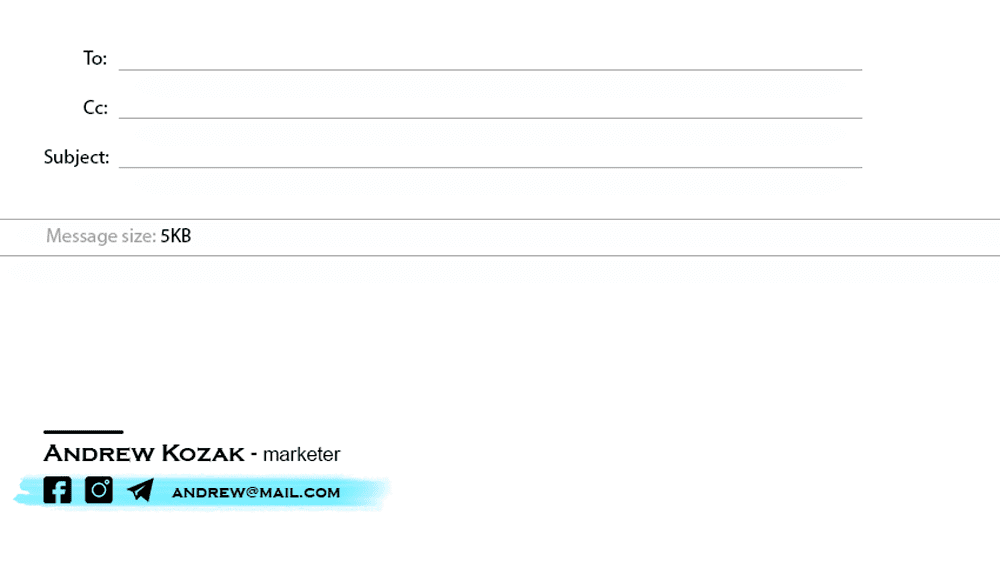 This achromatic design is charming in its simplicity. It features the freelancer's name, line of work, and social media icons.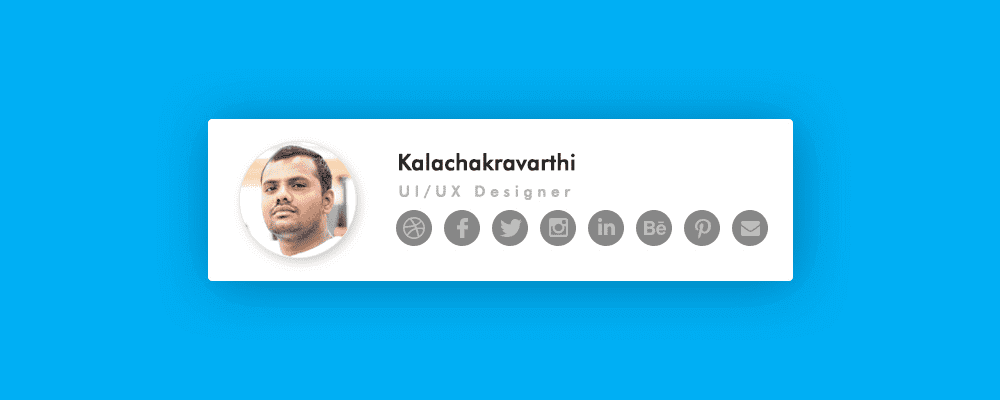 Although this email signature is filled with information, a smart block structure makes it easy to perceive. The left block contains a logo and brand name. In the center, you can see the name and specialization. The right block is dedicated to contacts.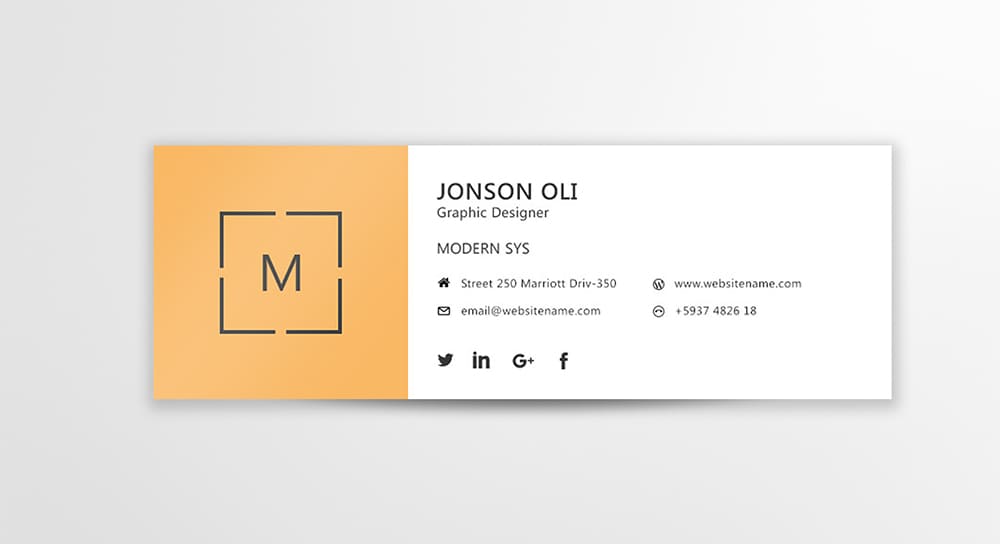 This design relies on the beautiful navy blue color. The same hue is used to stylize the social media icons on the left. The signature is enhanced with a motivational CTA, "Make your dream of studying abroad come true!"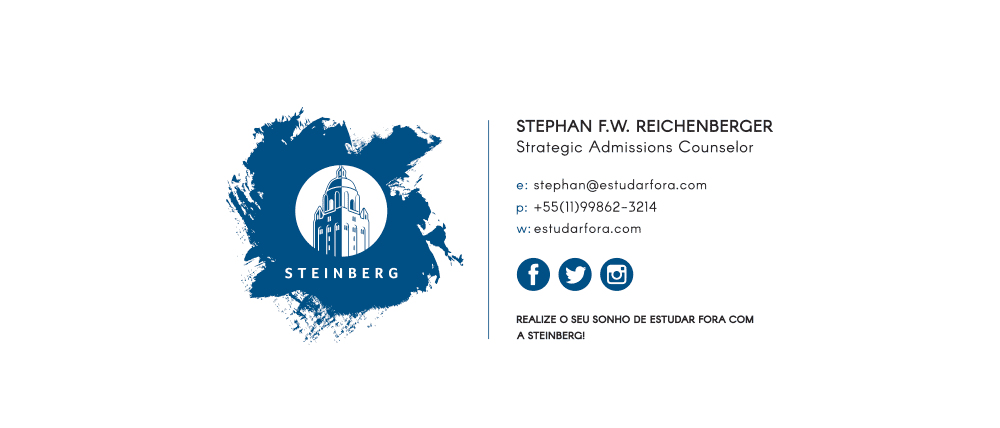 The photo of a smiling guy instantly catches attention and establishes a warm emotional bond. The design is further refreshed by light green elements. Although full of content, the email signature looks perfectly legible and clean.

This email signature contains a great deal of information, including the name, position, logo, address, phone numbers, and website. The creator of this piece aptly uses color blue to make the signature more visually friendly. As a result, the design looks light and airy.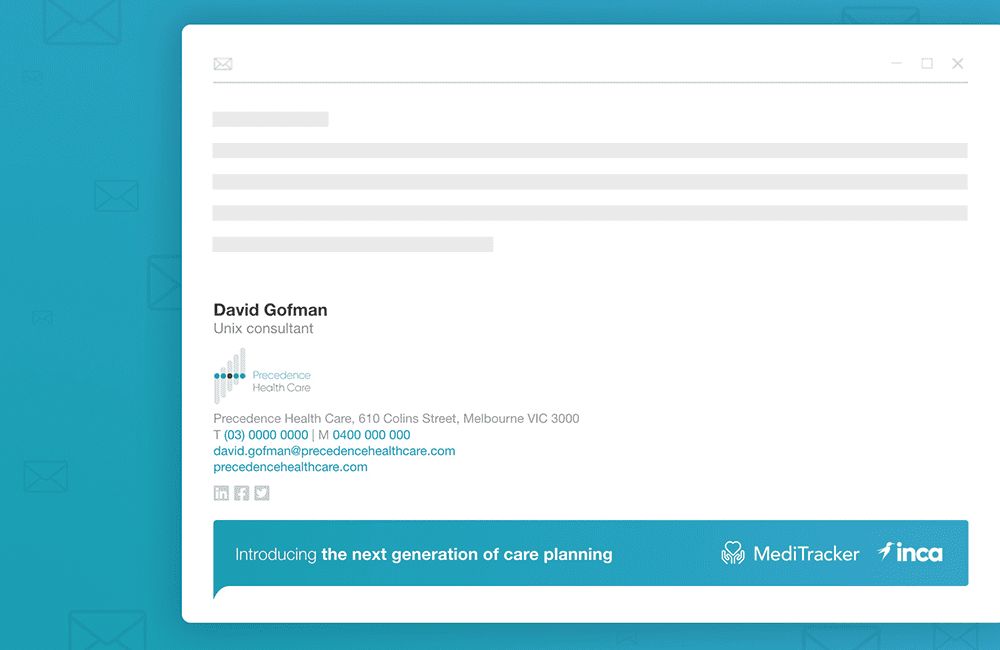 This stylish email signature is available in two versions: one against a black background and the other, against the white one. The vertical photo of a girl makes a clever addition to the design.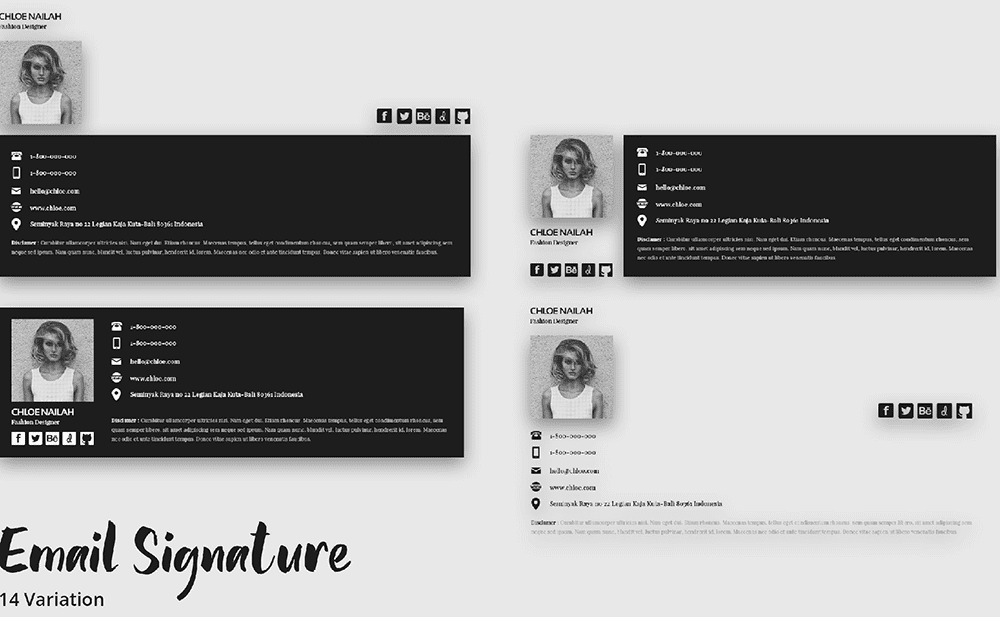 This piece entirely consists of geometric shapes (circle, triangles, and rectangles). The photo steals all the thunder, while the contact information is placed beneath it.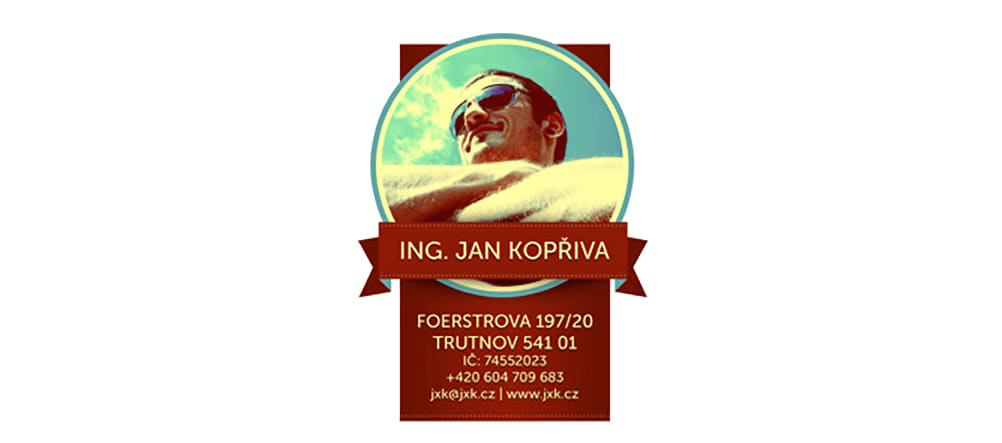 In the upper part of this rectangular design, you can see the brand name written in a neat, playful font. The lower part features the name, position, and contact information. A fine balance of colors gives a nice finishing touch to the piece.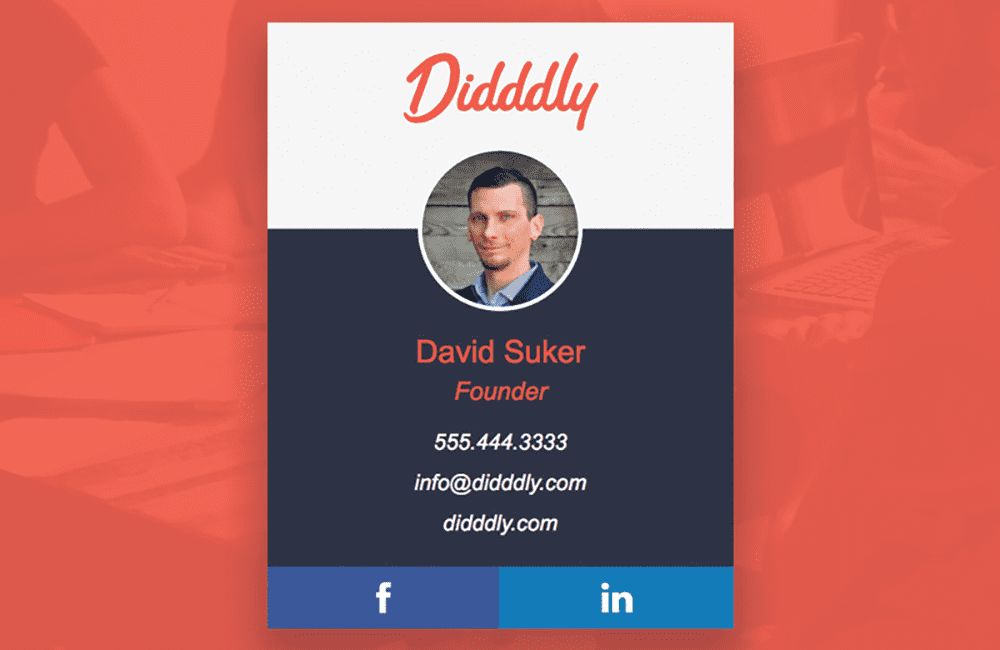 Bottom line
An email signature is, in fact, a free marketing tool that can do your company a lot of good. Be sure to include a clever signature into your business emails to gain the trust of your audience, express your brand personality, and increase your conversion rate.