Fact: 79% of customers read flyers and share them with friends. To leverage the power of flyers, you need to know a few important things about them. In this article, we'll look at how business flyers work.
How to use flyers for promoting your business
Flyer is a small piece of paper that businesses distribute in stores, coffee shops, in the streets, and by mail. The main goal of a flyer is to communicate a message and urge a customer to buy a product or service.
A flyer can tell customers about a new store, generous offer, important event or provide other information. Also, a flyer can contain a discount, bonus, promo code, etc.
Here are the main advantages that flyers have:
Easy to create. You can easily create and print a flyer yourself.
Smart marketing tool. Flyer is a great way to tell your audience about your new clothing outlet or discounts at your beauty shop. Designing a flyer usually takes from a few hours to a few days.
High conversion. According to surveys, 48% of customers get in touch with the brand after receiving a flyer. They can drop by a store, use a discount or visit a company website. To measure the performance of your ad campaign, you need to place a QR code with your contact information on your flyers.
Designing a flyer is easy. Making a catchy and impactful flyer is harder. Check out these simple rules that will help you create an effective design.
Identify your target audience. Your design must meet the needs of your target audience. Retro or modern? Classic or provocative? Casual or formal? To forge an emotional bond with your potential customers, you need to know what they respond to.
Focus on the visuals. You can't expect people to scrutinize your flyer for hours, right? You only have a few seconds to attract the attention of a recipient. The best way to do this is by placing a catchy imagery on your piece. It can be a photo, drawing, or any graphic image that conveys your message.
Come up with a smart title. Find a clear and succinct way to describe your offer. This is a surefire way to retain the attention of your potential clients.
Don't overdo it with text. Use a simple, readable font. Add a clear call to action by asking a recipient to visit your website, call your office, etc. Don't forget to include your contact information.
Stick to your visual brand identity. Make sure your flyer is in line with your brand identity (corporate colors, fonts, logo). Need a professional brand identity? With ZenBusiness, you can generate a neat logo or corporate pattern that you can use as a background on your flyer.
Offer something of value. Encourage your customers with a discount, free coffee, useful online guide, or other valuable gift. Make sure your offer is easy to notice.
How to create a flyer yourself
If you have never used design editing programs before, don't worry. We've made a list of 10 trustworthy services to help you design a flyer, from basic text editors to online constructors, to makeup software. You're sure to pick the option that fits your skill set.
1. Microsoft Word
Word offers a basic set of tools for creating a beautiful flyer design with minimum efforts. You can either use a turnkey template, or create your art piece from scratch. Upload your own graphics, change colors, play around with fonts, etc. until you get the result you're content with.
2. Google Slides
Google Slides is a simple and easy-to-use online tool with a flexible tool set. Upload your own photo or pick one from the Google collection. Set the desired size, customize other elements (patterns, fonts, etc.), and add finishing touches. Done!
3. Adobe Photoshop
Adobe Photoshop is an ideal option for those who have some experience working in graphic design programs. Since the software doesn't have any ready-to-use templates, you'll have to rely on your own resources. Upload graphics, select the desired size, and edit your design. Keep in mind that Photoshop is mostly used for designs that are graphic-based: If your flyer is text-based, you should better use a different program.
4. Adobe InDesign
Adobe InDesign is a professional graphic editing software for experienced users. If you consider yourself a design dummy, you should skip it. In Adobe InDesign, you need to upload your own graphics. At the same time, this software features a stunning selection of useful tools for working with text.
5. PowerPoint
With PowerPoint, you can create a neat flyer from scratch. Alternatively, you can pick a template and customize it by changing its dimensions, graphics, typography, etc.
6. MS Publisher
Microsoft Publisher has a vast collection of templates split into categories. Pick the category that fits the needs of your ad campaign. If you failed to find the right template, you can upload your own design or craft your pieces from scratch. Plus, you can add a postal address to your design. You're sure to find this option useful if you're going to mail your flyers to recipients.
7. Orion Flyer Maker Pro
Here is another simple software for creating a spectacular flyer in minutes. Choose from hundreds of themes, colors, fonts, and graphic effects (shadows, blurring, etc.). Plus, you can easily add, resize and rearrange new elements.
8. Spark Adobe
With Spark Adobe, design can be simple, fast, and professional at the same time. Enter your text, pick the right theme or template, and edit your design all you like! Upload your own photos or explore a huge collection of free graphics available on the website.
9. Piktochart
Need a creative flyer? With Piktochart, you'll craft a memorable design in the nick of time! The service boasts a variety of advantages, including free access, multiple color schemes, adaptive typography, and intuitive editor that enables you to easily rearrange elements.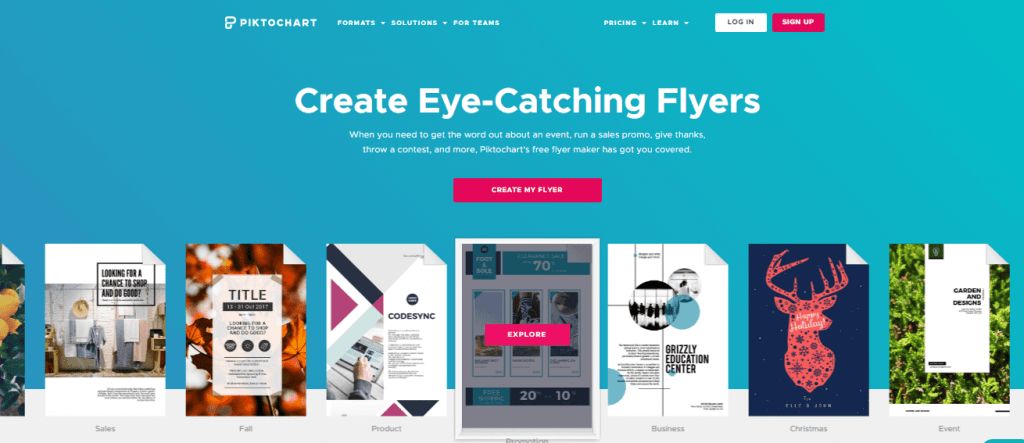 10. Postermywall
The Postermywall online generator stands out through its impressive collection of themes and flexible settings. Add your own graphics and use various tools to edit text. Once your flyer is ready, you can post it on your socials without leaving the platform.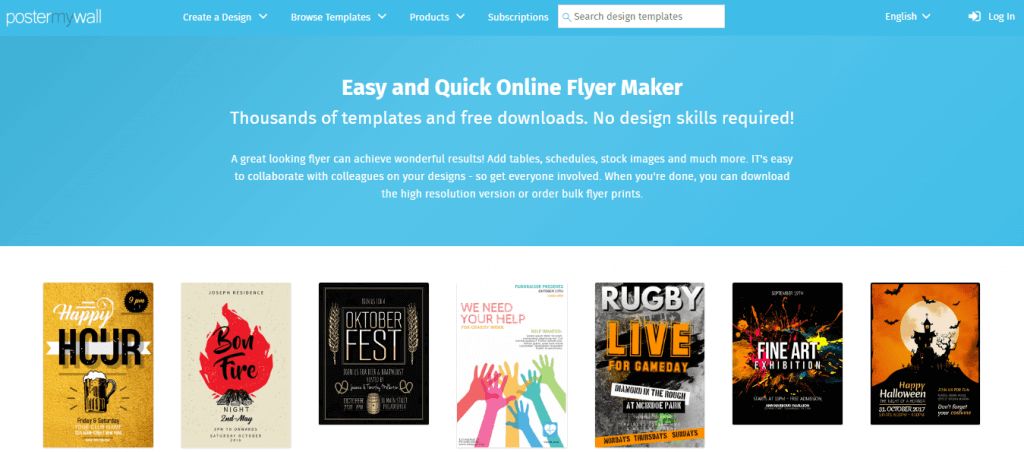 Where to print your flyer
Depending on your budget and needs, you can choose from three options.
At home
If you need a small batch of flyers, you can easily print it at home on your printer. Before sending your design to print, make sure your printer supports the type of paper you're using and renders colors correctly. Before printing an entire batch, print a test sample.
Web-to-print services
With a reliable web-to-print service, you can place a printing order without leaving your home. Pick the suitable service, read file requirements, send your flyer design via email, and make a payment. Your printed flyers will be delivered to your doorstep within a couple of days!
Offline print shops
Open Google maps and type "print shop" into the search field. The service will show you the nearest print shops where you can get your flyer printed. Browse through customer reviews and pick the company that you can trust.
Bottom line
Flyer is a great example of an accessible marketing tool that every business can benefit from. It's a great way to get in touch with your target audience, get feedback, and boost your conversion. Beyond that, flyers contain valuable offers that encourage customer loyalty.