If you're using Instagram to promote your business, you probably know that posting on Instagram from your smartphone can be tricky. Despite its numerous advantages, the Instagram mobile app doesn't allow you to schedule your posts and add content across several social media platforms in one go. Plus, if you want to post a photo taken on a professional camera, transferring it from your PC to your mobile device takes extra time.
Luckily for Instagram users, there is not one, but as many as three solutions to this problem. This article contains useful insights for anyone who wants to build a strong Instagram following!
1. Browser settings
If you're using a popular internet browser like Chrome, Safari or Firefox, you can access the Developer tools and adjust the settings so that Instagram identifies your PC as a mobile device.
It's a free and easy method which is available to any user. However, since this method only allows real-time posting, it won't do for those using the scheduled posting feature.
Instruction for Google Chrome (available on Windows and iOS):
1.Log into your Instagram account.
2. Open Google Chrome and click the three-dot icon at the top right corner.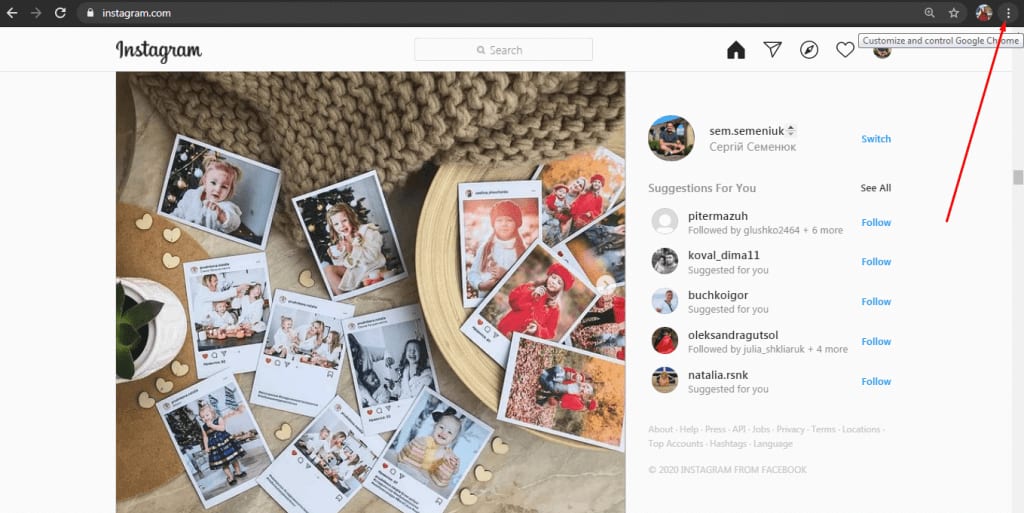 3. In the drop-down menu, select More tools > Developer tools. You'll see a window with the source code of the page.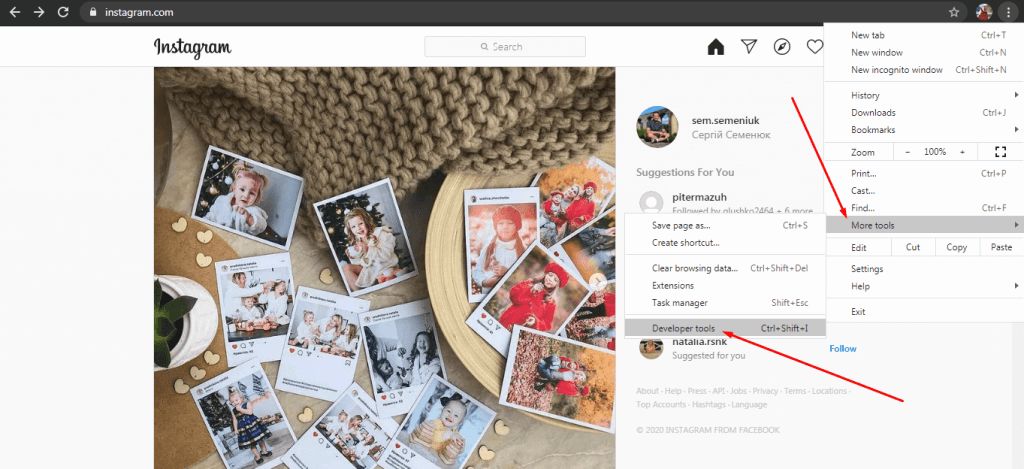 4. In the upper menu, click the icon which looks like a smartphone. The page will refresh, and you'll see the mobile interface on your desktop.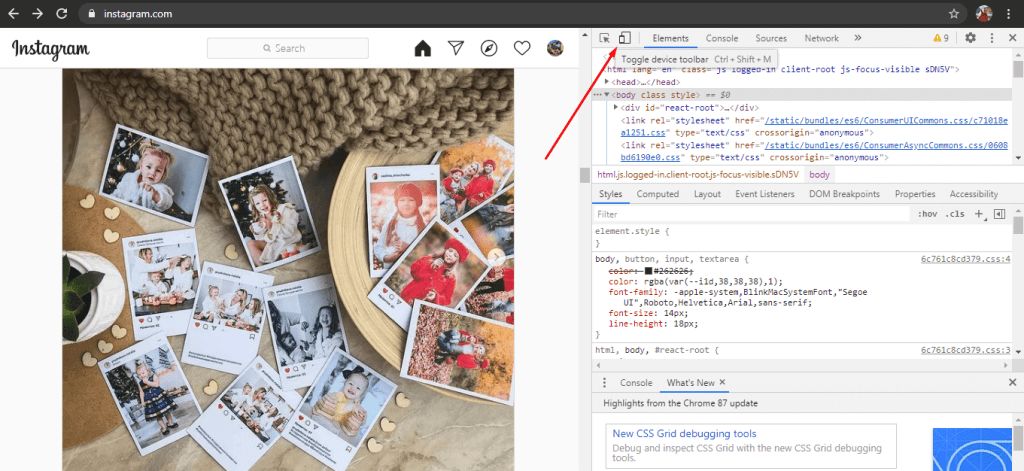 5. Done! Now you can post to Instagram from your home computer as if you were using your smartphone.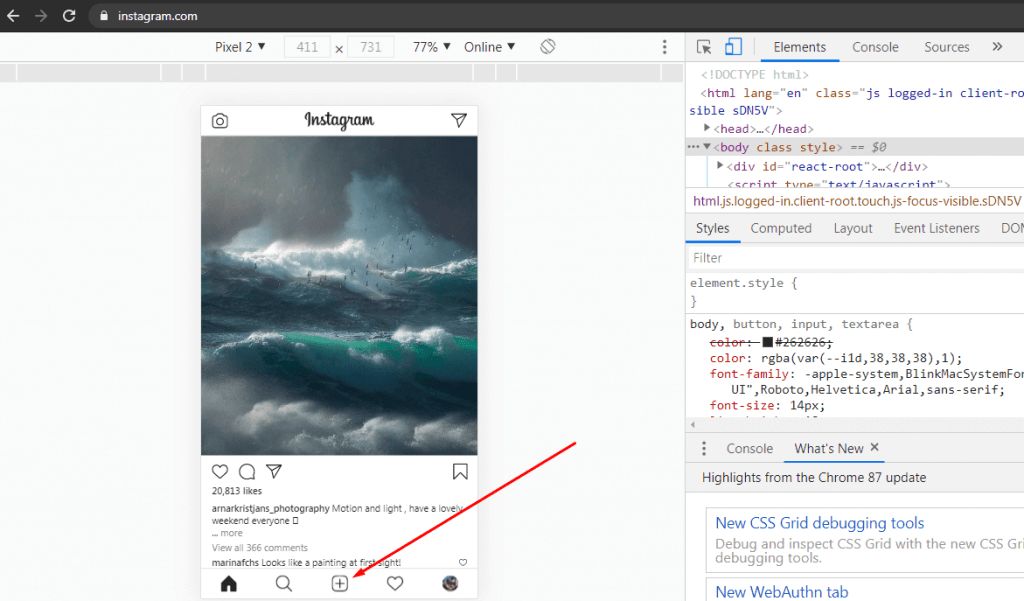 Instruction for other browsers:
1.Log into your Instagram account.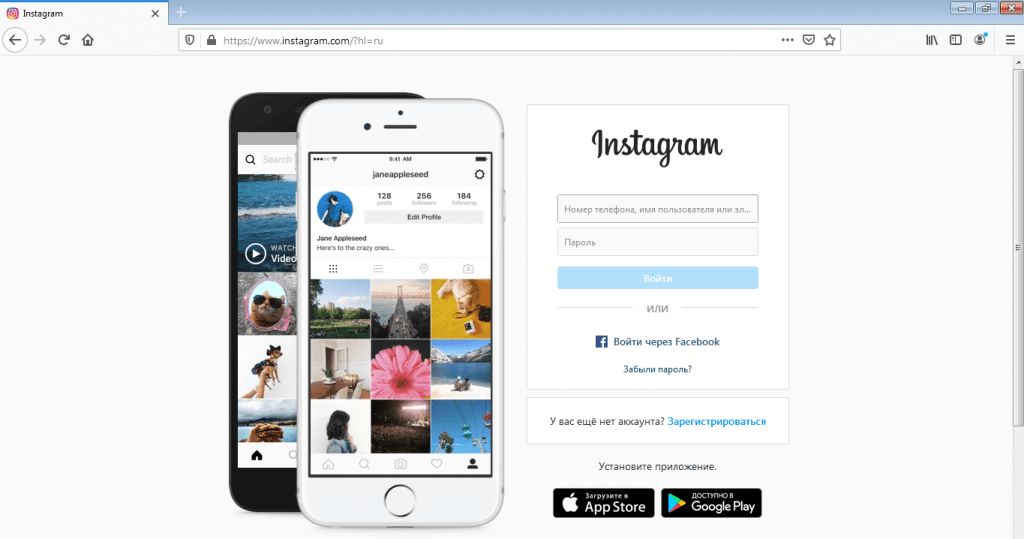 2. Make a right click anywhere on the page and select "View page source". You'll see a window with the source code of the page.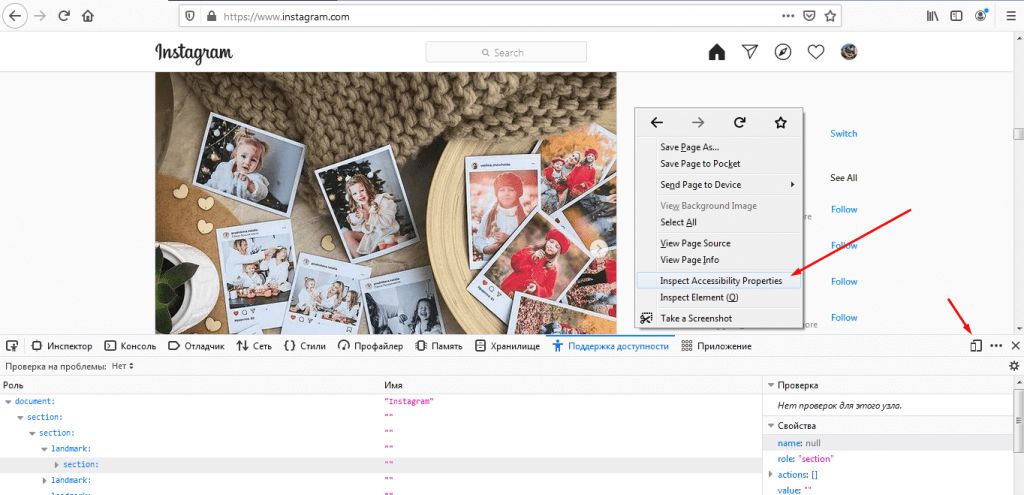 3. Proceed with Steps 4 and 5 from the instruction above.
Instruction for Safari (available on iOS):
1.Log into your Instagram account.
2. Open Safari. Choose Safari > Preferences. Click on the Advanced tab. Select "Show Develop menu in menu bar".
3. You'll see a new Develop menu. Click the Develop menu and select User-Agent > iPhone.
4. Done! Now you can upload content to your Instagram account directly from your desktop.
2. Dedicated apps
There is no lack of apps which allow for scheduled posting on social media. While some services are packed with advanced features for posting across several social channels, others come with a more limited suite of tools. Let's take a look at three apps with different levels of functionality.
Hootsuite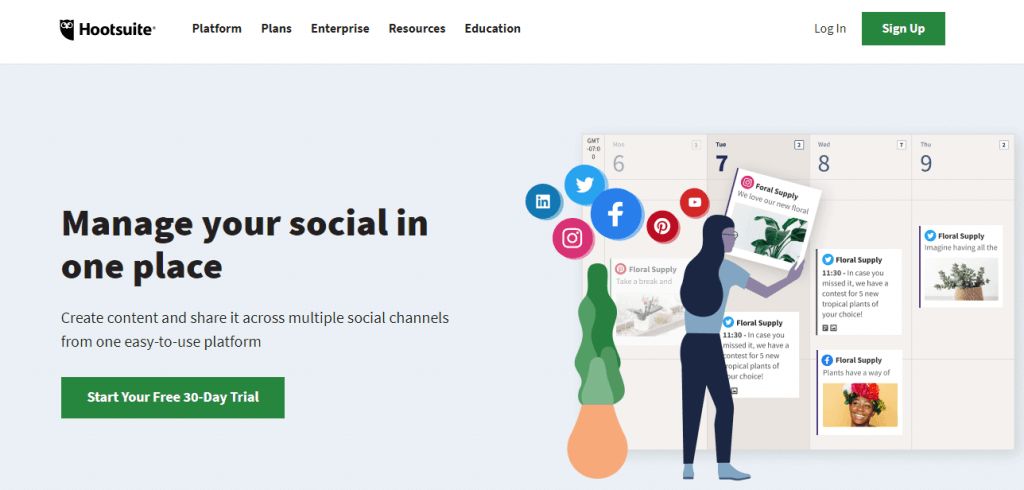 The Hootsuite service enables you to post scheduled content across all major social platforms, including Instagram, Facebook, Twitter, LinkedIn, YouTube, and Pinterest.
Hootsuite is an all-in-one platform for social media management. It's loaded with user-friendly features, covering your every need. For example, you can edit images, adjust their dimensions to meet the requirements of each platform, schedule both Instagram posts and stories, etc. On top of that, the smart service allows users to launch ad campaigns and analyze their performance, track brand mentions, comments and tags, and more.
How much: From $19/month. Free version with a limited functionality is also available.
Hopper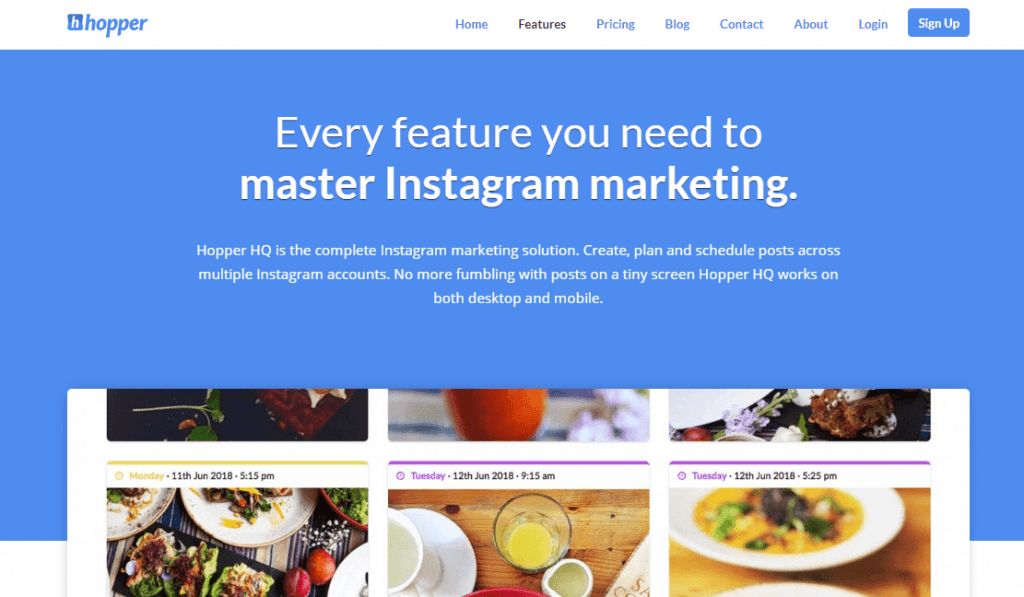 This app enables you to schedule up to 50 posts across Instagram, Facebook, Twitter, and LinkedIn. Plus, you can set up individual time zones for each account.
With Hopper, you can publish photos and videos, edit your posts and add special effects, customize your grid layout, and more. The tool comes with in-built analytics tools, enabling you to monitor your subscriber base dynamics, pick the best post timing, and track the number of views.
How much: From $21/month (annual subscription). Also, there is a free 14-day trial.
BlueStacks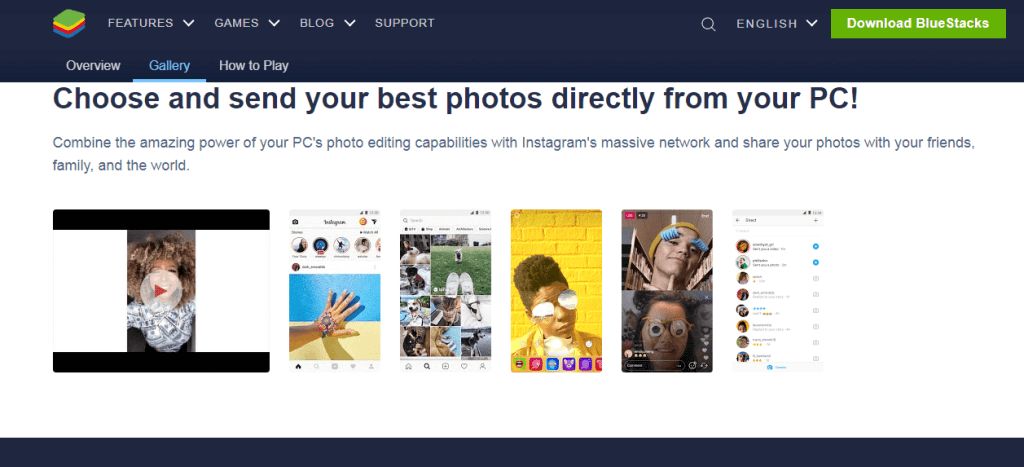 If you don't need all the enhanced functionalities described above, go for BlueStacks. It's a gaming platform which enables you to use Google Play mobile apps on your desktop computer. To be able to access the tool, you need to have an account with Google.
BlueStacks features the same basic posting functionalities as the Instagram mobile app. You can edit your graphic content and add engaging visual effects. The only downside is that the tool doesn't allow for scheduled posting.
How much: Free.
3. Facebook
Facebook offers two free tools for those who have synchronized business profiles on Instagram and Facebook. Let's see what they have in store for users!
With Facebook Creator Studio, you can schedule and post IGTV videos and other content from your PC, as well as edit the previously published posts. Users can access a wide array of statistics on each post, including number of clicks, subscriber data, and more. At the same time, you can't schedule multiple posts at the same time.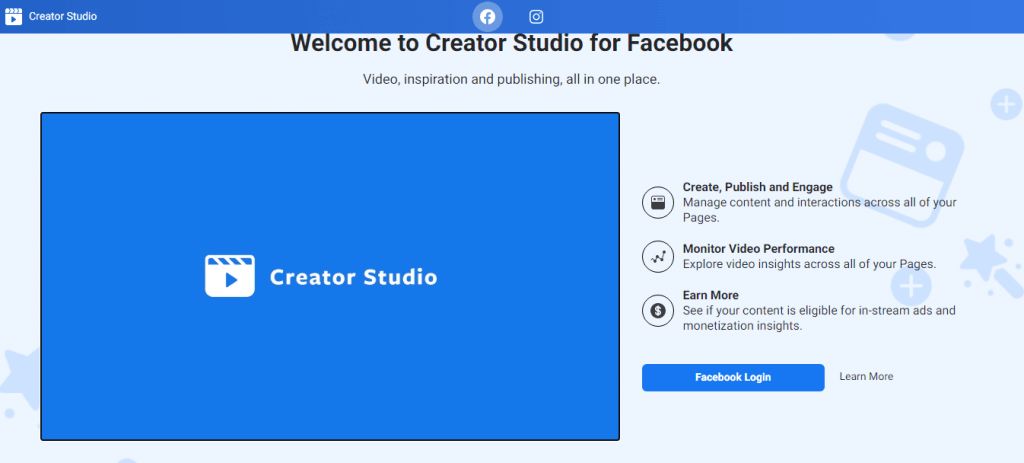 Freshly launched in September of 2020, Facebook Business Suite targets the needs of small businesses which had to switch to the digital environment due to the Covid pandemic. The service enables you to create and schedule posts, set up ads, and track analytics. Plus, Business Suite accumulates notifications, messages and comments from both accounts.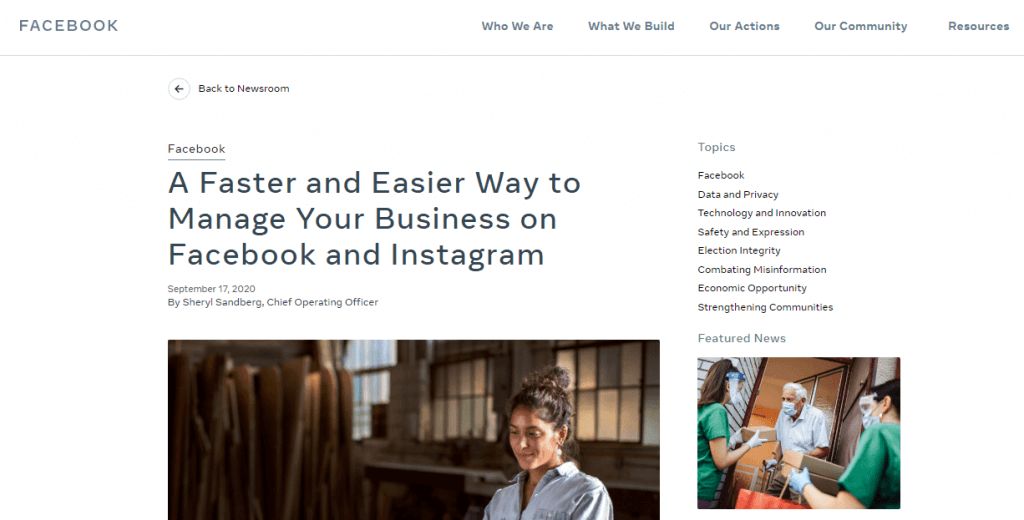 Business Suite is still a raw tool with limited availability and capacity. The developer team promises to expand the functionality of the service and add WhatsApp integration in 2021.
3 bonus tips for promoting your business on social media
When starting to build a presence on social media, be ready to face a tough competition. Major social platforms are swarming with big and small companies vying for the customer's attention. Devising a smart promotion strategy for your social media pages is essential to sparking the interest of the audience and earning their trust.
1. Make a content plan. With a ready-to-use content plan on your hands, you won't have to scratch your head over what to post next. Sit down and think about what you're going to post over the course of the next 1-2 weeks. Write compelling texts, select and edit photos, etc. A secret to success is to alternate entertaining stuff with value-loaded content. Also, avoid making each post about selling unless you want to drive away your audience in the bat of an eye.
2. Brand your account. Branding your social media pages is a surefire way to make your brand identifiable and recognizable. Start with adding your logo as your profile picture. Also, use your corporate fonts, colors, and patterns to customize your page design. Don't have a brand identity yet? Then it's high time you took advantage of the ZenBusiness brand identity builder!
3. Promote your page. Compelling texts and attractive photos are not enough to drive traffic to your social media pages. Here is what you need to do to amplify your posts:
advance your page across other social platforms, on your website, in your email newsletter, etc.
use hashtags and geotags to help your potential customers find you;
capitalize on target ads;
do cross-promotion with other brands whose audiences overlap with yours.
Final words
Committed to keeping its users happy, Instagram offers an increasing number of ways for efficiently posting content from your desktop. Pick the tools based on the needs of your business!
Unless you need complicated functionalities, you can use your web browser or the free BlueStacks app.
If you work in a team and want to effectively manage posting across multiple social platforms, go for Hopper or Hootsuite.
To take advantage of synchronized posting across your business accounts on Facebook and Instagram, use free Facebook tools, such as Creator Studio and Business Suite.