A surefire way to come up with a compelling advertising campaign is by borrowing the best practices from top brands. In this article, we'll go over 10+ revolutionary advertising campaigns that reshaped the advertising industry. Get armed with effective advertising techniques and leave your customers speechless with delight!
What makes a classy advertising campaign
What's the difference between an advertisement and advertising campaign? Why do some ads make headlines, while others go unnoticed by consumers? What is the best way to put your ad out there? Let's start with the key terms and tools.
An advertisement, or simply ad, is a text- or image-based message which promotes a brand, product or service. Ads come in all forms and sizes, including photos, illustrations, video clips, audio, etc. Businesses can place ads across a variety of media, from billboards, to TV, to websites. An advertising campaign can contain a bunch of different ads which, however, share the same goal.
What advertising formats and channels a business opts for depends on what product or service is being marketed, what goals the ad campaign pursues, and what audience it targets. An advertisement (except for an audio ad) is made of the three main elements.
1. Logo
A logo is the central graphic symbol of your ad. It has the power to draw in more devout customers and elevate your brand to new heights. It goes without saying that your logo must be eye-catching and memorable. Plus, make sure it conveys your brand personality and outlines your unique value proposition.
Useful tip. Creating a beautiful logo within minutes is now a reality! The ZenBusiness website is a one-stop platform with thousands of professional logo designs. Pick any template and customize it to fit your business!
2. Slogan
A slogan is a message you want to send to your target audience through your ad. A slogan can serve a bunch of purposes. It can motivate, inspire, take by surprise, provoke thoughts, and more. Regardless of the emotions your slogan aims to evoke, it must encourage the user to perform a certain action.
Useful tip. Write down words and phrases associated with your product. Try making a slogan containing one or two words from the list.
3. Photo or video content
Your task is to communicate your message through visuals that are both simple and universally recognizable. Storytelling is paramount to good advertising. Make sure your photo or video content tells a story behind your product or brand.
Useful tip. Need some inspiration? It's easy! Go to Pinterest, search your brand-related keywords, and save the best graphic ideas.
12 examples of jaw-dropping ad campaigns
Prepare to see the ad campaigns that grabbed media headlines, sparked customer curiosity, and won a ton of prestigious awards. What's the secret of their greatness? Let's find out together!
1. McDonald's
The US-based fast food giant is known for its love for billboard advertising. Thanks to their large size, billboards are a great way to catch the eye of potential customers. Back in 2018, the company launched what resulted to be one of its most iconic ad campaigns, Follow the Arches.
McDonald's placed different pieces of its iconic logo across highway billboards. Each billboard gave drivers directions to the nearest McDonald's restaurant: "Turn Left", "Make U-Turn", "To Your Right" and the like. The minimalist yet impactful ad campaign earned global recognition and scooped a handful of sought-after awards, including the Grand-Prix prize at the Cannes Lions International Festival of Creativity.
Takeaway. When it comes to marketing, your rule of thumb must be "More is less". Imagine that you're playing a game. Try to translate your brand message using as few words and visual elements as possible.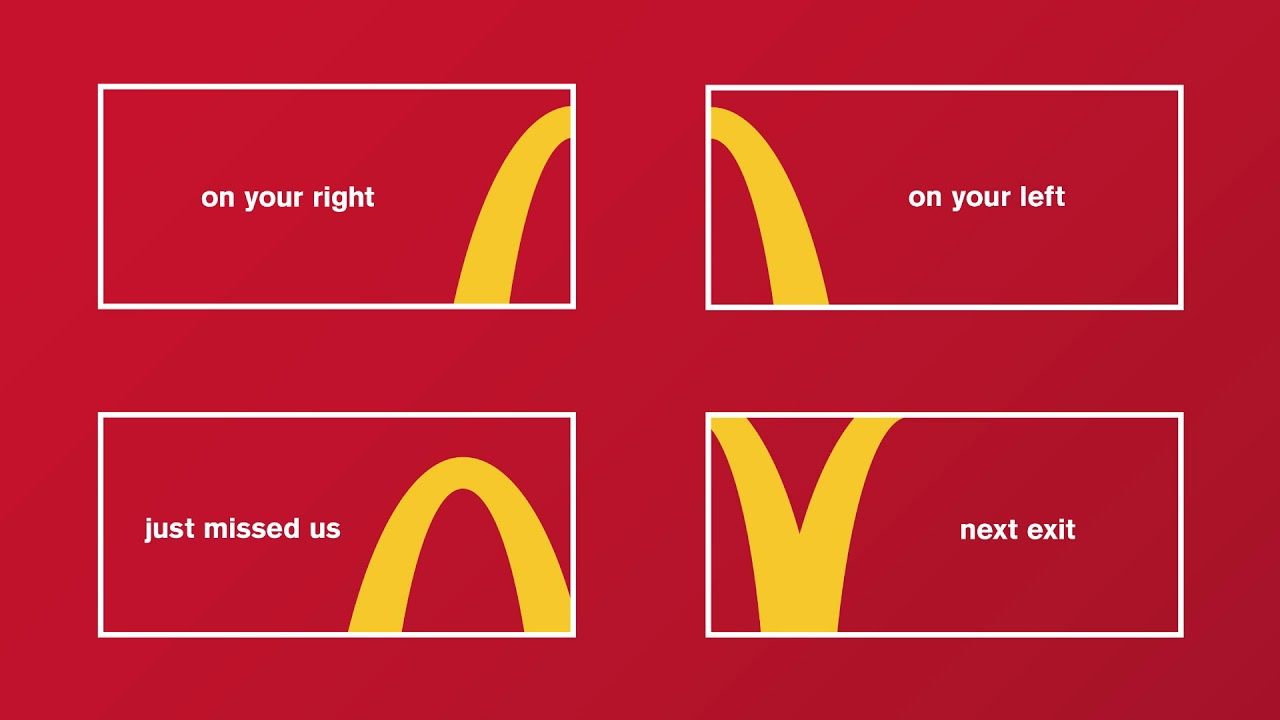 2. Nike
We bet that the first thing that jumps to your mind when you hear the brand name "Nike" is their groundbreaking Just Do It campaign. Launched back in 1988, the campaign stood out through its all-inclusiveness, targeting buyers of different ages, nationalities, and backgrounds. For a bigger outreach, the campaign featured both common people and celebrities. Also, Nike used a variety of channels to communicate their message, from TV, to magazines, to graffitis.
The campaign inspired people to live a healthy lifestyle and pursue their dreams. Over the span of 10 years, the groundbreaking campaign catapulted Nike's annual sales from $877 million to 9.2 billion.
Takeaway. Think about what problem your product resolves for your potential customers and build your ad campaign around that.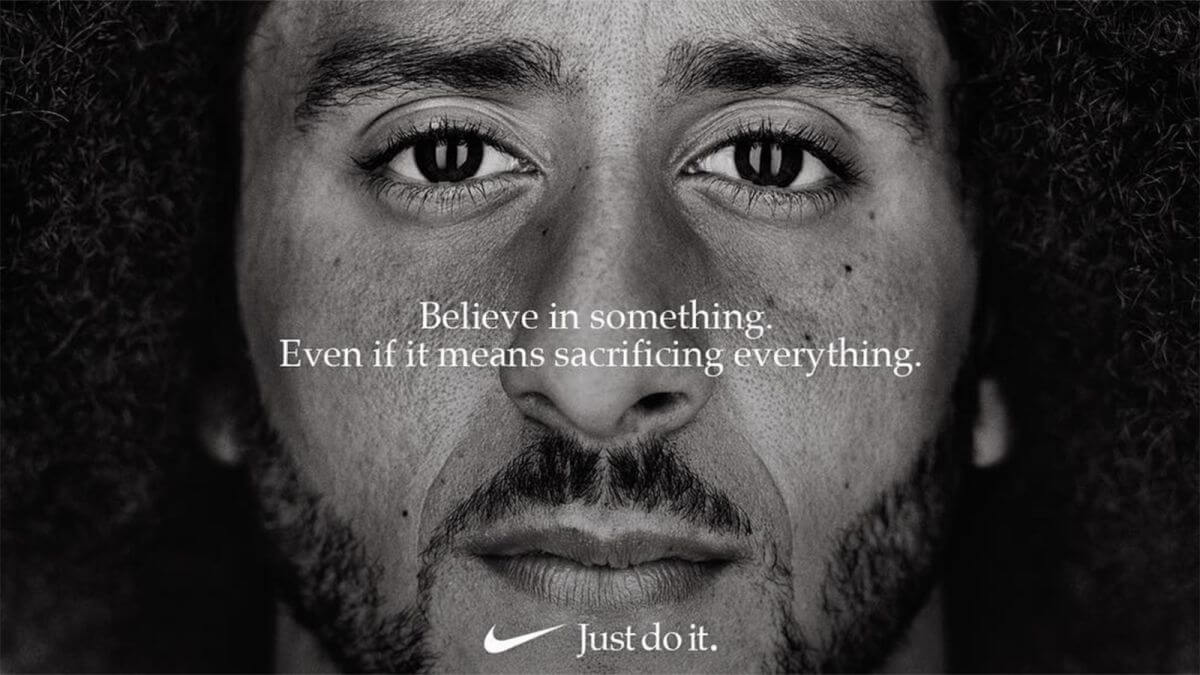 3. Coca-Cola
Coca-Cola's Share A Coke campaign was running in 2011 in Australia. Instead of its globally recognizable logo, Coca-Cola branded its bottles and cans with the names of Australia's famous personalities. Needless to say, the marketing effort had tremendous success. People were buying Coca-Cola for their family and friends, treating the branded bottles more like souvenirs rather than regular products.
In the summer of 2011, Coca-Cola sold more than 250 mln bottles and cans in the country with the population of 23 mln people. From Down Under, the campaign started its triumphant global journey, making its way to more than 70 countries.
Takeaway. An impactful advertising campaign must have a personalized feel and channel your audience's emotions.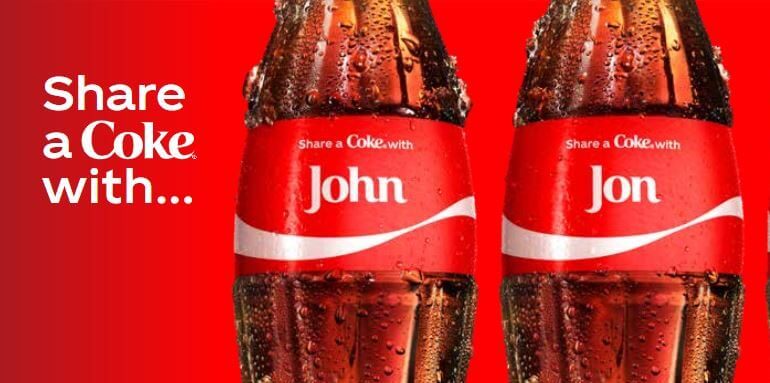 4. Nivea
The year 2014 saw a stunning advertising campaign from Nivea Men. The campaign entitled "Because Life Makes Wrinkles" was dedicated to the stress situations that men have to face on a daily basis (naughty kids, broken car, construction of a house, etc.)
The campaign's slogan "We know your pain, We're here to help" did a great job driving the brand's appeal among its male audience.
Takeaway. Tell your audience an engaging story they can relate to. Show your customers you care about them, understand their hardships, and support their endeavours.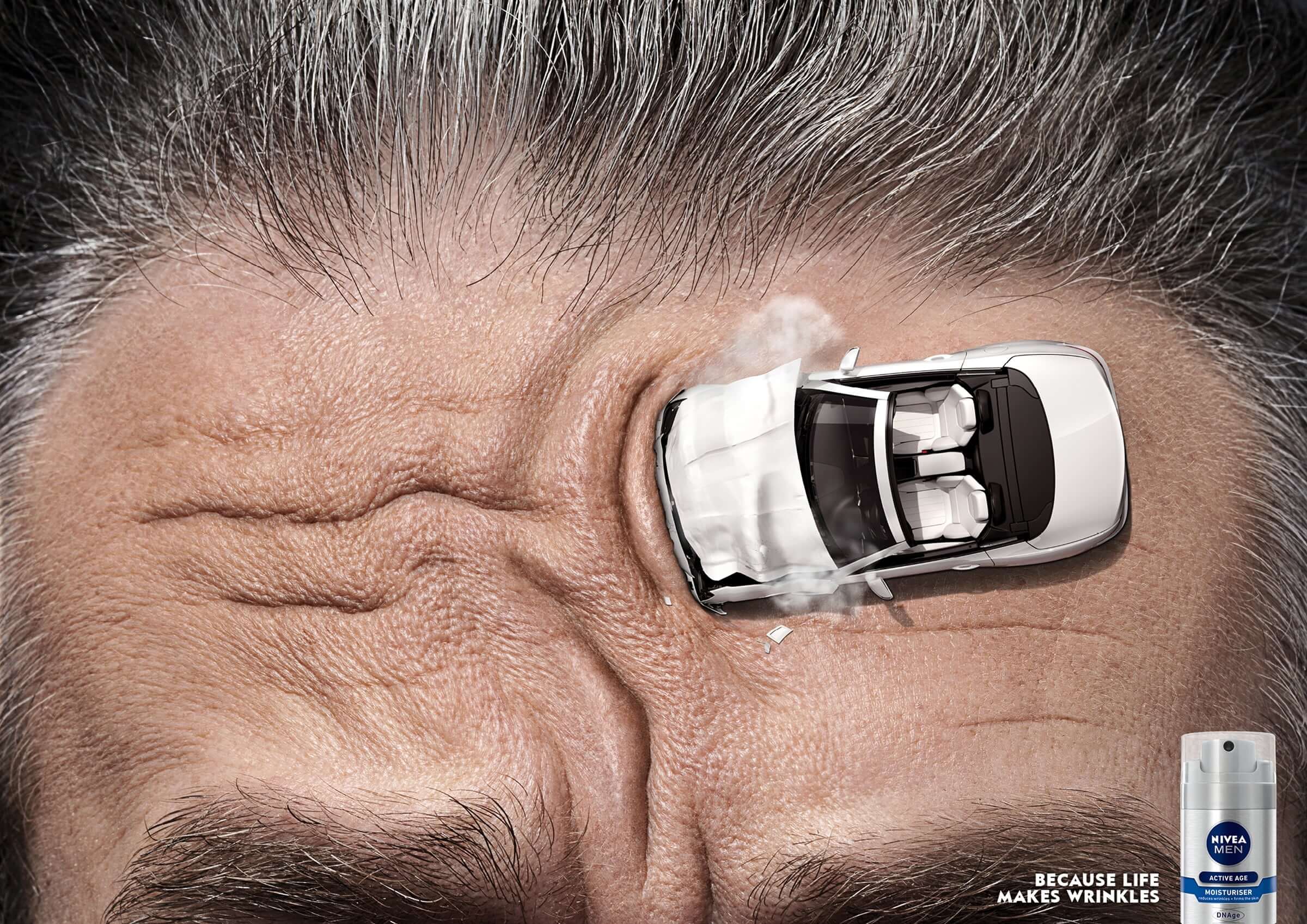 5. Apple
The Get-a-Mac campaign hit TV screens in 2006. The TV spot featured an amusing dialog between a nerd wearing a classic suit (personal computer) and a cool guy in jeans (Mac). Through this light-hearted conversation, the IT giant highlighted the benefits of using Apple compared to other devices.
The creative TV ad made waves, leading to a 39% spike in Mac sales.
Takeaway. Finding the right format for your ads is crucial to success. Break down the advantages of your product or service. Be sure to use clear and simple language without sophisticated tech terms so that even common customers could understand your message.
6. KFC
In the February of 2018, due to chicken shortage, KFC had to temporarily shut down most of their outlets in Great Britain. Following the hard decision, the fast food giant launched a touching ad campaign across printed media. On an empty basket, you could see the traditional KFC abbreviation swapped out for FCK — a hint at the popular swear word. The striking visual was accompanied by the company apologizing to their loyal customers for the inconvenience.
The campaign's sincerity helped KFC restore customer trust. Distinguished by a number of awards at the Cannes Lions Festival, the ad campaign entered marketing textbooks as a great example of anti-crisis management.
Takeaway. Any problem contains an opportunity for growth. Learn to laugh at your failures and use them to your advantage. Be open and sincere with your customers.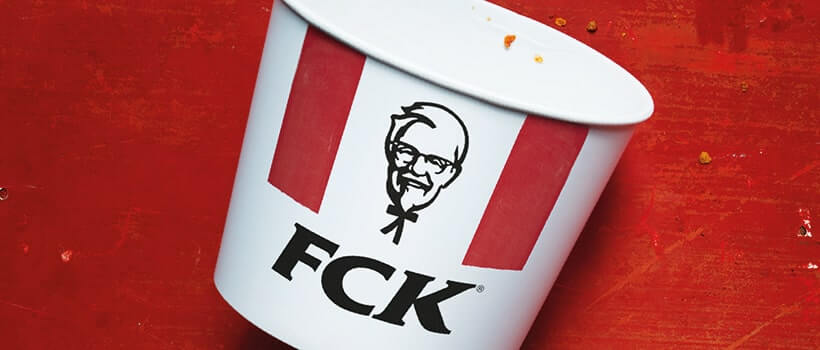 7. Wendy's
One of America's biggest fast food chains, Wendy's made history with their 1984 ad campaign. In a TV ad, three elderly women are shown ordering burgers from Wendy's competitors. However, contrary to their expectations, they get burgers that have a large roll but a thin beef patty.
The catchphrase "Where's the beef?" became truly iconic and even made its way into everyday language. Thanks to their smart marketing move, Wendy's saw a 31% surge in annual sales. The Ad Age magazine proclaimed "Where's the beef?" one of the best slogans of the 20th century.
Takeaway. A funny and edgy slogan is the best way to emphasize your competitive advantage. Don't be afraid to break new ground, and your creativity won't go unnoticed by your customers!
8. Burger King
The famous fast food chain knows how to make provocative advertising work for them. In 2017, the brand launched a TV spot under the intriguing name "Google Home of the Whopper".
In the ad, a Burger King employee asks the Google Home voice assistant app to tell the audience about the Whopper, one of BK's trademark burgers. After the employee pronounced the phrase "Okay, Google, what is Whopper?", the built-in Google Assistants in viewers' homes started to read the Google entry for BK's Whopper.
The controversial TV ad unleashed an avalanche of discussions and debates. Google shut down the Whopper search functionality, while infuriated Internet users edited the Whopper's Wikipedia entry to make the Google Assistants read the wrong definition of the Whopper. It's not surprising that the ad campaign earned the status of the most talked about TV commercial of all time and won the top creative award at Cannes Lions.
Takeaway. Provocation and humor are great ways to spice up your ad and make people talk about your brand. The most important thing here is not to overstep the boundaries. Othersie, you risk facing your customers' anger.
9. Adidas
In 2004, Adidas launched the Impossible Is Nothing campaign featuring the legendary boxer Muhammad Ali. The goal of the campaign was to inspire people to push boundaries and move forward towards achieving their goals. The transcendent marketing effort became the top marketing event of the last 120 years.
Takeaway. Think about how you can inspire your audience to explore new possibilities and strive for more.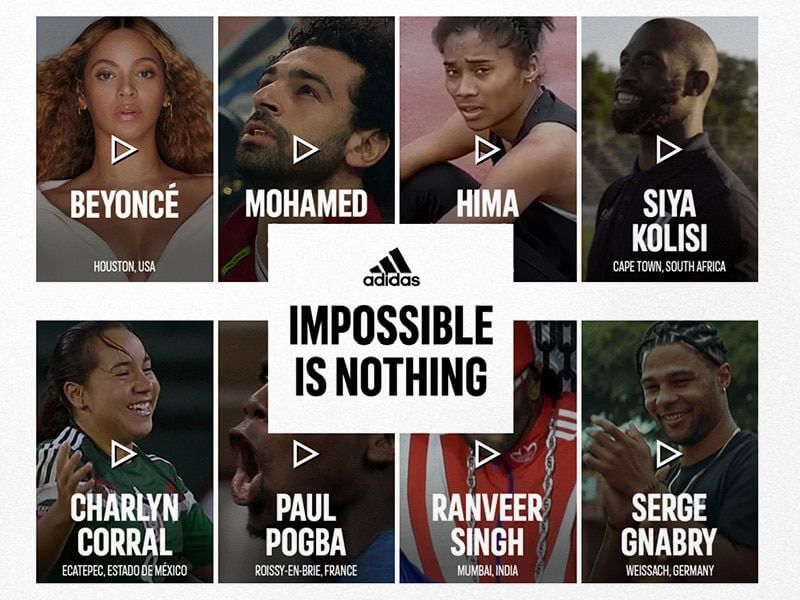 10. Dior
Fashion ad campaigns often star famous actresses and models. Elegant and glamorous, fashion ads look like snippets from romantic movies that take you to another dimension. A textbook example of such an ad was the 2017 TV commercial J'adore starring Charlize Theron.
Takeaway. View your ad as a sample of your product. Give your potential customers a real feel of your product or service. It's a surefire way to make them want more of it.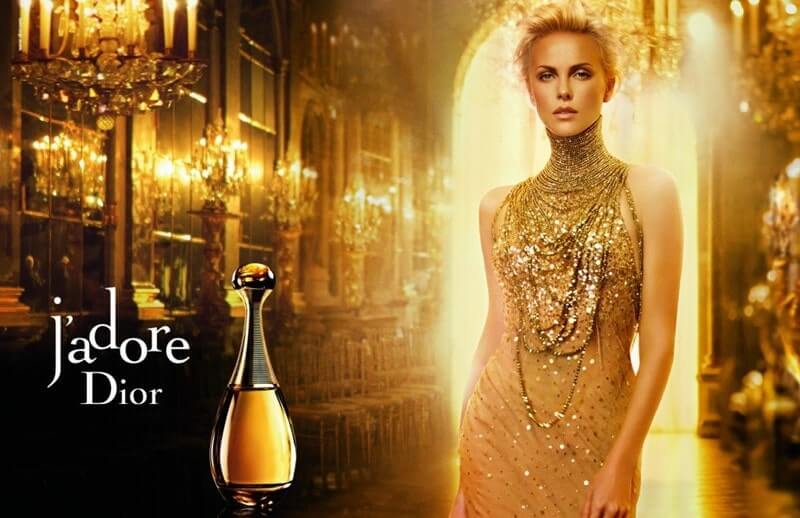 11. FedEx
To draw attention to their lightning-fast delivery, FedEx launched a smart ad campaign across printed media. Named "Neighbors", the campaign showed that shipping a package from one place to another is as fast and easy as handing it over to a neighbor.
In the ad, the world is portrayed as a house with different people living in it. Reaching out of the windows, the neighbors hand over a parcel to each other: from China to Australia, from US to Brazil, and from Great Britain to Spain. With such a fresh and novel approach to advertising, FedEx asserts itself as a reliable and quick transportation service.
Takeaway. Find a simple and amusing way to show off your competitive advantage.
12. Volkswagen
In the late 50s, when the world was taken by large cars, Volkswagen was promoting their tiny Beetle. As a slogan for their bold ad campaign, the German car manufacturer chose the minimalist two-word phrase "Think Small".
The car giant came up with a smart visual technique to display the compact size of their new car model. The bigger part of the ad is occupied by blank space so that you risk overlooking a small Beetle car sitting shyly in the left upper corner! The multiple advantages of the Beetle are listed in an elegant sans serif font. The black and white color palette gives an edgy feel to the ad, making the car even more desirable in the eyes of potential buyers.
Takeaway. Showing off your product is better than talking about it. Come up with a smart way to visualize the unique characteristic of your product and service.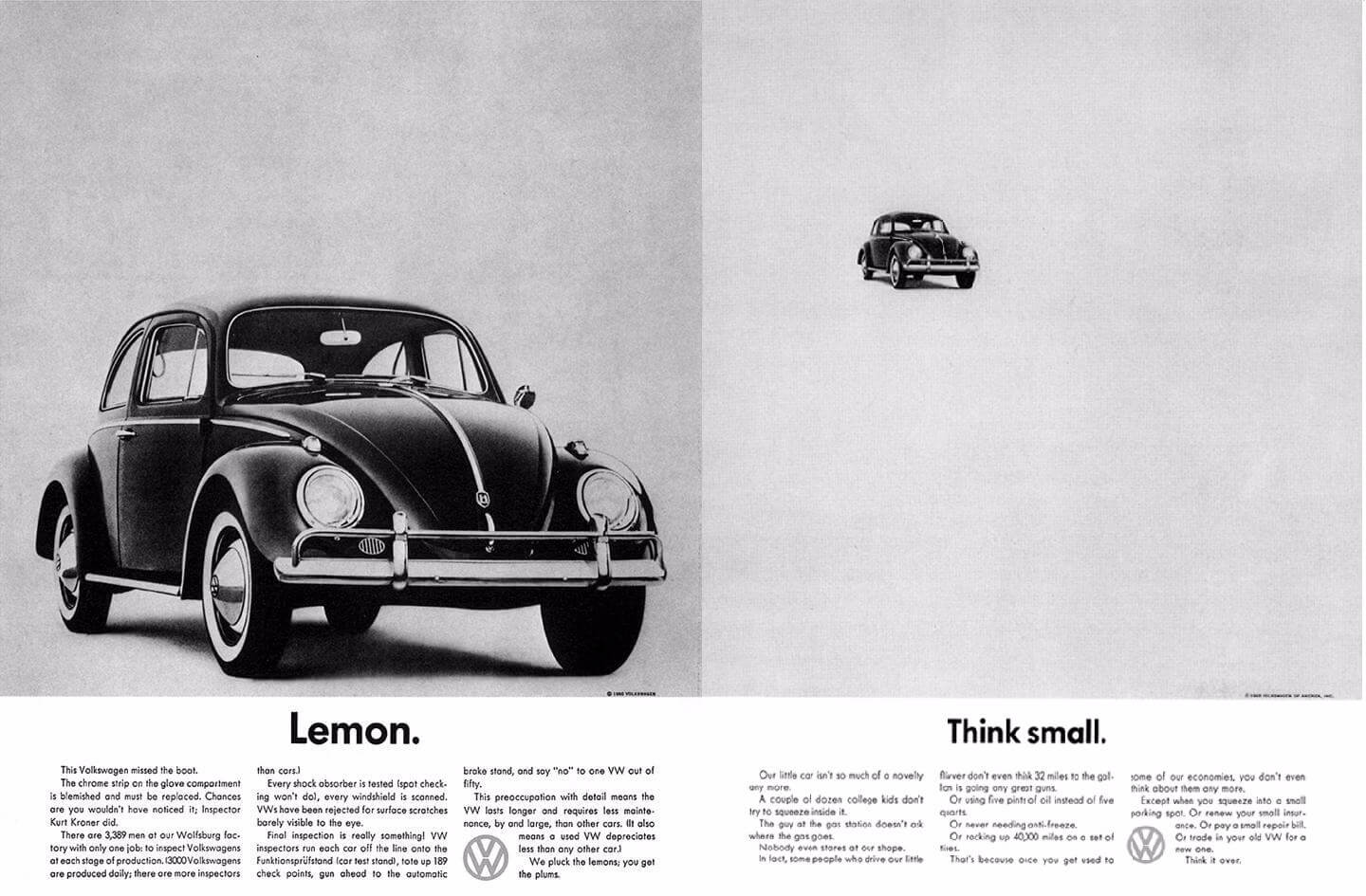 Conclusion
Need fresh ideas for your ad campaign? See how major brands have been shaping the advertising industry over the years. You're welcome to draw from their expertise and artistic freedom! We wish you a never-ending flow of creative ideas!