Along with different types of logos, companies use less common images for their identification. What is an emblem and how is it different from a logo? How can you create an emblem when you have no inclination for drawing or interest in graphic design? Read the rest of this article to get the answers you need!
What is an emblem?
An emblem is a symbol that conveys your participation in a certain industry, the ideas you stand for, and the values you share. On the other hand, logos perform a promotion function. Emblems do not aim to boost sales. Nonetheless, you can effectively use emblems to stand out among your competitors and get noticed by your audience.
Who needs an emblem?
Emblems have a variety of applications. Versatile and flexible, they are used for both marketing and non-commercial purposes. Who uses emblems today?
Military agencies. From ancient times, emblems have been an organic part of the military. Over time, this tradition has been borrowed by military-related businesses, such as security agencies and airlines.
Sports clubs. Emblems are also typical for sports teams and camps that use mascots (animals, funny characters, etc.) to define their identity and emphasize their values.
Construction and transportation companies. These companies place emblems on special clothing/uniform, building faсades, and corporate transport (cars, airplanes, cargo ships, etc.).
Companies from other industries. Any company, regardless of its specialization, can design or buy an emblem. Modern emblems are "improved" logos that use a geometric shape (square, circle, diamond, etc.) as a background.
As you can see, emblems are no less important than logos. They are irreplaceable for a number of organizations, from private companies to established sports clubs to military branches. In the next part of this article, we'll cover the most popular surfaces on which to place your emblem.
Where do you use an emblem?
Before creating an emblem for your company or personal brand, think about where you're going to display it. Once you've cleared up this issue, you can maximize the effectiveness of your corporate branding. We've given you some hints as to where you can put your emblem for the biggest impact.
Clothes. With advanced technology at your disposal, you can place emblems on any item of apparel, e.g. sports uniforms, promotional clothing items (T-shirts, caps), etc.
Goods. It's not uncommon for emblems to appear on product packaging. This is a very useful application, as you're promoting a product and protecting it against counterfeiting at the same time.
Outside ads. Emblems are often seen on building faсades, signboards, billboards, and even vehicles. This is a great way to draw the attention of passers-by and to identify the location of your office or shop.
Printed items and web design. Business cards, calendars, booklets, and other printed matter are commonly used to display emblems. Furthermore, a catchy and eye-pleasing emblem can embellish any website.
Now that you know the possibilities for your future emblem, it's time to learn how to design one.
Ways to create an effective emblem
When it comes to creating a smart emblem, you can choose from several methods to make your own emblem. These vary by budget and the required design skills. Consider the following options:
Designer. By hiring a qualified designer, you can get a high-quality emblem at an affordable price. Yet there's a risk of coming across an irresponsible contractor who may miss the deadline or do the job poorly.
Design bureau. Top-quality service has its price, so prepare to dig deeper into your pocket and wait longer for the result.
DIY. If you want to save money, you'll have to bring your artistic ideas to life yourself! If you're a confident Photoshop (or Adobe Illustrator) user, go ahead!
Contest. Another option is to start a design contest on a specialized platform. Browse through hundreds of pieces of artwork from freelance designers and choose one or several winners.
Online logo generator. If you don't trust any of the above methods, you'll like this one. Try out an online emblem maker (e.g., ZenBusiness) to create an emblem step-by-step. The AI-based algorithm will guide you through the entire process!
Now let's break down the secrets of creating a design that will be both visually attractive and effective for your organization.
How to come up with a good emblem
Before designing an emblem, you must learn a few golden rules that will make your artwork look stunning.
A good emblem features a simple and clear icon and an easy-to-read inscription, if any. Remember that you'll put your emblem on clothing, banners, buildings, and a variety of other surfaces, so make your emblem scalable. Plus, it must not contain tiny elements, screaming colors, or sophisticated fonts.
Save your design in vector format so you can easily resize it whenever necessary. Furthermore, a vector emblem ensures the best image-text combination.
Use neutral, subtle colors (blue, white, grey, black, etc.) that won't distract or irritate your potential customers. Use one or two main colors and two additional shades, tops.
A font is something you must not take lightly. Check how your font will look on a resized emblem. Does it remain readable? Give preference to minimalist fonts that don't have excessive embellishments, like scrolls or swirls. Plus, make sure your font size matches the size of the other elements on your icon.
In the next chapter, you'll learn how to use an online logo making service.
Guide on how to make an emblem
First, you must design a logo and then transform it into a fully-fledged emblem. With ZenBusiness, doing this is as easy as making a cup of tea! Let's begin!
1) Follow this link: Create a Logo. Type in your company name and slogan (if you have one). Select your industry.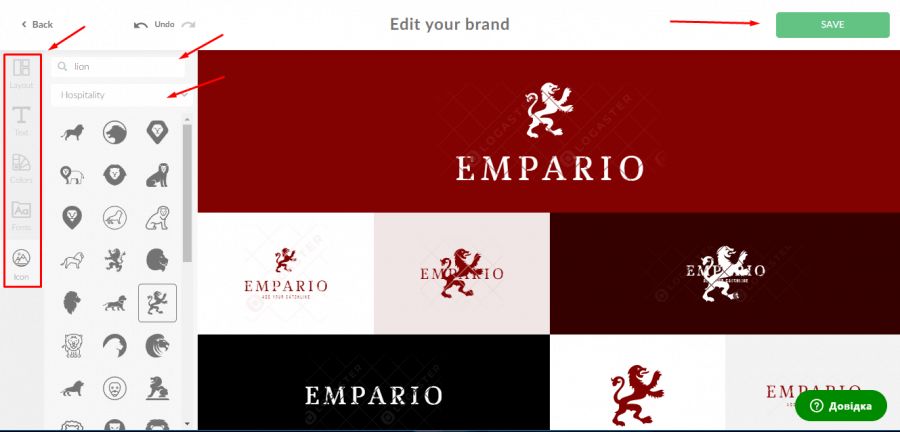 2) On the next page, you'll see a collection of high-quality logos to choose from. To narrow down the selection, use keywords related to your specialization.
3) Choose the template you like the most and edit it if necessary (color, font, size, etc.).
4) Download your finished logo in popular formats (JPEG, PDF, PNG, SVG).
To turn your logo into an emblem, you'll need to place it on a background.
1) Choose a geometric shape that fits your industry. For example, a shield is a great choice for security agencies, while a circle goes well with airline companies. You can download a background from the Internet or design it in Photoshop yourself.
2) Place your logo on your new background by using Illustrator, Photoshop, or other image editing software.
3) To make your emblem and background look like one, choose one of your logo colors for your background. Alternatively, choose a contrasting shade.
Done! Now you're the proud owner of an emblem that'll make your organization shine! If you haven't been able to create an emblem yourself, don't even think about giving up! You can always hire a responsible designer with a reasonable price tag!
Examples of the best emblems
Check out some of the best emblems used by sports teams, corporations, and other organizations. Take your time and examine each sample. You can borrow useful ideas and transform them to fit your future design!
An emblem is a commonly used corporate image that, unlike a logo, conveys a deeper meaning or message. With online logo makers, vector emblems have become available to a wider audience.
Use the ZenBusiness emblem creator to get your own emblems with a few clicks!