Before diving on the topic, we want you to picture the so-called "noise" that you've certainly seen on a TV or computer screen. Inspired by this technical flaw, artists and designers have created an unusual design trend called "glitch art".
Nowadays, this type of new media art is widely used not only by artists but also by graphic designers. Companies love glitch art for being bold, eye-catching and provocative. This article delves into the particulars of glitch art and reveals the secret of its popularity.
What is glitch art?
Glitch arts is also known as "the art of defects". However, unlike computer defects, flaws in glitch art are fully intentional and manageable. When it comes to the variety of glitch types, the sky's the limit. It all depends on a designer's imagination. You can come across pixelization, blurs, duplication, stretching, compressing, neon colors, light-struck film effect, and more.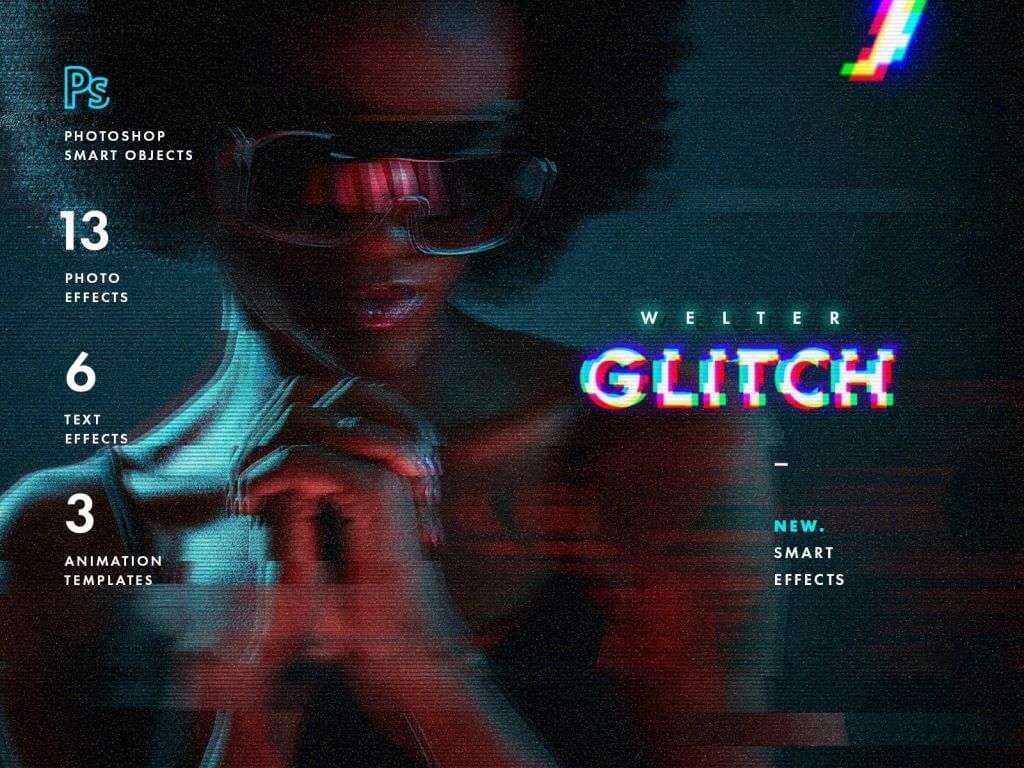 Why is glitch art so popular?
Glitch art first emerged about 100 years ago. However, it was only in the 70s of the last century that glitch art developed into a separate design technique.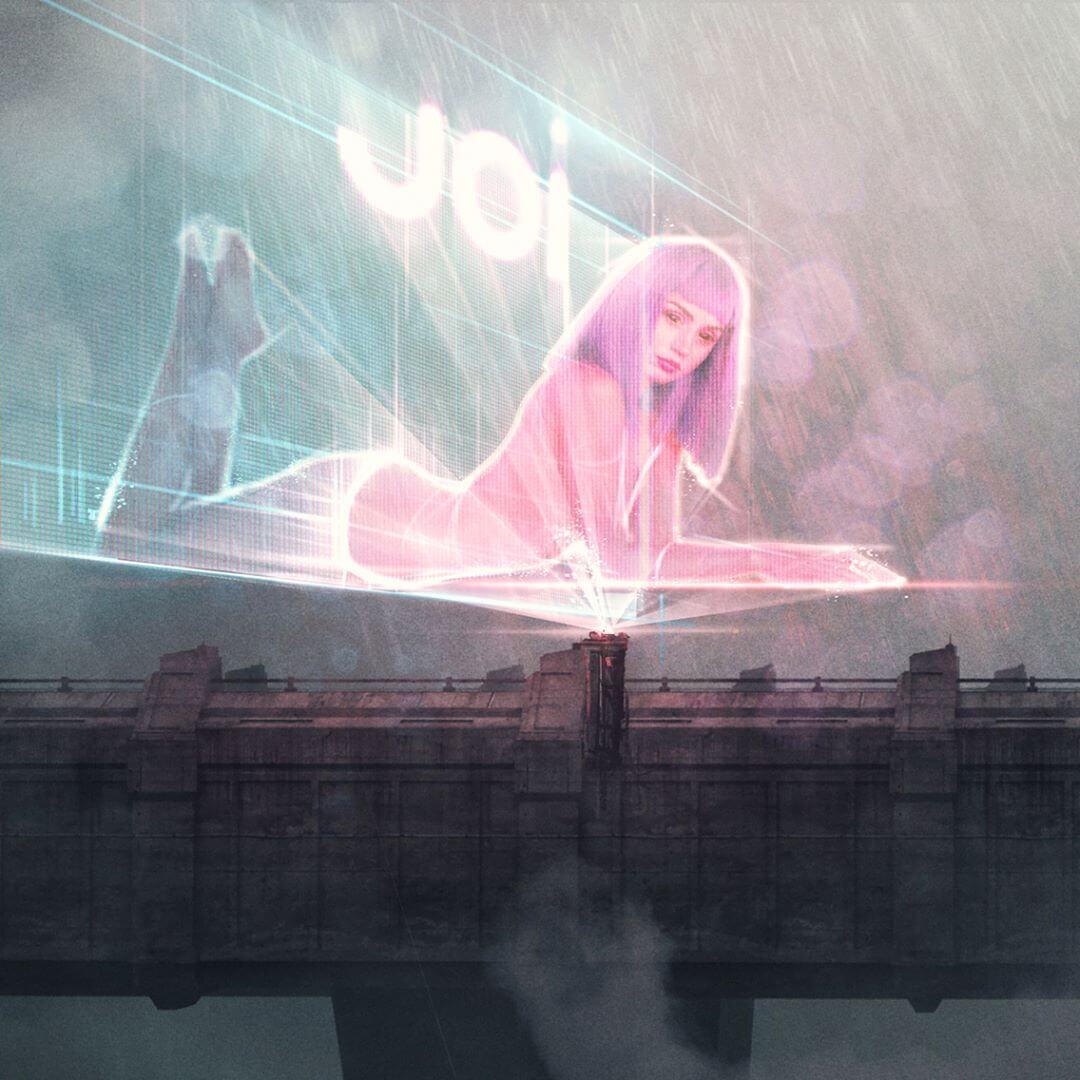 Nowadays, glitch art has hit the peak of its popularity. It's widely used in films, video clips, photos, installations, ads, and other creative works. If you look closely, you'll see it everywhere, from the hit blockbuster Blade Runner 2049 to Rihanna's music video Rude Boy. This amazing technique is studied at conferences, while IT companies develop apps for creating glitch effects.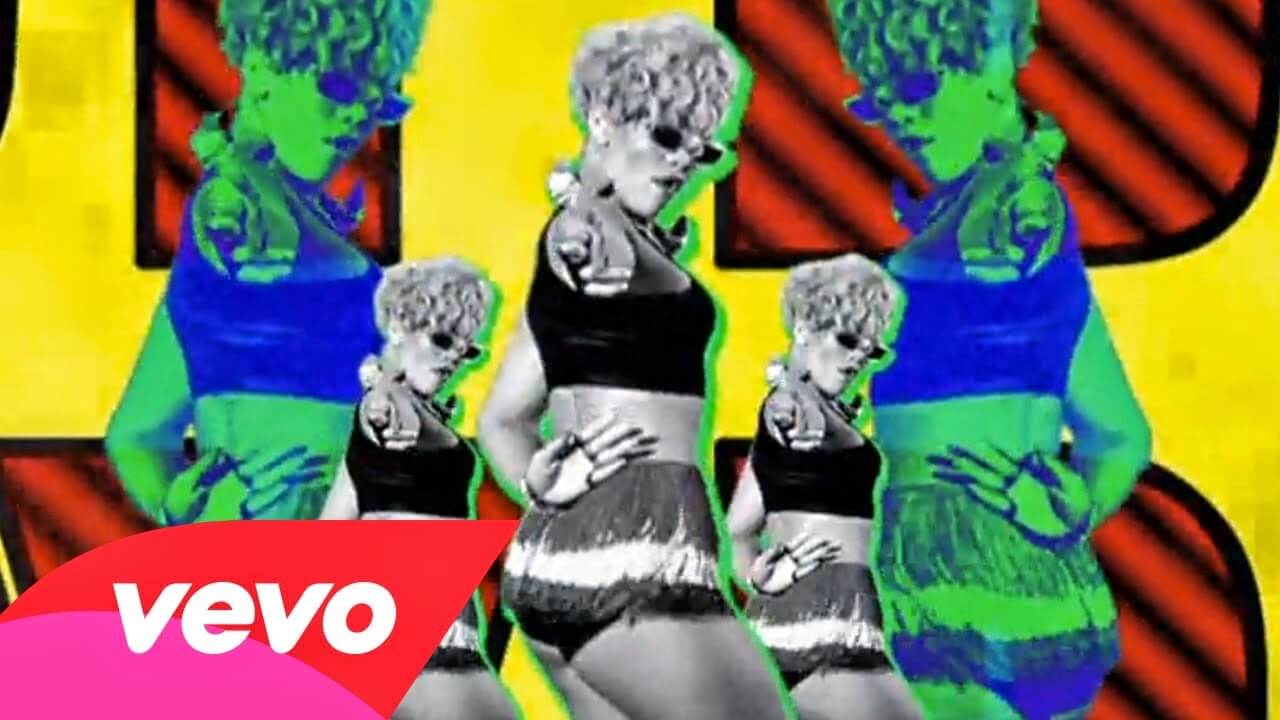 The experts explain the popularity of this art genre with several factors:
defiance to all things traditional and safe (like in the punk culture);
desire to show the flip side of the digital era (multiple flaws of technology);
chance to stand out and show off your personality.
What does this mean for brands? If your business has an adventurous, rebellious edge to it, glitch art will fit your branding like a glove. Feel free to use the techniques we're about to cover below. With a little bit of hard work, you're sure to stir up the curiosity of your target audience and show off your artistic abilities.
Glitch art techniques
Image deformation is the main effect that glitch art relies on for visual impact. Luckily for you, there are multiple design methods to choose from.
Pixelization
To achieve this effect, you simply need to diminish the size of the entire image of its part. As a result, you'll get a blurry photo which will be only vaguely similar to the source image.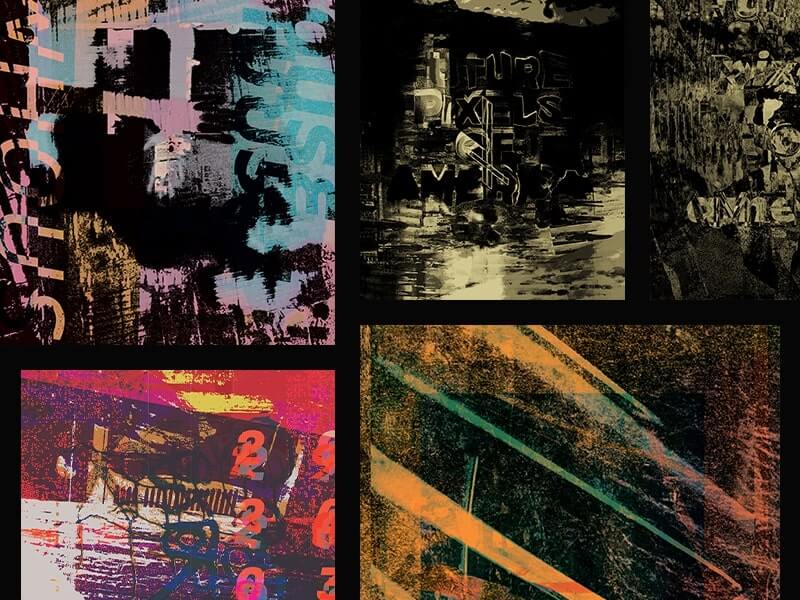 Light-struck film
This is a great technique to enhance your photo with flares, shadows, and color distortion.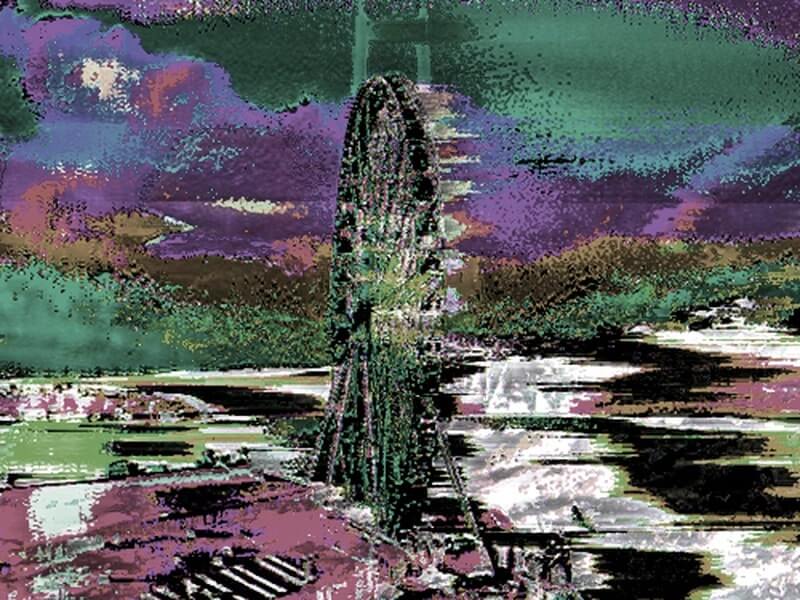 Multiple exposure
When using this method, you overlap several frames, creating new exciting themes and plots.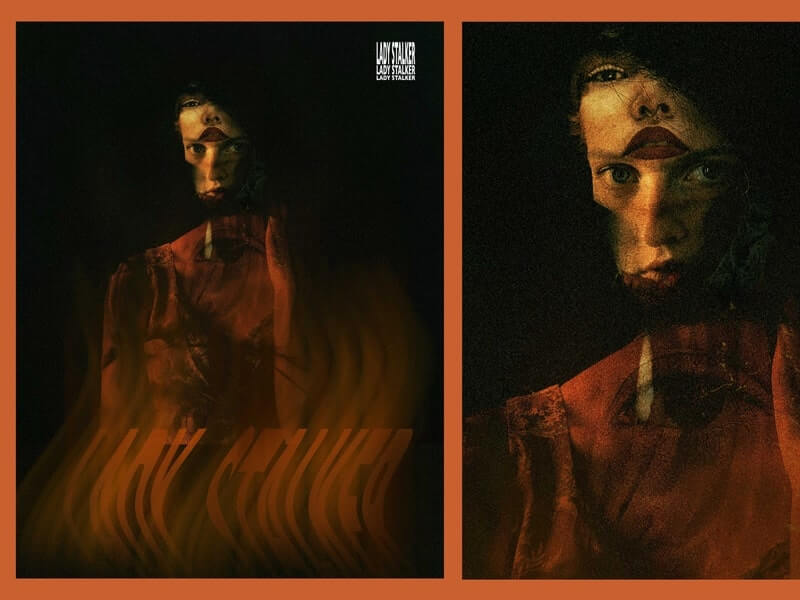 Noise and grain
These intentional defects are characteristic of photos made in poor lightning. Small dots on a traditional photo film are called grain, while the same effect on a digital photo is called noise.
Color distortion
Color distortion comes in many forms and sizes: colored shadows, blurry shades, color duplication, etc. Keep in mind that this is a visually compelling technique that should be applied very carefully.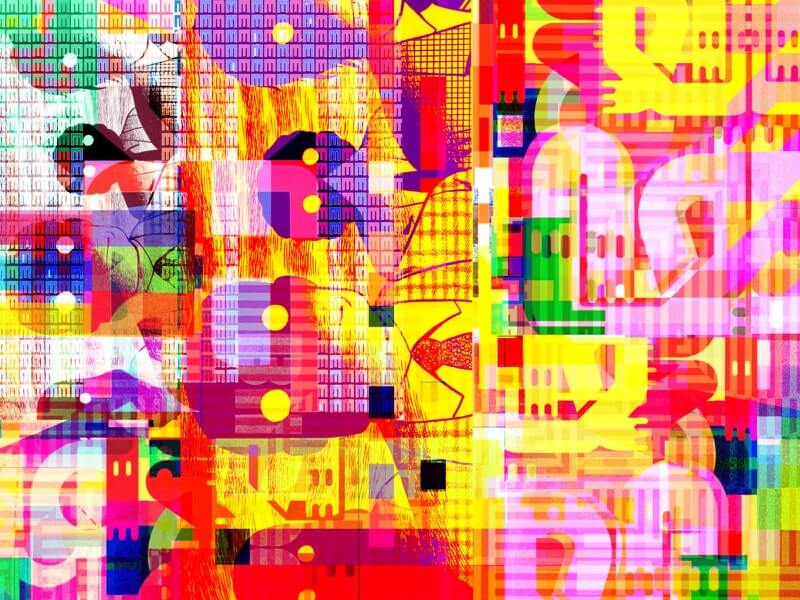 Textures
Textures are mostly applied to background images. You can blur your art piece, rearrange its elements, or add unconventional geometry.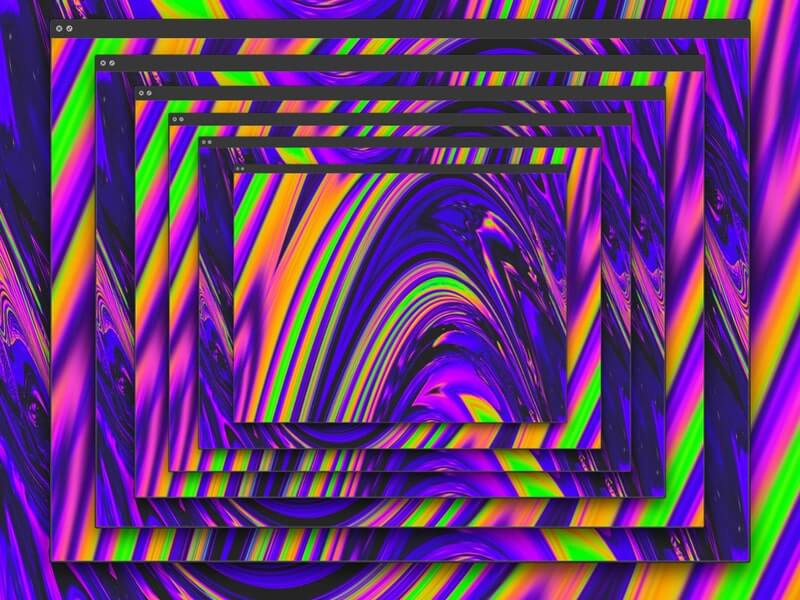 Text
Here you have the freedom to use any distorted typography. Experiment with blurry letters, fading elements, shadows, and rough lines.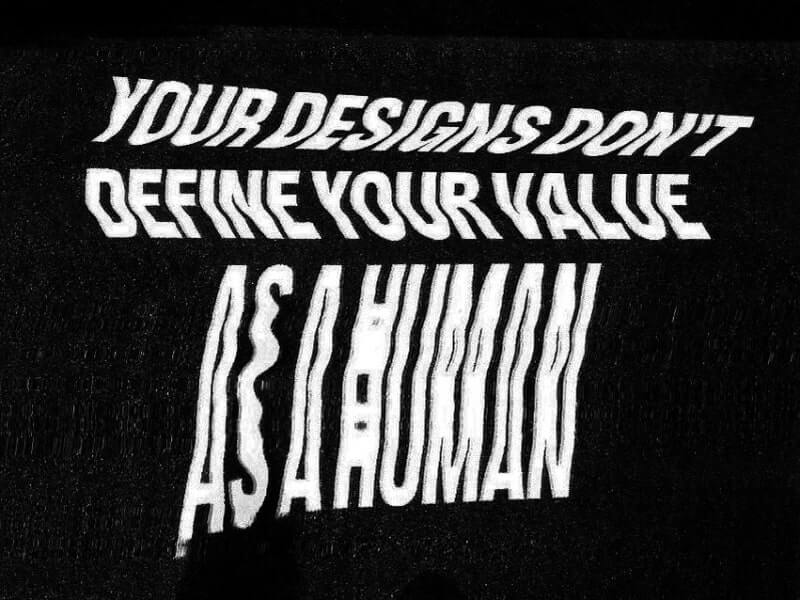 How brands use glitch art
Already looking for a smart way to benefit from glitch art? We have a few hints for you! You can use glitch art to brand your:
logo;
outdoor and online ads;
social media pages;
photos and videos;
printed materials (flyers, booklets, catalogues, note books, etc.);
interior design of your office or store;
merchandise (branded bags, cups, shirts, etc.);
products (but only if glitch art looks appropriate on them).
See how creators are using glitch art in their branding:
Artists Ucnv and Nukeme created a fascinating fusion by bringing together glitch and fashion. In collaboration with professional designers, they crafted a clothing collection with eye-catching, provocative prints.
Inspired by data from his computer's operating memory, the American painter Philip Sterns created beautiful floor rugs. His friend Benjamin Berg used the same technique to make glitch-themed sofa pillows and mugs.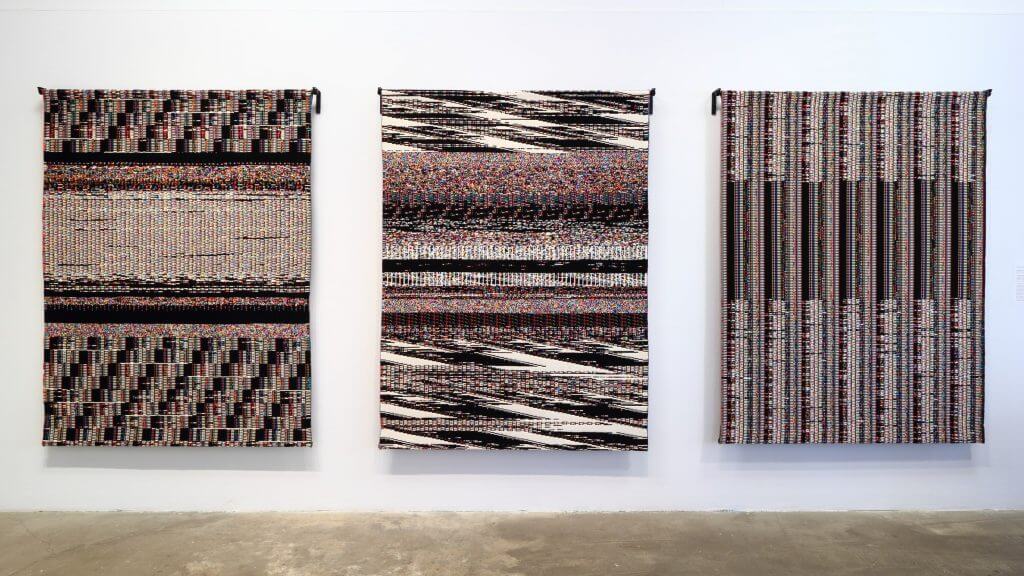 Soley Zambrunn took a new look at playing cards by crafting a unique deck with glitch images. This is how the artist wanted to remind players that reality can turn out to be an illusion.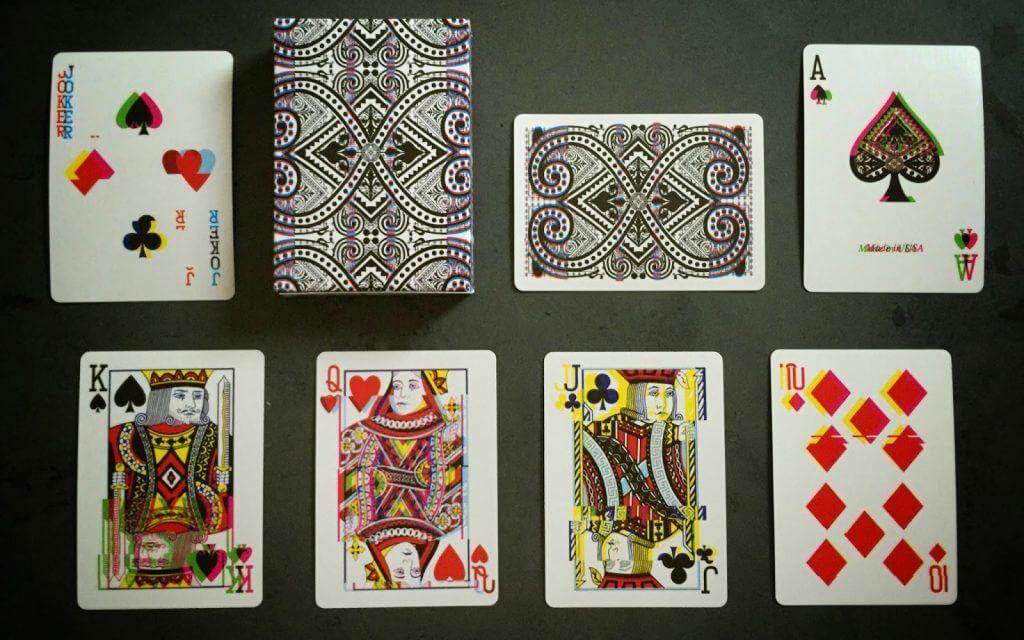 The artist and designer Jeff Donaldson, known under the telltale alias Glitchaus, took the game console code from the 80th and reworked it into intricate patterns for scarves and blankets.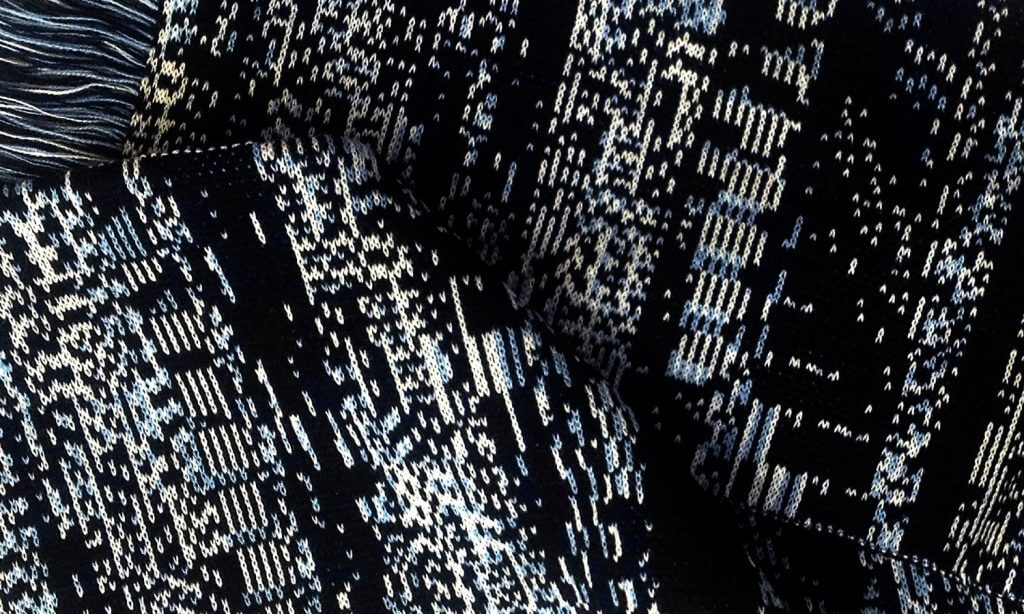 The Italian designer Ferruccio Laviani took his glitch fantasy a step further. He crafted a wooden neo renaissance wardrobe in glitch style. The artist drew inspiration from old VCRs which distort the image when you rewind the tape.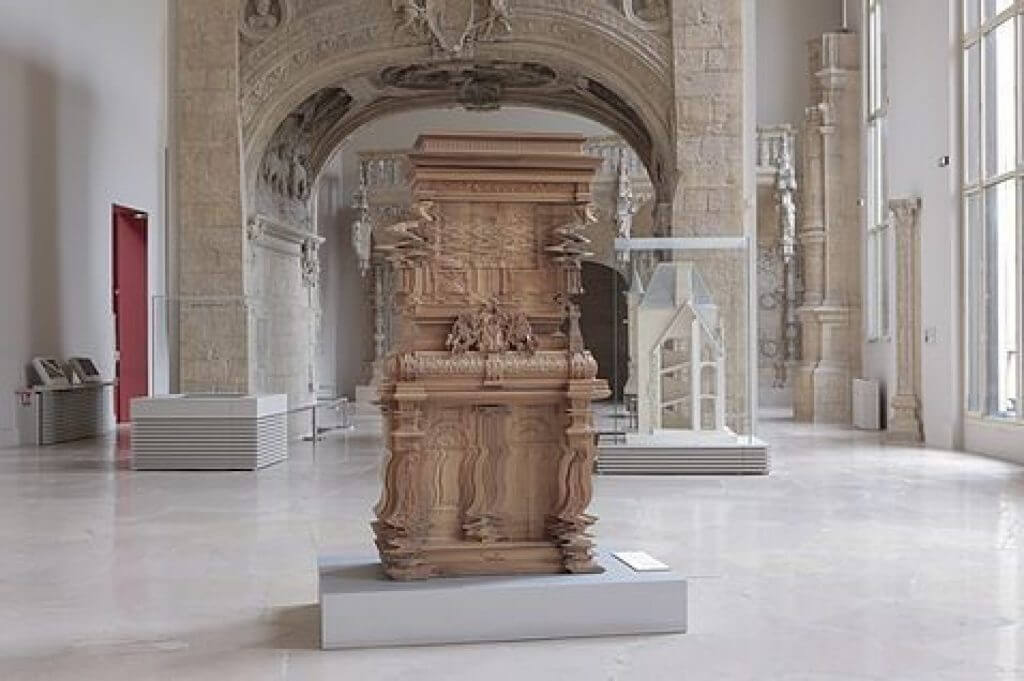 How to create a glitch image
Courage! Creating a neat glitch image is not daunting at all. Before getting down to work, you need to have a clear idea of what result you want to get and how you're going to use your image.
Choose an image
If you're new to glitch art, don't put too much pressure on yourself. Use a minimalist image as your source art piece. Make sure your image meets the following requirements:
clean background;
no more than 3 elements;
2-3 colors;
simple geometry.
A high-quality logo answers to all these criteria. By enhancing your logo with a glitch technique, you'll kill two birds with one stone. First, you'll have a chance to creatively experiment with your branding. Second, you'll be able to show your art to many people by placing it across ads, business cards, social media pages, and more.
Don't have a logo yet? Use the ZenBusiness logo maker to create one in two clicks! Download a free small-size logo and apply different glitch techniques to it. If you don't like the resulting image, you can always go back to the ZenBusiness site and edit your design!
Choose the best technique
The technique you're going to use depends on the type of your logo and the message you want to send to your audience. For example, glitch typography will look great on a text-based emblem, while colors and pixelization are a great choice for a graphic-based logo. To add retro vibes, make your image grainy. The light-struck fim effect and multiple exposition are the right techniques for creating a surrealistic effect.
We recommend creating several versions of your image and then running an A/B test. Also, it might be a good idea to run a poll on your social media to find out which option your subscribers like best.
Pick the right tools
There are two main ways to create a professional glitch-inspired design. One is with dedicated programs and the other, with graphic editors.
If you have no graphic design skills, be sure to use web-based programs like Glitcher, Image Glitch Tool, and Photomosh. Mobile users can download mobile apps like Onetap Glitch, Glitchr or Mirror Lab. All you need to do is to upload your image and select one or several glitch effects. The only drawback is that you're unlikely to end up with a unique art piece since such programs are using generic templates.
If you have a basic understanding of how to handle a graphic editor, go ahead and use Adobe InDesign, Illustrator or Photoshop. Using a graphic editor offers full control over the design process. You'll be able to select colors, typefaces, geometric shapes, add special effects, and more.
Final words
Glitch art stands for audacity and out-of-the-box thinking. By choosing this design technique, you're guaranteed to get a unique image that will take your branding to a new level.
Let's recapitulate the main rules for creating a killer glitch art:
Take a closer look at your business. Make sure the glitch style fits your brand personality and appeals to your target audience.
Think about what message you want to send through your art and choose the right tools.
Create several versions of your glitch logo and pick the best one.
Make a list of brand identity designs (business cards, merchandise, etc.) where your glitch art will look appropriate and use them to promote your brand.