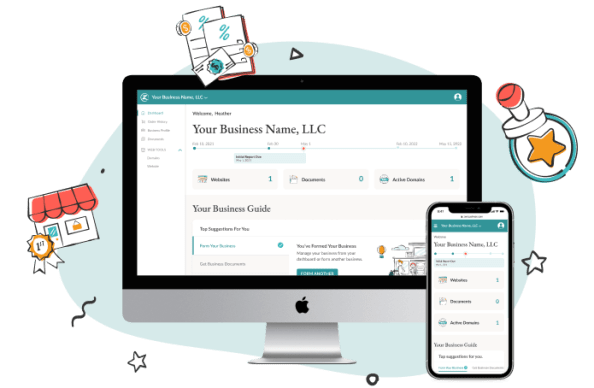 The Best Businesses to Start in Florida
Use our free business guides, resources and tools. No credit card needed, no obligation.
Form your business in just a few minutes
Plan your business using expert guides and templates
Get expert consultation for unlimited advice and support
Sign-up with just an email and password
With over 2.4 million small businesses in Florida alone, the Sunshine State shines bright on American business. Chief Executive Magazine calls Florida America's #2 best state for business, and it's no wonder. At nearly a trillion dollars, Florida's fourth-largest state GDP dwarfs the national GDPs of Saudi Arabia, Switzerland, and Argentina.
From exports to tourism, manufacturing to IT, Florida is home to many types of businesses. In 2019 alone, the hard work of entrepreneurs formed over 6,400 new businesses in Florida, and over a quarter-million new Florida jobs created in 2018 alone.
What's the best business to start in Florida?
Why These Businesses Made Our List
How did we track down the best businesses to start in Florida? ZenBusiness saved you the headaches with a deep analysis of economic trends. We also factored in recent national census data to unearth underserved business types in the Sunshine State.
In short, you're about to see a list of excellent business opportunities, set to give entrepreneurs like you a dose of inspiration. So get started, get excited, and reach out for help with the nitty gritty details.
Florida Economy
Ready to own your own business? There is a large opportunity to build new local businesses in Florida, especially:
Food and restaurants
Real Estate Businesses
Microbreweries
Nail Salons
Grocery Stores
Hotels/Motels
Auto Repair Shops
Freelance Writing
Florida has metropolitan areas with some of the most successful entrepreneurs. The state can also help entrepreneurs minimize startup costs and build a more profitable business. Many industries benefit from a streamlined regulatory environment, and the state's 0% personal income tax boosts both your company's bottom line and your personal fortune.
Sole prop or partnership? Whether establishing an LLC or a corporation, here are other ways the Florida economy has created a friendly climate for building your business:
Floridians enjoy over $1.1 trillion in personal income
Annual merchandise trade alone tops $153 billion
Florida's population of 20 million+ provides a vast workforce and customer base
Florida is ranked #1 for favorable corporate tax environment
Around 100 million tourists visit Florida annually
The state has one of the lowest private sector unionization rates in the country
Sales and use tax exemptions are available for some industries
Florida has over 1.1 million women-owned businesses, the third-highest number in the country
Tax credits and refunds may be available for select initiatives for job creation, R&D, and capital investment
Modern infrastructure includes extensive freight rail and highway coverage, inland waterways, 15 deepwater seaports, and 19 commercial service airports
Florida's 10.1 million civilian labor force is one of America's largest
While Florida is a business-friendly state, plan to deal with challenges too. For example, labor costs will continue to rise, due to demand for higher wages, worker shortages, and more comprehensive benefits, including paid health care. Insurance premiums may rise due to increased frequency of severe-weather events such as hurricanes.
8 Best Businesses to Start in Florida
With a large population, work force, and infrastructure, Florida can be a fertile ground for new businesses and emerging industries. Florida business owners also say that extensive banking and investment capital resources aid in attracting and maintaining funding.
Florida is good for business, but what business could you start in Florida? Here are 8 to consider:
1. Start a Food Truck/Restaurant
Florida's 67 counties present a mix of national and global cultures. That diversity makes Florida a hotspot for food and beverage innovations. With 3% growth estimated for America's food service industry through 2022, Florida could be the ideal state to start a food truck or restaurant.
Each model has its pros and cons. For example, starting a restaurant requires more overhead, initial investment, and staffing, but food trucks sometimes have trouble maintaining a regular spot or a rotation of locations.
As you plan your food business, keep in mind industry forecasts and food trends, such as:
A growing number of consumers are interested in plant-based foods, including plant-based "meat-style" foods such as burgers and sausages
Orlando scores high marks for the relatively low fees and low friction it takes to set up, get a business license for, and operate a food truck
A typical food truck startup budget is at least $30,000 to $50,000
Florida restaurants may require at least $175,500 to $750,500 to set up shop and get the doors open. The national median total restaurant startup cost is about $375,000. Locations vary, but expect costs to be $100–800 per square foot
2. Start a Real Estate Business
Fort Lauderdale, Orlando, and Jacksonville were some of the nation's hottest real estate markets in 2019.
It's no wonder either: Florida's population grows by 900 people every day, equal to adding a new Orlando-size city every year. Those new Floridians need somewhere to live, and every Florida business needs locations.
In August 2020 alone, real estate sales were up 8.8% over 2019, for a total transaction value of $12.2 billion—a 33% increase over 2019.
Around 195,000 realtors operate in Florida, and you can start a real estate business of your own for less than $1,000.
3. Start a Microbrewery Business
U.S. craft beer represents only $27.6 billion of the overall $114.2 billion US beer market, yet craft continues to take up more of those dollars and corresponding market share.
With about 200 craft breweries throughout a populous, highly urbanized state, Florida has a lower brewery per capita count than other, more competitive states such as Colorado, Washington, and California. While major urban centers such as Gainesville and Tampa are known for their craft breweries, even smaller areas such as Apalachicola are thirsty for good, locally made beer.
The number of American breweries has skyrocketed from 1,653 breweries in 2009 to 8,386 in 2019. Starting a Florida craft brewery, even with used equipment, is typically a six-figure endeavor in a tightly regulated industry.
You'll need a solid business plan that focuses on what sort of business model you'll follow (such as a brewpub or production-only brewery), and the production and distribution scale you're reaching for (such as in-house sales only, or regional wholesale and retail distribution).
The market is competitive, but as new breweries continue to open nationwide, it would seem that opportunity for brewing success is still out there.
4. Start a Nail Salon
Appearance-minded Americans invested over $8 billion in nail salons in 2018. Demand for nail salons continues to grow nationally, with 10% growth expected through 2028. And in Florida, opening a nail salon could help you realize an annual salary of $40,000 – $70,000, or about $58,000 on average.
As you explore opening a nail salon, brush up on CDC COVID protocols and the new minimum wage law passed by Florida voters in 2020. When planning your space, keep in mind that nail salons are often around 1,000 square feet. Equipment costs tend to range from $75,000 – $125,000, and a good portion of your target market may be Florida women ages 18 to 24.
5. Start a Grocery Store
Whether buying into a franchise or opening a niche grocery store, owning your own grocery business can be a path to profits in the Sunshine State.
Know your area and the industry, though. Depending on the type of store, profit margins can be as little as 1% for a conventional supermarket, and up to around 10 – 12% for a smaller, more specialized grocer. Be prepared for extensive permitting, plus investing potentially half a million to start a small or medium-sized store.
6. Start a Hotel or Motel
While Florida's accommodations industry saw steady growth through 2019, 2020 has not been an easy time for the state's 3,908 hotels and motels. However, there are signs of hope for the $20 billion industry. And where there's hope, there's opportunity.
With full recovery for Florida's hospitality industry not expected until 2023, opening a motel or hotel in Florida (and getting required licenses) may have a rocky startup period. Whether opening an independent property, buying into a franchise, or purchasing a motel on the market, these next couple of years could set you up for success once tourism booms again. That goes double in key markets like the Florida Keys, Orlando, Jacksonville, Tampa Bay, Naples, and South Florida.
7. Start an Automotive Repair Shop
As long as vehicles ride along Florida's roads, there will be a need for auto repair shops. Plus, Florida doesn't require licensure for auto technicians. With some understanding of the industry, opening a Florida auto repair shop could fix you up with owning your own business.
Startup costs can average around $50,000. Depending on your service market and the size of your shop, you could be looking at around $100,000 in annual revenue.
Hourly fees to customers may range $70 – $100, but consider flat-rate fees on services such as oil changes. Keep an eye on niches such as the growing electric vehicles market: Florida is already number 2 for EV sales.
8. Become a Freelance Writer
Yes, you can write for a living. From copywriting for Florida's businesses to crafting exciting pieces about travel and leisure in Florida, demand for quality print and online content continues to grow.
From video scripts to blog posts, ghostwriting articles to email marketing, becoming a freelance writer can take many forms, depending on your interests, expertise, and where businesses need someone to take the work of writing off their already full plates.
Startup costs can be low, too, since writers can easily work from home. Fulfilling assignments and networking with prospects can start with just a laptop, smartphone, and high-speed internet access.
More great businesses to start in Florida
The industries above are great food for thought, but other business opportunities abound in Florida too, such as:
Pet services: These include specialty/high-end pet retail, or services for pet owners such as dog-walking, grooming, boarding, or pet sitting
Translation services: Florida is a crossroads of universities, tech companies, cultures from around the world, and emerging AI technologies that can aid translators
Lawn care and landscaping: The state's sub-tropical climate means there's never-ending work to for homeowners and business owners who want keep their lawn's landscaping looking sharp
Organic beauty products: Developing and selling sustainable, organic beauty products is always in demand in Florida
Key Takeaways
Florida's business-friendly climate means that the Sunshine State is home to one of the highest levels of small business ownership in the country. Whether it's one of the businesses above or the one you've been dreaming about, the best business to start in Florida is yours to decide.