How to Conduct a Florida Business Entity Search
Excellent
12,142 reviews
There are multiple ways to search for a business entity using the Florida Divisions of Corporations website. You can use the entity name, officer name, registered agent name, partner name, FEIN (Florida Employment Insurance Number) or the Document Number. This function can be performed free of charge and can prove useful whether you are researching the availability of a name before filing for formation or if you are just inquiring the status of a certain company.
To view a complete list of the different methods of search, you can navigate to this webpage and choose the type of query you'd like to perform. A tutorial for each type is has been presented below.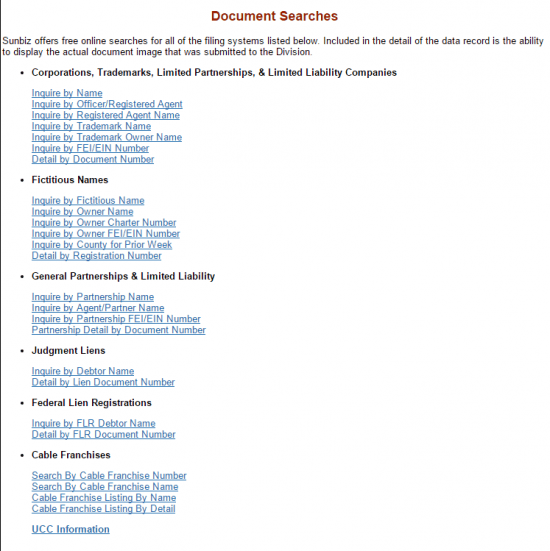 Search by Name
Step 1- Navigate to this webpage if searching a GP/LLP name or this webpage if searching any other entity type. You will then be presented with the field below where you can enter the name of the entity or a part thereof.

Step 2- A list will appear similar to the one displayed below. You can click on the entity name to be provided with more detailed information.
Step 3- On the following page you will be able to review such information as the EIN number, status, principal address and the annual report information.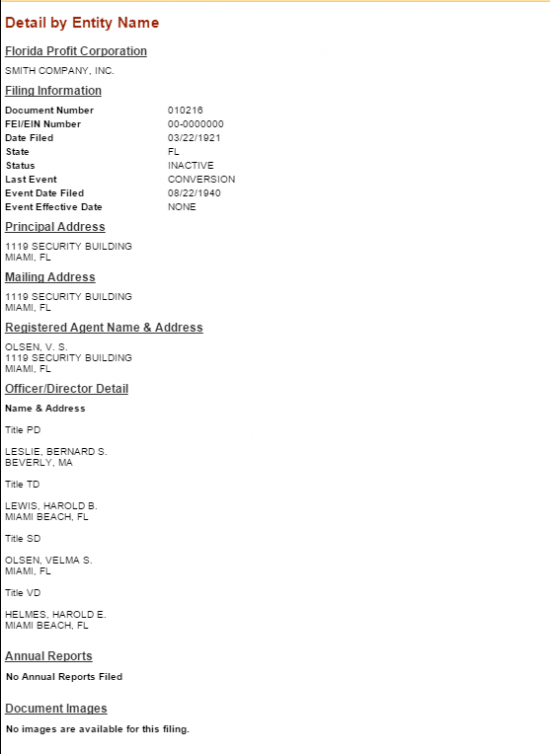 Search by Officer/Registered Agent/Partner Name
Step 1 – If you would like to research a GP/LLP by agent or partner name, go to this webpage. Otherwise, a query can be performed using an officer's name or that of a registered agent by navigating to this webpage and entering in the appropriate information.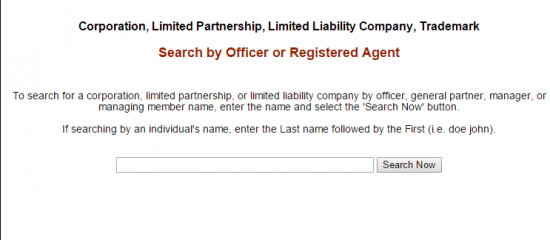 Step 2- Once the name has been entered correctly, you will be presented with a list of entity names to choose from. For more data , click on the officer name to be brought to a page containing all information available pertaining to the business in question within the Division of Corporations database.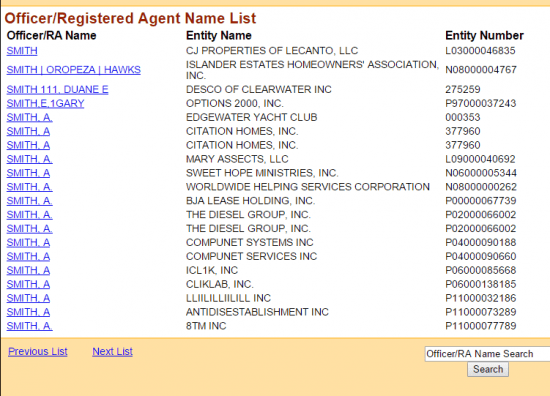 Search by FEIN
Step 1- You can perform a search using the FEIN of an entity by going to this webpage if searching for a GP/LLP or this one if searching any other entity type.


Step 2- Once the number has been entered, a page similar to the one below should appear next. If it is a GP/LLP you're looking for, the partnership name will be shown on the far right as opposed to the corporate name. Clicking on the FEI number/EIN will provide you with more details pertaining to the business you'd like to research.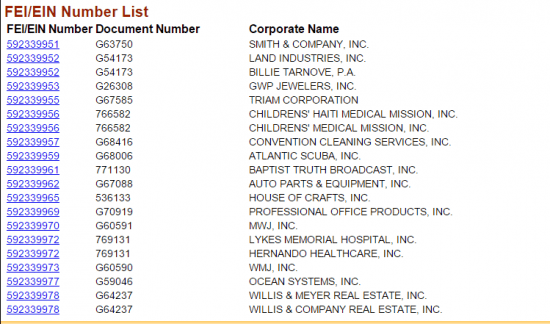 Search by Document Number
Step 1- You can perform a detailed search using the document number by following this link for corporations/LLC's/LP's/LLLP's or this one for GP/LLP's.


Step 2- You should then be brought directly to the detailed information of the business who's document number you've just entered.