How to Conduct a Idaho Business Entity Search
Excellent
12,150 reviews
The government website for the Idaho Secretary of State has provided a business search function which can be utilized to find the detailed information of any Idaho LLC, corporation or partnership. There are numerous ways to search for a business including business name, city, organizational ID/filing number, registered agent, etc. A search of this nature can be useful for those starting a business and would like to inquire about the availability of the name they plan on operating under.
Search By Name
Step 1- Searching by entity name is the method used to research the availability of your desired name for your new business. The first step in this process is entering the name into the appropriate field on this webpage and clicking continue to be brought to a secondary page.

Step 2- You will be presented with a list of names that are related to the one you entered. If you don't see your company name here, it means that it's most likely available. Clicking on the title in blue will present you with more information.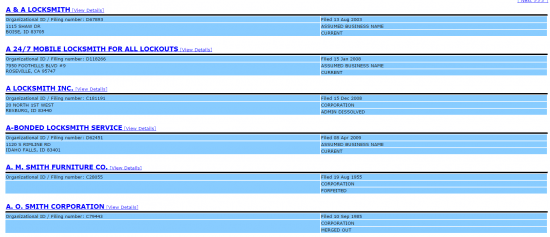 Step 3- On this page you will be able to view each year's annual report in PDF form as well as any other filing the company has made. Information on the registered agent, number of shares and amendments made to the Articles of Organization/Incorporation or Certificate of Partnership will also be made available.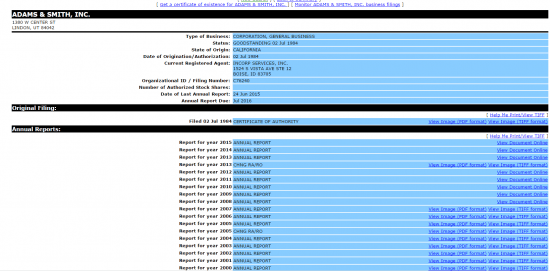 How to Search by Business City
Step 1- As you would probably assume, all that's required of you is to provide the city in which the principle office of the company is located. We suggest submitting as much information as you can into each of the fields in order to refine your search further. Navigate to this website to do so.

Step 2- A list generated by the contents of your search will emerge. It will contain the names off all the businesses which have been formed in or operate within the city you've previously designated in your search. Click on the company of your choice to view its detailed information. At this juncture you will be able to access the organizational ID/filing number to use for future reference which will make for a more refined search.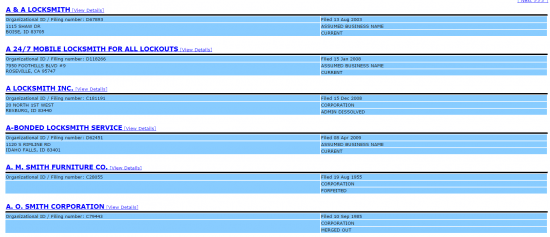 How to Search by Organizational ID/Filing Number
Step 1- You will find that this is the most refined search available. If you are aware of a company's filing number, there's a good chance that you are simply looking for a piece of information pertaining to that company and not inquiring about its existence. To view the detail filing history of the company in question, navigate to this website and enter the filing number into the appropriate field before clicking Search.

Step 2- If you've entered the number correctly, you should see only one option just like the example below. Click on the heading of this box to view all the information on file.

How to Search by Registered Agent Information
Step 1- If you know the name and current location of the registered agent of a given entity you may search for this entity by performing a search. Enter one or both pieces of information into the correct fields of this webpage and press Search to be brought to a list of all the companies that apply to your query.

Step 2- Next, click on the name of the company you'd like to research. On the following page, you will also be able to access the registered agent's mailing address if necessary.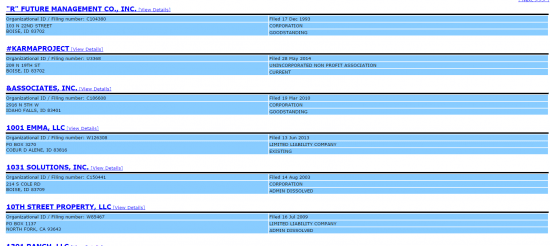 How to Search by Date of Organization/Authorization
Step 1- The IDSOS website has provided a search option if you know the date of organization of the domestic entity in question or if you're aware of the date in which the foreign company was authorized to transact business in Idaho. Enter this date into the bottom field on this webpage to proceed.

Step 2- All businesses organized on the date you entered will appear in a list. Search for the business you'd like to research to view their detailed filing information.