How to Conduct a New York Business Entity Search
Excellent
11,823 reviews
This page is a tutorial on performing a business entity search within the state of New York. The Department of State has supplied a search function on their website and we will go though all the steps for you to get started. Firstly, this search function is for business entities already on file, and you are cautioned to translate the results given as a direct indication as to whether a name is or is not available for a new corporation or LLC in the state of New York. Now, we will show you the steps on performing the search. Scroll down to get started!
New York State Entity Search by Name
Step 1- To begin, navigate to the page located here which will bring you to the NY Department of State entity search. There are a few options available to narrow down your search. You may select between entities that are currently active, or by all entities on file. The search type can altered as well. Lets start by entering the name of the entity into the search bar and selecting the Search Database button.

Step 2- The results will be displayed to you on a page like the one shown below. Simply search for the name you have requested and select it by clicking on the name itself. You may also cycle between pages with the Next Page button at the bottom, if the entity being searched for does not initially appear.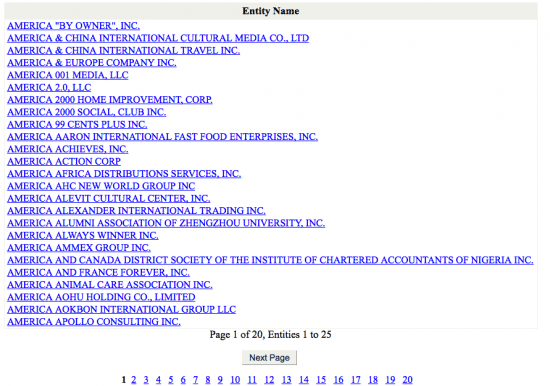 Step 3- After selecting the desired NY entity, you will be taken to a page showing the business details. Here you can view whether or not the entity is currently active, the address, stock information, etc.