How to Conduct a Louisiana Business Entity Search
Excellent
11,831 reviews
Louisiana business owners or prospective business owners may find the process of performing a commercial search useful. The research of a particular business filing might be executed for a number of reasons; some may choose to do so to purchase a Certificate of Good Standing, to print off the detailed filing history or to research the availability of a desired name. It won't be necessary for those visiting the site to create and sign into their online account to perform this function. Individuals will be able to conduct this search simply by navigating to the Secretary of State website and entering the business name, name of agent/officer or by the charter/trade registration/name reservation number. Below we've included a guide for each one of these processes.
Search by Louisiana Entity Name
Step 1- You can start off by navigating to commercial search webpage. To search by entity name, choose the first field and enter the name of the business in question.

Step 2- You will be presented with a list of names which match the metrics of your search. Scroll through the options until you come across the business you're looking to research. Click on the Details link in the far right column to access more in-depth info.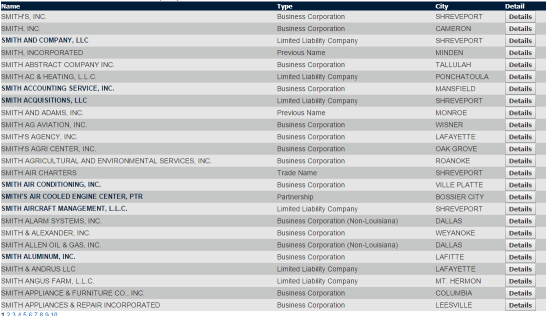 Step 3- Once on the detailed business information page, you will be presented with their filing history as well as the option to purchase a Certificate of Good Standing.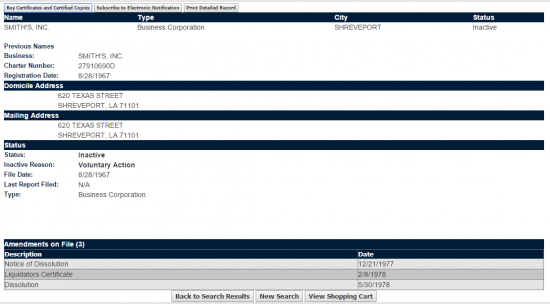 Search by Charter/Trade Registration/Name Reservation Number
Step 1- You'll want to navigate to the commercial search webpage on the Secretary of State site and enter either the charter number, the trade registration number or the name reservation number into the middle field. Click the Search button directly below this field to continue.

Step 2- As each of the aforementioned numbers will only designated to a single business, you should be directed immediately to an in depth look of that businesses filing history and account information.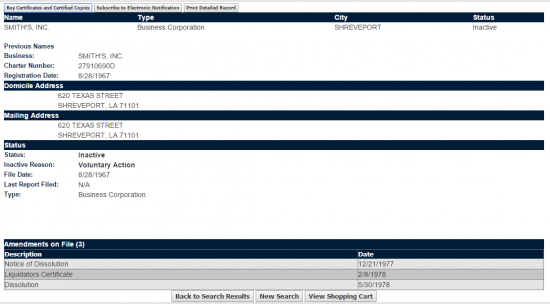 Search by Officer/Agent Name in Louisiana
Step 1- Navigate to this webpage and enter either the officer's name or agent's name into the third field presented to you.

Step 2- The list provided should look a little different than the one generated by the entity name. You'll have the agent/officeer's name shown on the far left, the business they work for, followed by the city that they're based in. Clicking on Details will provide you with more information on that individual and the company that they represent.