How to Conduct a Nebraska Business Entity Search
Excellent
11,831 reviews
This webpage has been designed specifically to guide business representatives through the business entity search function found on the Nebraska Secretary of State website. This function may be utilized for a number of reasons, the most common of which is to research the availability of your chosen business name prior to registering a Nebraska LLC or Nebraska corporation with the state offices. You may also choose to use this online function to gain access to certain certificates or to gain insight into the various business filings of a particular entity.
Name availability can also be researched by inquiry submitted by mail (address below this paragraph), by fax to (402) 471-3666 or by email to: sos.corp@nebraska.gov. Neither the entity search detailed on this site or the aforementioned inquiry will serve as definitive proof as to the availability of a given name but will only give the filer a probability of acceptance.
Secretary of State's Office,
Business Services Division, PO Box 94608,
Lincoln, NE 68509
Nebraska Business Entity Search by Name
Step 1- You can reach the business entity search function by navigating to this website. There you will be presented with a list similar to the one below. To search by name, you can choose between the following:
Name Starts With
Name Keyword Search (all words or any word)
Name Sounds like
Name Exact Match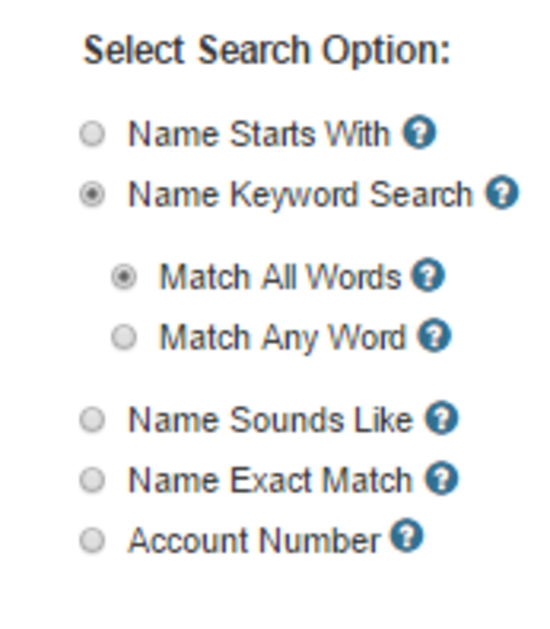 Step 2- Once one of the bubbles has been selected, you will be presented with the option to specify the standing of the entity as well as the opportunity to enter the name in question. Complete the reCAPTCHA before clicking on Perform Search to proceed.

Step 3- A list of names generated by the metrics of your search will present itself. This list will give some limited information on the entities such as their name, account number, type and status. To dig deeper, click on the Details link.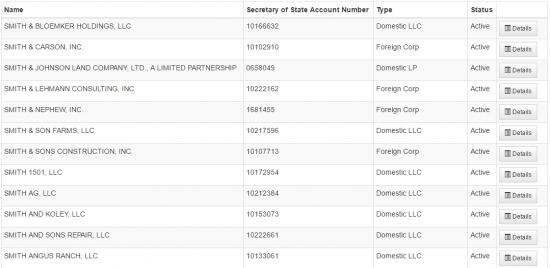 Step 4- On the business details page you will be presented with all the information and filings on hand with the Secretary of State as well as the opportunity to order a Certificate of Good Standing through the mail or electronically.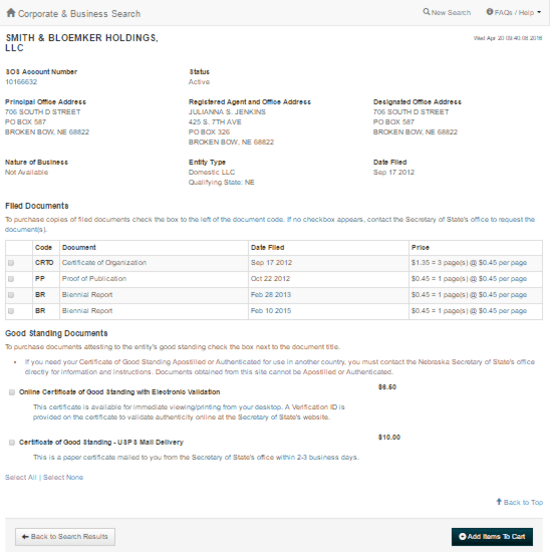 Nebraska Secretary of State Business Search by Account Number
Step 1- An alternative option, and a more precise one, is a query performed with the use of your account number. Through this search you will be able to gain instant access to your business details. All you will need to do is navigate to this website, click on the account number option, and enter in the data into the field provided. Make sure to indicate that you are not a robot before proceeding.


Step 2- If entered correctly, the account number should produce your business details page including all the documents filed with the Secretary of State and all data currently on file with the Secretary of State's office. You will also be able to purchase a Certificate of Good Standing if you so wish.