How to Conduct a Iowa Business Entity Search
Excellent
12,253 reviews
Whether you are seeking information regarding an entity, attempting to extend your domestic entity across state lines, or looking to form a new corporation or LLC in the state of Iowa, you will need to have a working knowledge of the Iowa business database. Navigating this database, thankfully, is a simple process due to the streamlined business search function offered by the Secretary of State explained in full below. Individuals wishing to acquire a Certificate of Existence (at the cost of $5) for a given entity will find a more complete how-to within our tutorial, located here.
Search Business in Iowa by Name
Step 1- To begin the search process navigate to the business database homepage. From here you can see that there are two criteria by which you may choose to search: business name and business number. To learn more about searching by business number please skip to the business number search tutorial. To perform a search simply enter the name of the business whose information you would like access to and select search.

Step 2- A page of results, such as those displayed below, will be generated based off of your query. To access the business entity summary of a given entity select the business number, in blue, located just to the left of the business's name.

Step 3- You will now be located within the business entity summary for your desired entity. As you can see, all pertinent information is listed, and you are given access via a slate of links at the top to officer lists, stock information, a filing history, and more.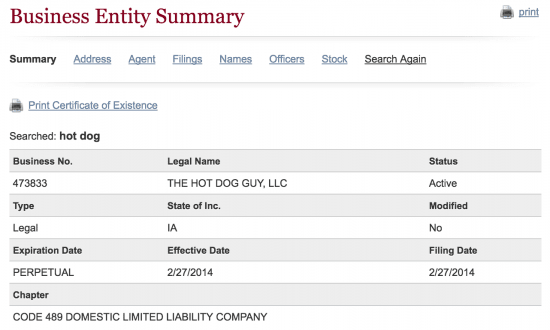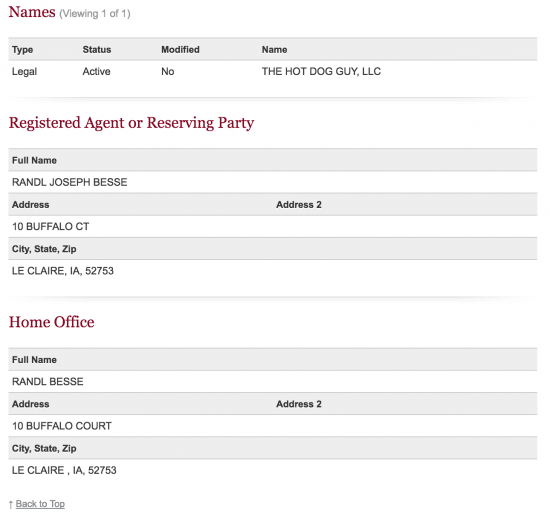 Search Entity by Business Number in Iowa
Step 1- As with searches performed by name, those completed with a business number must be done so from the entity database homepage. To perform a search of this type simply enter the business number of your desired entity and select search.

Step 2- If entered correctly the database will redirect you immediately to the business entity summary for your entity. This page displays all publicly available information and houses links to other information fonts such as filing histories and officer registries.