It is possible to search for a business entity using the Connecticut government website in order to view the business details of any entity on file with the Secretary of State. This tutorial will quickly go over the process of performing such a search using the entity name, the filing number and the business ID as search parameters. We always suggest that those forming or registering a new business first perform a business entity search in order to ensure that their designation is available in the state.
Search by Name
Step 1- Navigate to this webpage on the Secretary of the State government website and find the field that asks for the name of the company you'd like information on. Enter the name you're inquiring about into the field and click Search.

Step 2- A list of relevant entities will appear displaying the business name, address, filing number and status of each.

Step 3- Once you've found and clicked on your selection you will be able to view the business details as well as the agent summary. You'll notice that on the bottom right hand side of the table there are three options available: you can view the filing history, name history and the shares of the entity.

Search by Business ID
Step 1 – On this webpage, in the second provided field, enter the Business ID of the company you'd like to inquire about.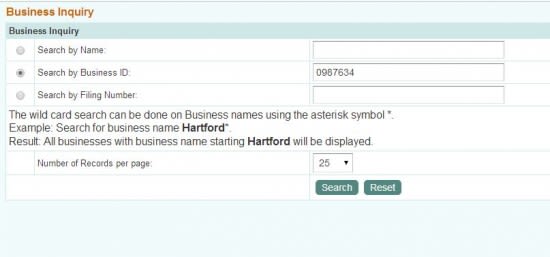 Step 2- Providing that the Business ID has been entered correctly, you will see the business's address, name, status and ID on the secondary page. Click on it's name to view the business details of the entity in question.

Search by Filing #
Step 1- The business search on the Secretary of the State website can be found here. The entering of the filing # should provide a refined search to just one business.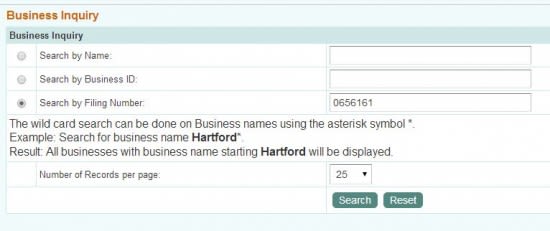 Step 2- Click on the business name to gain more information than just the address, ID and status.