How to Conduct a Minnesota Business Entity Search
Excellent
12,253 reviews
There are many circumstances that could require you as a business owner, an affiliate, or an inquisitive consumer, to perform a basic business search. Such a search will return, if performed correctly, all publicly available information regarding a given entity. Through a business search, at least in the state of Minnesota, you will also be able to acquire the Certificate of Good Standing of a given entity for a fee of $15. Please make use of our step-by-step tutorial, available below, in learning more about performing a successful business search in the state of Minnesota.
Search by Name
You have two options when performing a search of the business database in Minnesota: search by name, or search by file number. This first section of the tutorial will be dealing with a name-based search. For information on searching by file please scroll down to the correct section or select the corresponding link to the right.
Step 1 – To perform the search you must navigate to the business search page. Once there, select the Business name tab to the left of the search bar. Once selected, input your desired search terms into the search bar and select Search.

Step 2 – The database will generate a page of results, such as the one pictured below, based off of the entered search terms. To gain access to the information page for a specific entity you must select the Details link to the right of the entity in question.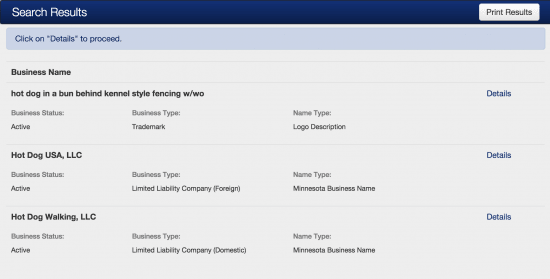 Step 3 – You will now be looking at the information page for your desired business. This page includes all public information as well as access to both the entity's filing history and its Certificate of Good Standing.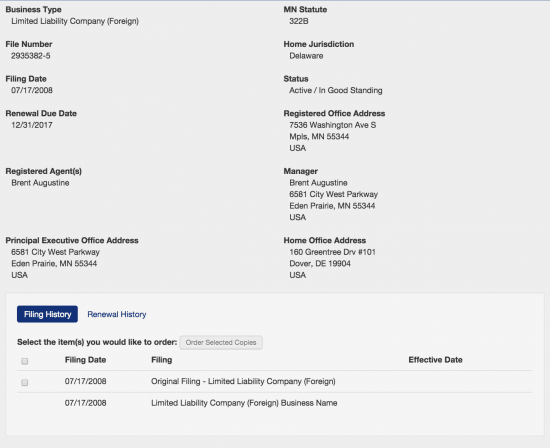 Search by File Number
Step 1 – As mentioned above, it is possible to search by file number as well as by entity name. To do so, navigate to the business database search and select the File Number tab above the search bar. Input the file number into the search bar and select Search to continue.

Step 2 – Due to the specificity of the search terms you will be immediately delivered to the information page (such as the one shown below) for your given entity. Within this page you will find all data publicly available regarding your entity. Furthermore, you will be able to acquire both a filing history and a Certificate of Good Standing for your entity.