How to Conduct a Pennsylvania Business Entity Search
Excellent
11,823 reviews
This webpage has been created to outline the business entity search function on the Pennsylvania Department of State website. With this inquiry you will be able to view a number of important details related to any and all entities currently on file in the State. Use the Type of Search option to narrow down your results. The entity search is especially useful for checking the availability of a desired operating name when registering a new business. This function will also show you the history and status of any entity and will give you the opportunity to purchase certificates and documents. Scroll down to the tutorial below to gain more information about how to properly utilize this search function.
How to Search Pennsylvania SOS
Step 1- Input a business name or entity ID number into the search bar found on this website. You can narrow down your results by electing to only view active businesses or by selecting one of the options from the Type of Search drop-down menu.

Step 2- The following page will provide you with a list of all the PA entities that contain the word(s) used in your search. Click on either the Business Entity Name or the Entity Number to view the details of that particular business.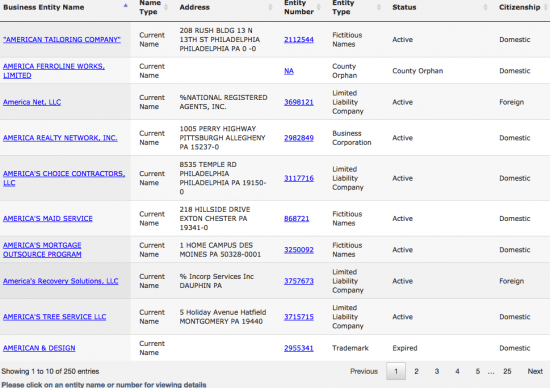 Step 3- Here you will be able to view a number of important business details pertaining to the PA entity in question. At this point you may choose to purchase additional certified documents.