How to Conduct a Oregon Business Entity Search
Excellent
12,253 reviews
This webpage has been created to act as a guide through the process of performing an entity search of the Oregon Secretary of State's database. With the online search function available, prospective business owners will be able to check the availability of an entity name prior to formation of a corporation or LLC in Oregon. This is extremely important as each entity looking to register in the state will be required to operate under a business name that is completely unique. Although this search will provide you with a definitive answer as to the name's availability, ultimately the Secretary of State will have the final word as to whether or not the name can be used. Pre-existing entities may also use this search as a tool to gain access to their business details. The below tutorials will walk you through each step of the business entity search function.
How to Search for Business Name Availability in Oregon
Step 1- Checking the availability of any given entity name can be done by performing a business search of the Secretary of State's database. First, navigate to this website and select the Business Name Availability Check option (shown circled below) then submit an entity name into the search bar.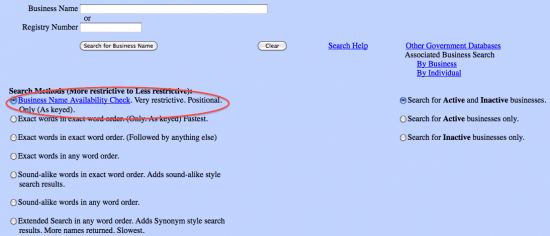 Step 2- If the entered name is available, you will see results similar to the first photo shown below. However, if the name is currently is use by another entity, you will receive a notice displaying the other business names that may be in conflict with the your desired entity name.
Results displaying availability

Results displaying unavailability

How to Search for Business Entity Details in OR SOS Database
Step 1- You may research the details of an entity by first accessing this website. Choose a search method from the options found on the left to narrow down your results. On the right hand side of the page you may specify whether you would like to search for active businesses, inactive, or both. Continue by submitting an entity name into the search bar.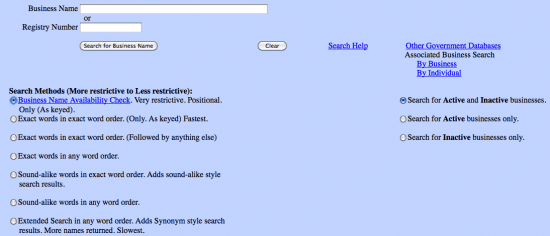 Step 2- The results of all the entities that match your search will be displayed on the following page. Click on either the registry number or the name of the entity itself to access all the business details pertaining to your search.

Step 3- Here you will see the business entity data, registered agent's name and address, as well a brief summary of the entity's history.