How to Conduct a Montana Business Entity Search
Excellent
11,823 reviews
There are many reasons you may need to perform a business search in Montana. We always recommend individuals looking to form a new entity cross-reference their desired operating name with this database to ensure it is indeed available. Additionally, to obtain a Certificate of Fact ($15) you will need to first perform an entity search in order to access the desired entity's information summary page which contains links to the certificate of fact form. Regardless of your reasons, you will soon find that performing a business search is incredibly simple. Scroll down to get started!
Montana Business Search by Name
Step 1- To begin, navigate to the business entity search homepage and enter your desired search terms into the provided field.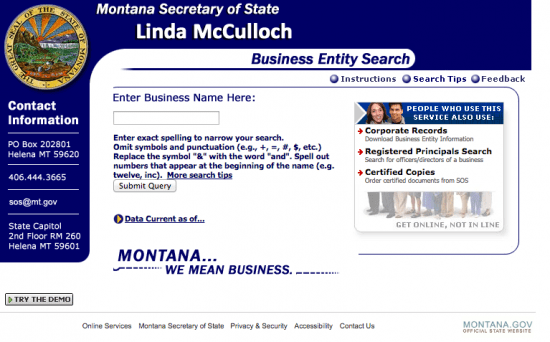 Step 2- Your query will generate a list of results based on the submitted search terms. To redirect to the summary page for a given entity select the entity's name (in blue) to the left of the page.

Step 3- You will now be looking at the business summary page from which both the Certificate of Fact and information on principles can be obtained for a small fee. If you would like to perform another search you may do so as well from the provided field at the top right of the page.