How to Conduct a West Virginia Business Entity Search
Excellent
11,823 reviews
This webpage has been created to walk individuals through the process of performing a business entity search in the state of West Virginia. This function is present on every Secretary of State website and is usually used to research the business information of particular organization or to investigate the availability of a proposed entity name prior to registration. In West Virginia, this inquiry can be conducted with the either an entity name or the name of an agent or officer associated with the entity in question. Scroll down for more details.
West Virginia Business Entity Search by Organization
Step 1- To search by organization, you will need to navigate to this website and provide the name of the entity name into the appropriate field before clicking Search.

Step 2- A list will produce all the organizations whose names match the contents of your search. There will be some information given on this page pertaining to each entity, however, clicking on the organization name will allow you to view the entity's business details.
Step 3- Here you will be able to review the organization information, the address of the designated offices, the officers which are employed by the company and whatever else has been made available to the public by the Secretary of State.

How to Search WV Businesses by Agent or Officer Name
Step 1- Searching by agent or officer name is simple. Click here to access to business entity search webpage and enter the name of the individual into the second field before clicking Search.

Step 2- A list will generate displaying a number of business entities that are represented by, or employ, an officer or agent whose name matches that of the one entered in the previous step. Click on the name of an organization to proceed to the next step.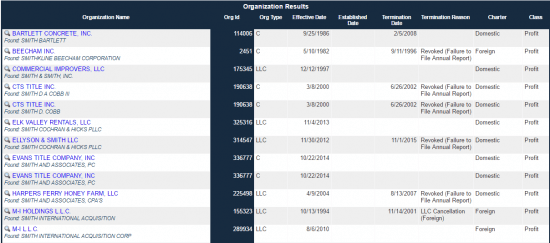 Step 3- This page will display all the organization information of the entity in question that is available to the public.