How to Conduct a Virginia Business Entity Search
Excellent
12,253 reviews
The search function found on the Virginia State Corporation Commission's website provides business representatives with the ability to not only research the details of a particular entity, but to also check the availability of their proposed operating name prior to registration in VA. It is also through the business search function that individuals will be able to purchase their Certificate of Good Standing. This function will also provide filers a means of submitting their annual reports and/or pay registration fees. Performing a search can be accomplished in a matter of minutes by following the steps described in our tutorial below.
Search Virginia SOS by Name
Step 1- To begin, navigate to this website where you'll be able to enter a business name or SCC ID into the search bar. Narrow down your results by choosing between Keyword, Starts With or Contains in regards to the search parameters. Click Search to proceed.

Step 2- A list of names will be displayed on the following page containing the Virginia registered entities whose names match that of the one previously provided. Navigate through the results until you find the entity you would like to investigate. Click on the business name itself to review the details of that particular entity.

Step 3- Some general business information is viewable on this final page. The data displayed will include the registered agent details this must be a Virginia address, also the address of the principal office, and the current status of the organization in VA. You will also have the ability to take further action with the option presented on the right.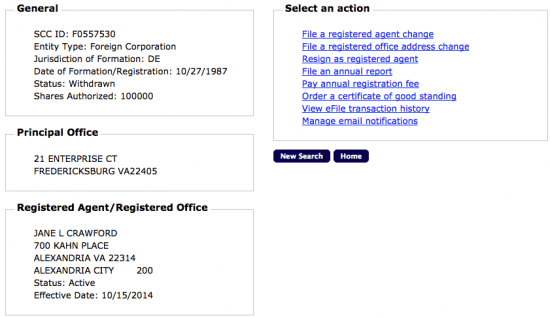 Virginia Business Name Availability Search
Step 1- Checking the availability of a Virginia entity name can be accomplished by accessing the search function found on the State Corporation Commission's website. Enter the proposed business name into the search bar and click Check Name.

Step 2- The images shown below display the two possible outcomes from your search. Names that are available will be distinguishable on the records of the Commission, while unavailable names may be in conflict with one or more registered entities.
Available

Unavailable