How to Conduct a California Business Entity Search
The California Secretary of State's web portal has an easy-to-use entity search built into the larger structure of the site. Individuals can search for the following entity types with this resource:
Corporation
Limited Liability Company (LLC)
Limited Partnership (LP)
Limited Liability Partnership (LLP)
Individuals may search by name (corporate, LLC, LP, LLP) or by entity number. As a side note the office of the Secretary of State makes a point to disclaim that this search tool is not meant to serve as an availability search. The office has entire process devoted to searching for a given name's availability that is separate from the entity search and which is explained in full on this webpage.
Search for Name Availability
Step 1- To check on the availability of a desired name individuals must complete the Name Availability Inquiry Letter (available here).
Step 2- The information required on this form is as follows:
Requester's name
Firm name (if any)
Requester's address, phone number and FAX number
Entity type
First, second and third choice of name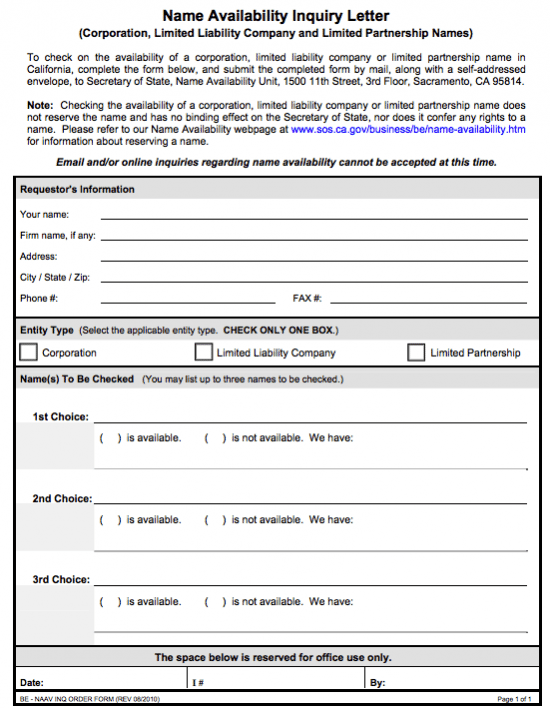 Step 3- Send your completed document to the address below and await confirmation from the Secretary of State.
Secretary of State
Name Availability Unit
1500 11th Street, 3rd Floor
Sacramento, CA 95814
Search by Name
Step 1- If you would like to search by name as opposed to entity number navigate to the business search page and, after selecting whether you are searching for a corporation or an LLC/LLP/LP, enter the name you wish to search by and select Search.

Step 2- Once completed the CA SOS search will display a list of results containing all of the entities matching the initial search term/s. The entities will be displayed by name but will include as well the entity number, date filed, status and agent for service of process. Select the desired entity name (in black) in order to access the full page of details regarding the entity.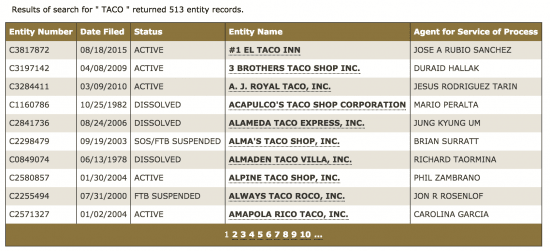 Step 3- The following data is available for each entity once selected:
Entity name
Entity number
Date filed
Status
Jurisdiction
Entity address
Agent for service of process
Agent address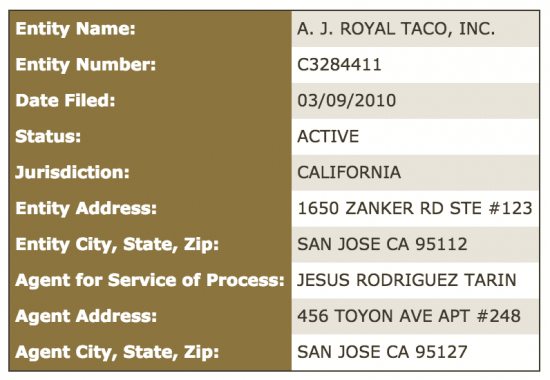 Search by Entity Number (8 Digits)
Step 1- To search the entity list by entity number please navigate to the business search portal and enter the eight digit entity number (always beginning with a 'c') in a Cxxxxxxxx format and select Search.

Step 2- The search will provide you with a list of results for the entered number. If you would like further information regarding the entity please select the name of the entity and wait to be redirected.