How to Start an RV Park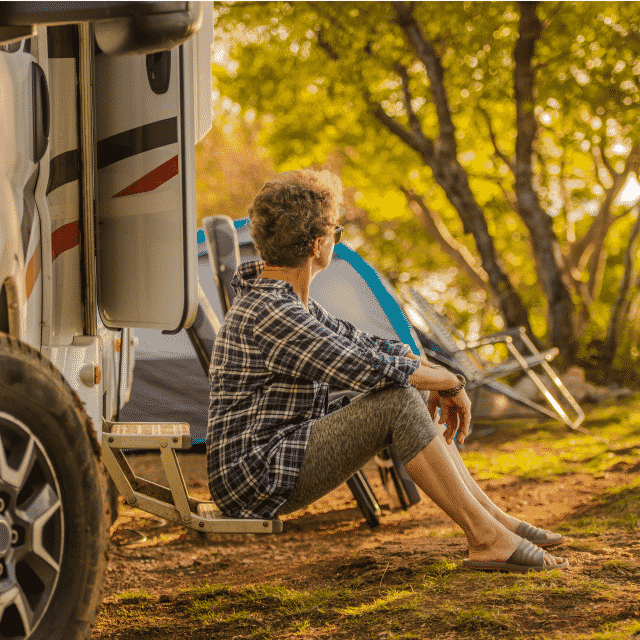 America's great outdoors are a wonderful place for camping. It could also make your American dream of entrepreneurship come true. Learning how to start an RV park is a way to be outside, meet RVers from all over the country, and find your path to profits in a $9 billion industry.
2020 brought surges in camping nationwide, and in recreational vehicle sales and rentals. With more RVs on the road, a growing number of Americans are turning to RV parks for accommodation and recreation. The guide below can help you hit the road to starting your campground business.
Whether young adult #vanlifers, families introducing their children to America's natural wonders, or seniors enjoying their golden years, your family-friendly RV park will become part of people's road trip memories. Over 40 million Americans camped in 2015 alone, logging over 587 million camping days. That's an average of over two weeks per camper.
Plus, RV park opportunities abound from coast to coast. Your RV park could focus on proximity to national parks or monuments, state parks, other public lands, private attractions, or even urban areas. From Gen Z teens to baby boomers, millennial families to Gen Xers seeking a life change, camping's popularity is expected to continue growing.
Knowing how to start a successful RV park depends on factors such as location, acreage, amenities, and nearby attractions. You'll also navigate small business structuring, zoning, licensing, and other local, state, or federal requirements.
1. Create a Plan
Start with an RV park business plan and SMART goals to track progress. Even a few pages of prep will help you examine and refine your big idea for the camper park of your dreams:
Location: How big can you build? What's your proximity to roads and major highways?
Land use requirements: RV parks comply with local, state, and federal laws and regulations for everything from setbacks and utilities, to open spaces and fire protection.
Attractions and activities: Will people mostly bed down before driving off to nearby attractions? Or do you want your park to be a destination itself, full of on-site activities and amenities?
Franchise or independent? Independent parks let you do things your way and reap 100% of the profits. But franchises with Campgrounds of America (KOA) or other groups set you up with premade business plans and advertising.
Seasonality: What different pricing can you offer during high and low seasons? Or, are there times of year you may need to close down for weather?
Who is your market? A growing number of campers are millennials, and a growing number of ethnicities are seeking out RV parks, too. Serving their expectations for services, amenities, and safety can be key to building your own RV park's reputation and popularity.
2. Structure your RV Business
Whether you want to run one RV park or have ambitions to own and operate multiple properties, you'll typically want to consider structuring your business either as a corporation or a limited liability company (LLC). Sole proprietorships and general partnerships are technically also entity options, but as a business, your RV park could benefit more from the taxation and liability-shielding available with an LLC or corporation.
Starting an LLC can be a solid business foundation. While it will have some setup work, initial filing fees, and annual fees, it's less complicated and less costly to set up than a corporation. You can also have more flexibility in how you structure and run the company, and an operating agreement can guide partners and managers about day-to-day operations. Plus, if down the road you decide a different structure is better for the business, you can convert an LLC to a corporation.
3. Determine your RV Business Costs
Purchasing real estate, excavation, construction, landscaping, zoning, utility installation, and inspection are just a few of the costs you'll factor into your business plan and financing.
To give you an idea, franchises such as KOA break down their requirements for franchisees, such as:
Minimum liquid assets of $500,000
At least 10 usable acres of land (already purchased)
Minimum rental inventory of 90 total sites, including 75 RV sites
$1,800,000 – $2,250,000 average cost
Try estimating the total cost per campsite, typically $15,000 to $50,000, with 10 RV-ready sites per acre. Your non-equipment costs may include:
Land acquisition, zoning applications, and environmental impact studies
Permits
Business licenses, establishing your LLC, filing fees, and quarterly/annual taxes
Franchise fees
Market surveys of the surrounding area
Landscape plans and blueprints
Construction and inspections
Payroll and payroll taxes
Utilities, such as electricity, water, and sanitation
Online reservation system fees
Marketing and advertising budgets will be essential, too. Online ads, billboards, social media posting, brochures, and RV dealer partnerships are just a few ways marketing investment can turn into bookings. Your RV park's website is also like a 24/7 sales and service rep, so don't forget to budget for design, content, development, and hosting.
How do you fund your startup costs?
Government assistance can be easier to come by than a bank loan. United States Department of Agriculture (USDA) and Small Business Administration (SBA) lenders may have more experience with the RV and recreational industry, and that insight can make them more open to your proposal. With SBA 7(a) loans, you can receive up to $5 million toward land purchases, new construction, and procuring supplies, technical equipment, furniture, and/or machinery.
However, commercial lenders and private investors may be open to funding your startup costs as well. Lastly, consider opening a business credit card to build the company's credit, accrue rewards, and spread out payments for purchases.
4. Creating a Business Name
Glacier Meadow RV Park and Campground. Compass RV Resort. Snowy Peaks RV Park & Rentals. Your RV park's name can tell customers what you offer and entice them with hints about the mobile camping experience that awaits them.
Coming up with a name requires due diligence, though. Your RV park name needs to be easy to understand, and it can't be in use by another business. As you develop name ideas, check their availability with the business database at your state's secretary of state website, domain registrars, and social networks.
You can also add a "doing business as" name, or DBA, to your LLC or corporate filing. This way your business can have its official name behind the scenes, as well as a more marketable name known by the public.
5. Register your RV Business and Open Bank Accounts
Once you've settled on your business structure, file your corporation or LLC with your state (along with any DBA), and see what other licenses or permits your area requires. Your business entity will also need its own unique employer identification number (EIN).
Land use requirements will vary by state, county, and municipality. Also, get to know the inspectors and other personnel in charge of zoning and licensing, and be diligent about fulfilling the requirements throughout the construction and startup process for your RV park.
RV parks have varying insurance needs, depending on factors such as insurance laws in your area, park size, what sort of amenities you offer, and payroll. Consider working with an insurance agent to get the right coverage for your RV park.
Also open the right business bank account. From checking to credit cards, you'll be able to better track cash flow and understand your business financial health.
6. Get the Right Equipment
RV parks need a variety of equipment, which may include:
Restroom supplies
Sanitation and janitorial supplies
Service vehicles (such as golf carts or pickup trucks)
Utility hardware for electrical, water, and sewer hookups
Recreational amenities such as grills, picnic tables, and sports supplies
Wildlife-resistant waste containers
Wi-Fi internet hardware
Signage
Fee collection stations
Also make sure your on-site personnel have the tools and equipment they need, such as hand and power tools as well as computers and mobile devices for processing payments, reviewing registrations, and managing check-ins.
7. Marketing your RV Park
Whether specials posted on Facebook, video tours on YouTube, drool-worthy destination photos on Pinterest, or day-in-the-life snapshots on Instagram, social media can help spread the word and build buzz about your RV park.
Also review online directories such as Google My Business. Claim and optimize your RV park's profile so potential customers have a greater chance of finding your business when they're researching RV parks in your area.
A park brochure, ad in a tourist booklet, and other print materials can also be a great way to get your business in the front of people's minds.
Finally, you don't need to spend hours upon hours building a website and email marketing campaign, thanks to today's prepackaged options.
America's growing interest in camping is your opportunity to specialize, such as:
Parks focused on a religion, social cause, or organization
Activity camps, such as boating, fly fishing, ATV/OHV driving, cooking, swimming, fitness, and sailing
RV parks specializing in accessible facilities and sites
Specific demographics, such as senior citizens or families with minor children
"Glamping" or luxury camping
An RV park will take land, investment, and hard work, but the opportunities for a profitable, successful business can be camped out there too. As you plan and build your RV park, you can turn your dream into a reality, all while enjoying everything the great outdoors has to offer.
Compare ZenBusiness Packages
Identify the package that's right for your business and then get started
starter
$0
DOES NOT RENEW*
plus state filing fees
Ready in about 2 to 3 weeks
START NOW
Top Features
Standard Filing Speed
Worry-Free Compliance
Expense & Deduction Tracking
MOST POPULAR
pro
$199
BILLED ANNUALLY
plus state filing fees
Ready in about 4 to 6 days
START NOW
Top Features
Faster Expedited Filing Speed
Worry-Free Compliance
Guided Operating Agreement
premium
$299
BILLED ANNUALLY
plus state filing fees
Ready in about 1 to 2 days
START NOW
Top Features
Fastest Rush Filing Speed
Domain Name & Email Address
Customizable Business Website