Out of a small business, Walgreens has grown into America's second-biggest pharmacy store chain. Its logo is one the most recognizable visual symbols in the pharmaceutical industry. In this article, we'll talk about how the Walgreens emblem has evolved over the years and what it has in common with the Washington Nationals basketball team.
Backstory
Walgreens started as a modest drugstore which was opened in 1901 by Charles Walgreen. The company's first logo was very clean and simple. It was the company name in a custom grey handwritten font which was designed especially for Walgreens. The original emblem had served the business for a staggering 50 years. However, as the business started to expand, it called for changes in its brand identity.
Evolution
In 1951, Walgreens painted its logo red to make it more eye-catching. Also, the design got a blue pestle and mortar and the slogan "The Pharmacy America Trusts". With its new compelling logo, Walmarts wanted to show its readiness to meet any customer needs in terms of pharmaceuticals.
In 1983, Walgreens came up with a refurbished logo. The pestle and mortar were painted red and moved to the top of the logo. As for the slogan, it was discarded. In the early 2000s, the emblem lost all its graphics elements, except for the brand name which was slightly altered and optimized for digital devices.
The modern-day Walgreens logo stands out through its neat, rounded font and juicy red palette. Also, have you ever noticed a small gap between the letters "g" and "r"? The company also uses a simplified logo which only has "W" on it. However, it creates confusion sometimes.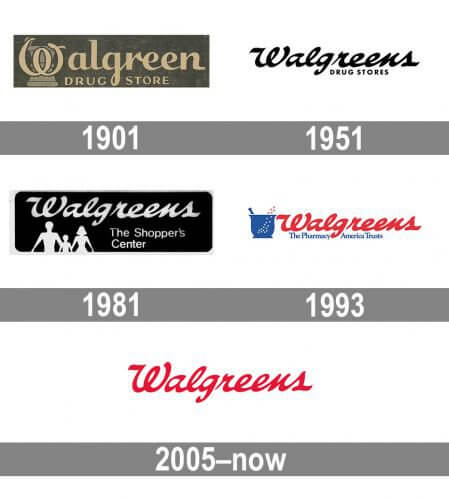 Walgreens vs Washington Nationals emblems: Key differences
The Walgreens emblem looks very much like the Washington Nationals logo. In all fairness, it needs to said that the Nationals logo wasn't designed til 1963. There is a quick cheat sheet on how to tell the difference between the two:
On the Nationals logo, the end of letter "W" is pointing down, while on the Walgreens logo, it looks more like a wave.
The middle part of letter "W" is slightly wider on the Nationals emblem.
The Nationals logo looks like it's going up, while the Walgreens logo stays on the same level.
Unlike Walgreens, the Nationals design exists in another variation with thin lines.
How would Walgreens logo look like if it were made in ZenBusiness?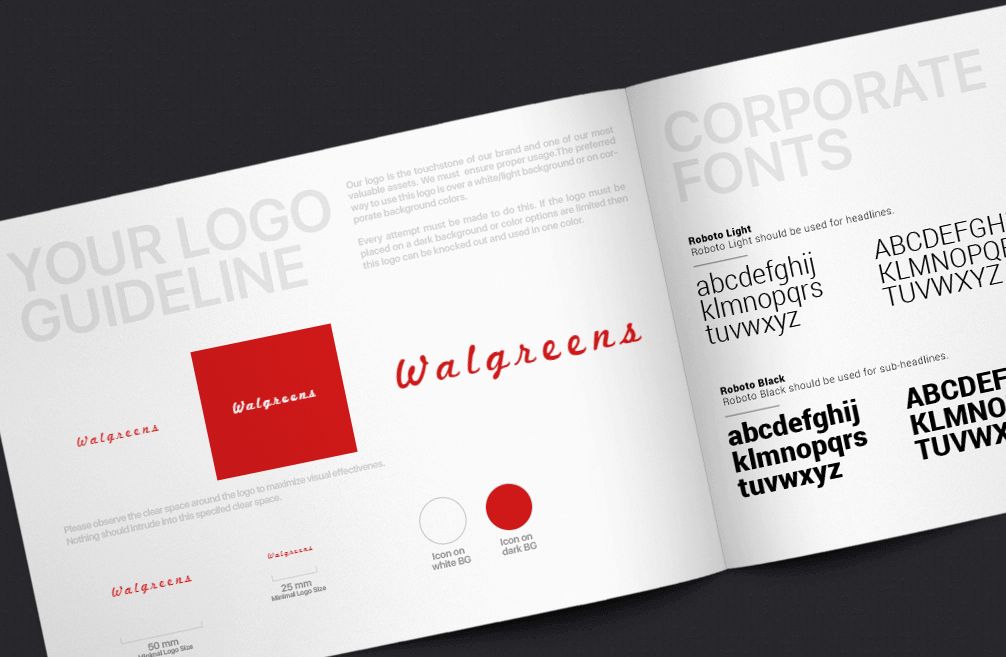 Final thoughts
Consistency and strategic thinking are the two main factors behind the success of Walgreens. Thanks to the fact that its emblem has stayed practically unchanged over more than a century, the pharmaceutical giant has established a solid brand identity.