Along with a list of the best corporate logos, we've collected not-so-good samples of corporate designs. Why are these logos considered bad and what lessons can you learn from looking at them? Before we dive into that topic, we must reveal one fundamental rule.
For the most part, a company's success has nothing to do with its corporate design. If Apple had some other symbol as a logo, would it be less successful? We doubt it.
A logo itself does not necessarily matter. What matters is how and where you use it. Successful companies use their logos every time they communicate with their customers. As a result, clients can relate to the company and its products, which is extremely important.
Lucrative business / high-quality, expensive logo design – excellent!
Lucrative business / cheap, poor-quality design – bad!
Unstable, unsuccessful business / high-quality, expensive design – terrible!
Unstable, unsuccessful business / cheap, poor-quality design – bad!
New company / inexpensive logo – fine!
After discussing the general principles, we can move on to particular examples. We'll start with examples of good logos; you'll find them in the next part of this article.
The greatest corporate logo samples
We have collected the most outstanding examples of cool logos that have helped many companies become industry leaders. This list of famous companies includes such brands as:
General Electric
The logo of General Electric, a major equipment manufacturer, has not changed much since the foundation of the company in 1892.
And why should it have changed? The GE letters, written using an elaborate font and decorated with curved strokes, combine simplicity and effectiveness – qualities that General Electric customers expect from the company. In addition, the symbol, based on Art Nouveau motifs, resembles the spinning drum of a washing machine – one of the company's most popular products.
JPMorgan Chase
JPMorgan Chase is a leading financial conglomerate and one of the largest banks, with a huge asset value of 2.35 trillion dollars.

What's more, JPMorgan Chase places sixth in the rankings of the world's largest corporations. In other words, it's a brand name that speaks for itself. The bank's logo reflects its dominant position. What makes the JPMorgan Chase logo identifiable and effective? With a simple yet massive font and minimalist graphics, the JPMorgan Chase symbol emanates power and authority. It says: "If you don't pay us on time, we will charge you heavily!" Sounds intimidating, right?
Facebook
If you know a thing or two about social networks, you know what Facebook is.
It's interesting to learn that Mark Zuckerberg's company was originally named "The Facebook." However, the article was soon removed. The IT company started a revolution in the Internet community and has grown into one of the most popular social networks in the world.
The Facebook logo has a quality that is valued in the graphic design industry: It enables the viewer to recognize the brand immediately. Keeping in mind that the logo must remain identifiable, the company has altered it only slightly and has left the key elements unchanged.
ExxonMobil
ExxonMobil is the largest oil company in the world, with shareholders who enjoy huge profits. Exxon and Mobil used to be separate companies.
In 1998, they decided to unite and share their knowledge and resources. (Perhaps they wanted to conquer the world?)

Such a successful and reputable company must have an appropriate logo! However, for some reason this is not the case. Simplistic and boring, the ExxonMobil symbol fails to reflect the nature of this powerful brand.
What lesson can be learned from this example? Less is not always more.
Amazon
Many people likely say, "Thank you, Amazon!" on a regular basis.
With Amazon Prime, you can order any product and get it within 48 hours or even faster. Plus, you get free (or almost free) delivery. The e-store owners know their advantages and have made them visible on the Amazon logo. Do you see the arrow that goes from A to Z? It imitates movement and says that Amazon can deliver your order from its warehouse right to your door. However, these are not the only meanings we can see in this symbol. The arrow also imitates a smile, which means that Amazon guarantees high-quality service and ensures full customer satisfaction.
Microsoft
Despite some bad choices during the last several years (yes, Zune and Windows 10, we're talking about you!), Microsoft's 2012 logo overhaul was a success.

The logo used between 1987 and 2012 wasn't that bad. (I particularly liked the letter O that looked like Pac-Man). However, as far as design was concerned, it was a disaster.
In terms of colors, the new symbol looks much friendlier. The person who chose to represent the key company products using four square windows is a genius! The blue window stands for Windows OS and the red window for MS Office. The green window symbolizes the Xbox game console. Finally, the yellow window … well, the yellow window doesn't represent anything, but is necessary because a window must have four sections.
As for creating a consistent image, Microsoft seems to have more problems than other companies. Every time Microsoft changes its symbol, it looks completely different, as if nothing links it to the previous logos.
Nike
Nike is famous not only for its sports shoes, but also for having one of the best commercial logos.

The famous Nike swoosh is an example of how a logo can play a significant role in establishing a company's reputation and turning it into a reliable, reputable brand. Although underestimated in the beginning, the swoosh has become a symbol of sporting culture.
The peculiar symbol on the Nike logo is often called a "swoosh" in reference to the sound we hear when something rushes past us at high speed. The word denotes a sharp sound, speed, and movement, which can be seen in the symbol curve. The history of the Nike swoosh is the story of an ugly duckling that has grown into a beautiful swan.
BMW
The legendary BMW logo stems from the round symbol of Rapp-Motor with a black horse silhouette and a Bavarian flag with its white and blue pattern. That was how the black circle with white and blue quadrants came to life.
After World War I, the company's specialization underwent major changes. Instead of aviation, it began focusing on motorcycles and cars. The BMW logo has remained almost unchanged since 1917. The most significant transformation took place in 2000, when the logo gained a 3D effect.
Mastercard
Back in 1966, the Mastercard company was known as Master Charge. Its first logo featured two overlapping circles and the words "Master Charge: The Interbank Card."
In 1979, the company shortened its name to the succinct "Mastercard." The new name called for a new logo. As a result, the he she 0,ocus has undergone major changes corporate colors became more saturated and the font gained more weight. In 1996, the logo took on a three-dimensional look.
FedEx
In 1971, the FedEx logo featured the full company name, "Federal Express," in a sloping font.
The logo used patriotic red and blue hues that evoked associations with the American government. Due to its growing popularity, in 1994 the brand decided to say goodbye to its original logo. The new design was just as elaborate as the old one, with an arrow hiding between the letters E and X. The arrow is a reference to the company's key advantages, which are speed and reliability.
IBM
The first IBM logo was created in 1924 when the Computing-Tabulating-Recording Company was renamed International Business Machines.
The new name had a more modern feel to it. The 1924 logo was an updated version of the 1911 emblem that CTR used. The exquisite CTR logo, with its sophisticated, airy font, was replaced by bulky text saying, "International Business Machines" (with a special emphasis on the word "International"). In 1947, when the brand revamped its technology, the circular emblem was replaced by the IBM abbreviation, which has become the company's symbol. In 1956, famous designer Paul Rand made the IBM letters black and massive. The new design emphasized stability and reliability as the brand's key benefits. In 1972, Rand was asked to revamp the image once again. To create a dynamic and flexible image, he added stripes to it. The result was good, and IBM is still loyal to this version of its logo.
The variety of logos discussed above were developed through the use of similar rules. What are they? Let's find out below!
What can we learn from these logos?
What conclusions can an entrepreneur draw from the stories told above? Decide what your logo must tell your audience about your brand. The symbol must convey the essence of your business, while highlighting its key features. For example, when you look at the JPMorgan Chase logo, you immediately understand that it stands for an influential company that enjoys an excellent reputation gained over years of hard work. How does your logo define your business?
According to our study, most entrepreneurs believe that a logo must reflect and fit your industry. Only 16 percent of those surveyed think this is not a strict rule.
Don't be afraid to make a strong impression
Of course, you must avoid an over-the-top design. At the same time, don't be afraid to create a memorable emblem that could enter the spotlight.
Create a simple logo
This rule and the previous one seem to be contradictory but, in fact, they complement each other. Your logo must be simple. This is true of colors, fonts, and the number of elements. Look at the Nike logo; it's a good example of a simple yet effective approach.
Find a good idea and stick with it
Many companies, such as Apple, Johnson & Johnson, and General Electric, have stayed loyal to their old logos. Johnson & Johnson has retained its logo for over a century! Although these companies may alter their designs from time to time, the changes are insignificant.
While reinterpretation of a corporate identity is never a false step, try to find design solutions that reflect the core of your brand. Clients get used to logos and build emotional relationships with them. Consistency in your logo design can ensure that your corporate image will remain identifiable and recognizable throughout the years.
Are you ready for another dose of inspiration? Take a look at beautiful, creative logos that prove graphic design is an art in itself.
Examples of cool company logos
For the most part, logos convey a certain message (for instance, information about the quality of services that the company offers). We have collected dozens of corporate logos that are great examples of high-quality graphic design. Share your opinion in the comments! Which emblems have impressed you most?



Now that we've seen corporate designs as they should be, let's examine poorly made logos so you know what to avoid.
Examples of poorly designed logos
How do you define a good logo? It's both simple and identifiable. It also reflects the idea behind the brand and enables customers to recognize the brand immediately. Logos that are too sophisticated or too abstract fail to establish an emotional bond with the audience.
You must know your enemy, right? Along with good logos, we've collected poorly designed emblems. Don't copy them under any circumstances!

How logos should not be designed
All bad logos have some things in common. What are the major mistakes to avoid?
Don't focus on modern trends
Modern trends come and go, which means they quickly fade away. If you want to make a truly timeless logo, don't let modern trends tempt you.
Avoid excessive complexity
Don't stuff your logo with too many meanings or concepts. Otherwise, it'll be difficult to perceive and decipher. A good logo is one that is simple and easy to understand for a wide audience.
Don't make it too straightforward
At the same time, logos that are too simplistic should be avoided. A logo must clearly convey the company's ideas and values. Coming up with an optimal solution may be challenging but the result is worth it.
Don't plagiarize
Lack of originality is the worst drawback a logo can have. This is what you should try to avoid. A bleak, boring corporate image may lead to unpredictable consequences, from disappointed customers to multimillion-dollar lawsuits from other companies.
Don't use a style that isn't uniform
It's not uncommon for two different designers to develop a logo. This is when chaos often takes place. Sometimes amateur designers combine elements that don't match. For example, the icon and the font may create an unbalanced composition that looks out of place. Be sure to avoid this approach. Your clients will immediately notice that something is wrong.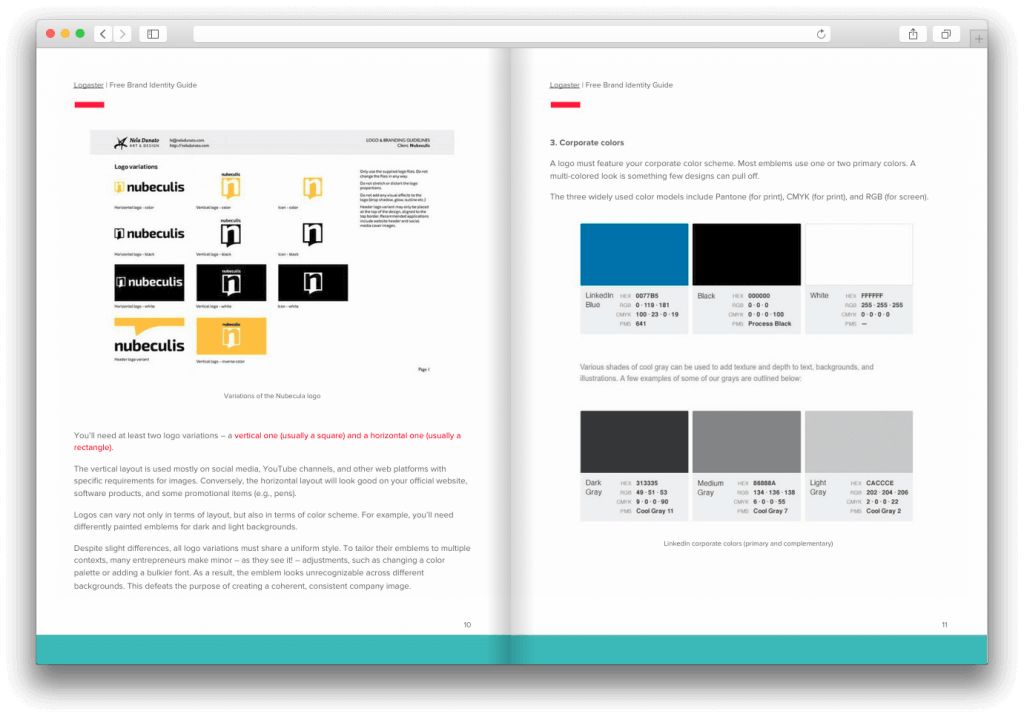 We hope that you enjoyed this article. Now you know what a good corporate design looks like and what mistakes to avoid in creating a logo. Looking for more logo design tips and beautiful emblems? Download our free book "How to Create a Brand Identity Without Going Broke" and craft smart logos with the ZenBusiness logo maker!

Create and download your company logo in just a few minutes. A small logo version is available for free!
What's the most important thing you learned from this article about good and bad logo designs? Perhaps you have more useful tips for entrepreneurs who are crafting their brand identity. Share your ideas in the comments!